Our environment is making us sick warns Richard Jackson, health expert
Kresge-supported public TV series will showcase ways to create healthier communities.
America's homes, businesses, transportation systems and public spaces are contributing to increases in obesity, chronic disease, loneliness and even depression, warns internationally recognized public health expert Richard Jackson.
"We tend to take our surroundings for granted," Jackson says. "However, our built environment profoundly influences our health and well-being. If current trends are not reversed, this could be the first generation of American children to have shorter life spans than their parents." Jackson, professor and chair of the department of environmental health sciences in the School of Public Health at the University of California, Los Angeles, has served in leadership positions with the California Department of Public Health and the Centers for Disease Control and Prevention.
As host of an upcoming four-part miniseries "Designing Healthy Communities," Jackson focuses on our built environment. The hour-long programs are the centerpiece of a larger multimedia campaign, supported by a book, town hall meetings and community-based outreach. Jossey-Bass, a Wiley Imprint, is releasing "Designing Healthy Communities," written by Jackson with Stacy Sinclair, this month. The series will air on public television stations in January.
The Media Policy Center of Santa Monica, Calif., the miniseries producer, takes viewers to 24 U.S. communities that have found or are developing solutions to create healthier, sustainable environments. Initiatives range from building bike paths and sidewalks to rebuilding downtowns, creating urban farms and delivering produce directly to customers' homes.
"Our intent is to show what ordinary citizens are doing and make others aware of what can be done to redesign where they live and work," says Harry Wiland, Media Policy Center co-founder and principal. Dale Bell, the media foundation's other co-founder and principal, adds, "Redesigning our built environment would have a major impact on health in the country and be cost effective. With the miniseries, millions of people will hear Dick Jackson's important message."
The Media Policy Center has won awards, including Emmys and an Academy Award, for its multimedia projects, including "Edens Lost & Found," "And Thou Shalt Honor" and "Growing Greener Schools."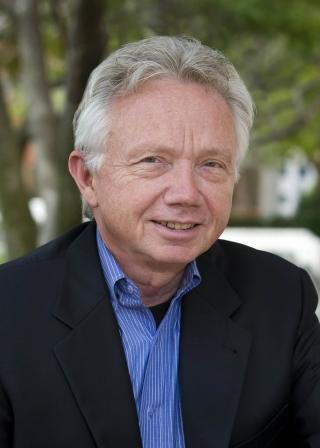 Jackson, co-author of "Urban Sprawl and Public Health," says Boulder, Colo., is the nation's healthiest city, based on residents' physical activity level and low obesity rate. "Thirty years ago Boulder built bike routes so people could get around without a car. Physical activity became the norm. People who wanted to be physically active moved to Boulder. It was a cultural change," Jackson says. Once it becomes normal to arrive at work carrying a bike helmet or to walk at lunch time, more people start doing it, notes Jackson, who credits Boulder leaders for recognizing the role of the built environment on lifestyle earlier than many.
Elgin, Ill., also featured in the miniseries, rebuilt its downtown after the Elgin National Watch Co., the city's main employer, closed. Elgin residents were driving to schools and big-box stores miles from where they lived while their downtown was dying. Following discussions involving a cross-section of the community, Elgin decided to rebuild its downtown using sustainable design principles. Initially, Jackson says, Elgin built too much high-end housing so restaurant staff and others who worked downtown couldn't afford to live there. "You have to have diversity of housing and services when you rebuild so it is economically sustainable," says Jackson, "and Elgin is working on that."
Among the other cities featured in the miniseries are West Oakland, Calif., where a not-for-profit cooperative was created to sell fresh fruits and vegetables; Syracuse, N.Y., where fresh produce is being delivered to the homebound; and Detroit, where an increasing number of residents are raising fruits and vegetables on once-vacant lots.
Detroit could be a metaphor for the United States, Jackson asserts. "We built the U.S. around automobiles in the 20th century. It was wonderful when fuel, materials and land were extremely cheap, but it doesn't meet the needs of the young, old, poor or disabled."
In a 25-minute segment, "Designing Healthy Communities" highlights the resurgence of Detroit Eastern Market and community gardens, and Detroiters' efforts to create a healthy place for families to live and work.
The Kresge Foundation, provided $750,000 for the "Designing Healthy Communities," project. The California Endowment, The American Institute of Architects, Kaiser Permanente, W.K. Kellogg Foundation, Marisla Foundation and Robert Wood Johnson Foundation also contributed.
"The Kresge Foundation has been so supportive of what we're doing in this public broadcast, in opening doors and providing access to community groups," Jackson says. "Kresge is nurturing a new generation of community leaders, helping them develop a new vision, pride and ways of thinking through health issues."
Kresge Health Program Director David Fukuzawa says, "Designing Healthy Communities" raises important questions about how we move and build our environment. "We as a society have built an environment that's designed for disease. Too often the default choice is soda at school or fast food for $1. At Kresge, we are working to bring about both policy and environmental changes to help people adopt healthier lifestyles.
"This won't be accomplished overnight. Finland has spent the last 30 years changing its environment. Coronary disease has dropped there nearly 80 percent. This can be done, but it takes a long time," Fukuzawa says.