Nonprofit, philanthropy and banking sectors partner to finance health center growth
$130 million initiative follows demonstration project by Kresge and pair of community development lenders.
A new partnership of nonprofit, philanthropic and banking institutions will finance the expansion of community health centers, providing capital to help meet the healthcare needs of low-income communities.
The Collaborative for Healthy Communities is a $130 million, three-year initiative that will provide a new source of capital for community health centers across the country.
The partners are the Goldman Sachs Urban Investment Group, The Kresge Foundation,  the Low Income Investment Fund, Primary Care Development Corp., Rockefeller Foundation and The Reinvestment Fund. The $130 million in investments  will include $55 million in debt and $75 million in tax credits and other subsidies. 
Community health centers provide primary and preventive care to some 22 million Americans. Demand for services is increasing as more Americans become insured through the Affordable Care Act.
An estimated 35 million patients are expected to use community health centers by 2020 – a 59 percent increase in just six years. Yet, many health centers lack access to the affordable capital necessary to expand their facilities to meet growing demand.
The Collaborative for Healthy Communities will provide affordable, flexible financing solutions.
"The increase in people seeking health care is an intended and desirable effect of the law," says Kresge's David Fukuzawa, who directs the foundation's Health Program. "More people will be able to maintain good health with support from health professionals and those who have medical conditions will have them identified earlier when they're easier and less expensive to treat. That said, it's been clear that there would be pressure community health centers – which care for many people in in lower-income communities – would have a hard time responding to."
In 2012, Kresge's Health Program and Social Investment Practice joined with Low Income Investment Fund and The Reinvestment Fund to create a $25 million demonstration project. That partnership financed health centers in Washington, New Jersey and Pennsylvania and provided an opportunity for the lenders to better understand the underwriting issues, credit quality and community connections of federally qualified health centers.
Collaborative for Healthy Communities builds on that demonstration project.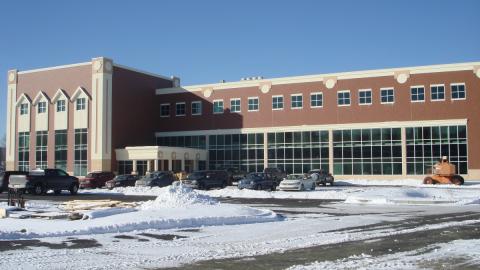 Photo: The Primary Health Network
"We're extremely pleased that a 2012 partnership with the LIIF and TRF helped health centers in three states grow and demonstrated the value and feasibility of a fund like this," says Kimberlee Cornett, who leads Kresge's Social Investment Practice. "By using our capital to complement grantmaking, we can accelerate change. And, as partnerships like these show, the impact can be greater yet when more of us work together."
Kresge provided a $5 million loan guarantee for the original 2012 demonstration project. With the launch the new fund, a $1 million guarantee will remain attached to the original loans; the remaining $4 million commitment will guarantee the Collaborative for Healthy Communities fund.
Guarantees are commitments to absorb specified defaults, reducing the risks for others who make money available for loans.
The Low Income Investment Fund, The Reinvestment Fund and Primary Care Development Corp. are community development finance institutions, and are the partners that will make the loans.
The Collaborative for Healthy Communities partners project that the initiative will enable health centers to support an additional 377,000 annual patient visits. The collaborative will provide a range of financing solutions for health centers, including acquisition, construction and permanent financing, loans to bridge government grants and other funding, as well as New Markets Tax Credit financing.
The aim is to finance projects that are hubs for wellness in their communities and tie health to people's lives beyond the doctor's office, says Nancy O. Andrews, president and CEO of the Low Income Investment Fund.
One of the first projects the collaborative is supporting is Progressive Community Health Center in Milwaukee, Wis., which has seen its patient volume double to more than 30,000 over the last six years. With two-month waits for new appointments, the health center is in dire need of expansion. Financing from the collaborative will help build a new 42,000-square-foot, three-story health center with 43 exam rooms and dental chairs. The new facility will allow Progressive Community Health Center to serve 60,000 patients annually.