New report gives colleges, universities a roadmap to using data analytics ethically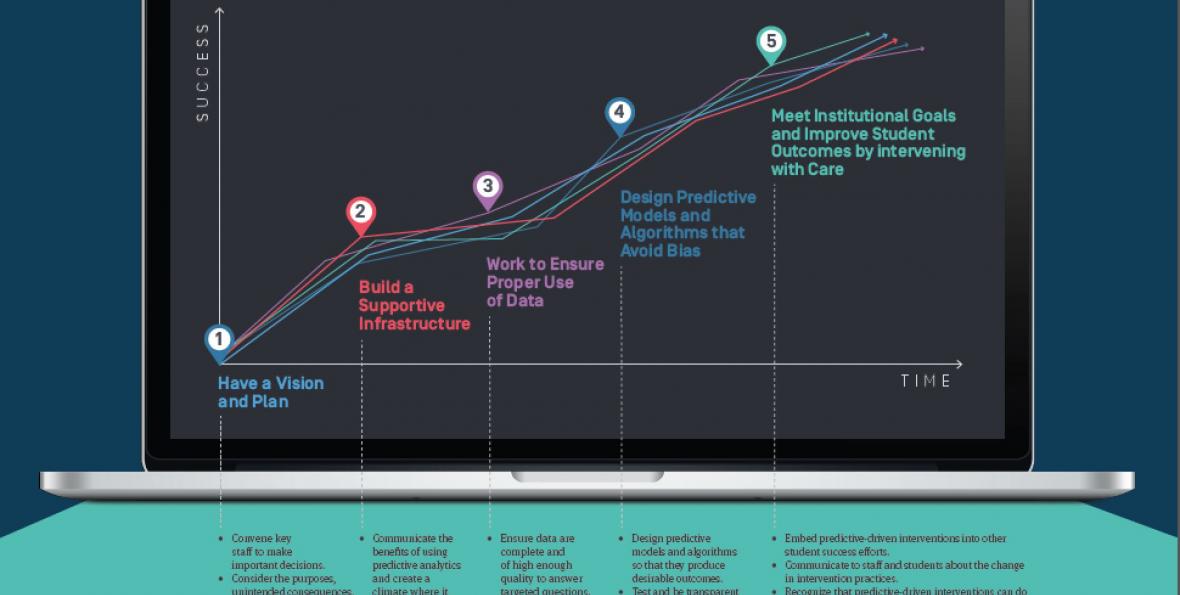 A new report is out today that details five guiding principles for practitioners using predictive analytics in higher education, with an emphasis on using data ethically.
In the report by New America, which Kresge's Education program supported with a 2016 grant, policy analyst Manuela Ekowo and senior policy analyst Iris Palmer share ways higher education leaders can ensure that their use of data analytics works to improve student outcomes without creating ethical issues.
As a result of increased pressures stemming from rising costs and funding tied to retention rates, institutions have turned to big data to predict whether a student will enroll, stay on track in her courses or require extra support. While predictive analytics have allowed colleges to better tailor their advising services and personalize learning, Ekowo and Palmer caution against practices that are discriminatory or could curtail academic success.
"Without a clear plan in place," says Ekowo, "an institution could use predictive analytics to justify using fewer resources to recruit low-income students because their chances of enrolling are less sure than their wealthy peers."
The authors interviewed leaders from universities using data analytics and surfaced five guiding practices that can help practitioners avoid ethical pitfalls. They recommend:
1. Developing a vision and plan for data use will help steer the direction of a predictive analytics effort.
2. Building a supportive infrastructure that ensures the benefits of predictive analytics are understood and welcomed by campus stakeholders.
3. Working to ensure proper use of data, considering the quality of data and its interpretation, as well as issues around privacy and security.
4. Designing predictive models and algorithms that reduce rather than amplify bias and are tested for their accuracy.
5. Meeting institutional goals and improving student outcomes by intervening with care.
"Using data ethically is complex, and no magic formula exists," Palmer says. "This ethical framework is meant to start conversations on campuses, which is crucial as these practices become more pervasive."
The Kresge Foundation's Education program works to help more low-income, first-generation students gain access and have success in higher education. It supports several data-driven efforts to improve students' outcomes, from the University Innovation Alliance to Achieving the Dream at the community college level.
"There's much to gain from using data to better understand student outcomes," said Bill Moses, managing director, Education program. "But if institutions don't think carefully about the implications of their assumptions and actions, data analysis also has the potential to cause harm. We hope this report and the guiding principles provided become standard practice for all institutions collecting and using student data."