New Community Center Serves the Needs of Lesbian, Gay, Bisexual and Transgender Individuals in Southeast Michigan
Vitality and Diversity Strengthen Ferndale's Social Fabric.
TROY, MICHIGAN – When Michigan Governor Jennifer Granholm swung the first sledgehammer at the October 2005 groundbreaking for the future home of Affirmations in downtown Ferndale, a community just north of Detroit, she did more than break a brick.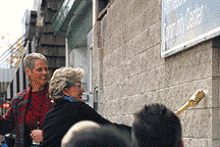 The historic swing set in motion an ambitious 18-month green construction project that culminated in the April 2007 opening of the 17,000 square foot Allan D. Gilmour and Eric C. Jirgens Community Center, capping a monumental $5.7 million fund-raising campaign.
Today the state-of-the-art facility symbolizes the emergence of Affirmations as a recognized and positive force in the greater Ferndale community and reaffirms the nonprofit organization's mission to serve the needs of lesbian, gay, bisexual and transgender individuals throughout the eight-county metropolitan Detroit area.
The community center's large plate-glass windows overlook Nine Mile Road, just west of Woodward, and frame a wellspring of activities designed to promote wellness, personal growth and development among nearly 1,100 people who visit each week.
Through initiatives such as annual health fairs, substance-abuse programs, yoga instruction and health-services referrals to caring medical practitioners, Affirmations encourages individuals to live healthier, more fulfilling lives.
Youth, some of them homeless, receive professional counseling and enjoy socializing in the Cyber Café and community room. Seniors share experiences and concerns at weekly Koffee Klatches. Visitors of all ages browse through art and book collections in the Pittmann-Puckett Art Gallery and the Bayard Rustin Resource Center and Library. A toll-free helpline extends a safety net for those in need.
"We are the only place in Southeast Michigan that provides services and a safe haven for the lesbian, gay, bisexual and transgender community," says Affirmations CEO Leslie Thompson. "In the past, we were hidden behind closed doors. Now our new community center provides greater visibility and allows us to serve twice as many people."
In 2004, The Kresge Foundation awarded Affirmations a $65,000 planning grant through its Green Building Initiative to explore a sustainable design for the reconstruction of a building on the site of a former F&M store. "Affirmations proves sustainable design can be considered by organizations of all sizes and types," says Sandra Ambrozy, a program officer on the Environment team. "By renovating and constructing its community center on Ferndale's main street, it also has made a significant contribution to the city's economic revitalization."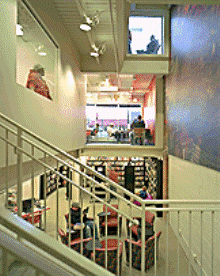 The following year, a $400,000 challenge grant from Kresge energized donors – among them former Ford Motor Co. Vice Chairman Allan D. Gilmour and his partner, Eric C. Jirgens, who contributed $1 million to the campaign – and catapulted Affirmations toward its fundraising goal. "The Kresge Foundation not only supported us with dollars but also was willing to take us by the hand and help us through the green-building process," Thompson explains. "They wanted us to be successful."
During construction, recycled and renewable materials were used whenever possible, and energy-efficient lighting, water-retention and sanitary systems were installed. "By saving money on utilities, we are not only being more environmentally responsible but also more fiscally responsible to our donors," she adds. Once the new building receives LEED certification, Affirmations will collect its $150,000 bonus award from Kresge.
The coming out of Affirmations has generated positive synergy throughout Ferndale and garnered enthusiastic support from the mayor's office and Downtown Development Authority. New shops and bistros have injected fresh vitality and diversity into the social fabric of the broader community.
"Being a welcoming city, which is able to tap into the creativity and enthusiasm of the lesbian, gay, bisexual and transgender population, is better for everyone," Thompson concludes.