National Civic Review celebrates 25-year healthy communities movement
Essay by David Fukuzawa highlights Kresge efforts to improve the health of all Americans.
The current issue of the journal National Civic Review includes an article tracing Kresge's journey to imagine – and work toward – a more equitable, effective healthcare system.
David Fukuzawa, managing director for Kresge's Health Program, was invited to contribute the article as part of a special project focusing on the healthy communities movement launched 25 years ago.
Fukuzawa's essay, "Achieving Healthy Communities through Community-Centered Health Systems," charts the evolution of the foundation's Health Program and its goal to reduce health disparities by promoting population health and addressing the conditions and environments that influence health outcomes.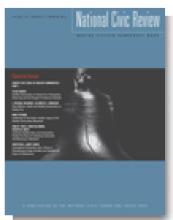 The quarterly journal of the National Civic League, National Civic Review is celebrating the healthy communities movement in the United States in partnership with Community Commons. Its editors will devote two issues to the subject. Additionally, this year the National Civic League's annual All-America City Award program will focus on healthy communities. That award program recognizes civic accomplishments.
"In great part, our goal is to examine the learning to date and to spark a renewed dialogue that can inform a better path forward for communities, as the font of positive change for the nation," writes National Civic Review guest editor Tyler Norris. Norris is vice president of Total Health Partnerships at Kaiser Permanente. His essay in the current issue of the magazine is titled "Participatory Democracy and the Prospect for American Renewal."
"Twenty-Five Years of Healthy Communities: Part 1," published online January 2014 and in print, traces the history of the healthy communities movement and includes interviews with some of the field's pioneers. The essays and articles "give a sense of the breadth of current movement, including statewide initiatives, institutional networks, partnerships and alliances across the public, private and nonprofit sectors," says Mike McGrath, National Civic Review editor. "Twenty-Five Years of Healthy Communities: Part 2," to be published this spring, focuses on local healthy community initiatives, current practices and evaluation methods.
Read or download a PDF of the article in the kresge.org library.