Making the city safer, one neighborhood at a time
AmeriCorps Urban Safety Program builds on Midtown success story.
This article is part of a package marking work of The Kresge Foundation's Detroit Program in alignment with the Detroit Future City framework, which was announced a year ago. The Detroit Program seeks to promote long-term economic opportunity and re-establish the city as the center of a vibrant region. Detroit Future City is 10-, 20- and 50-year development framework for those ends, including strategies economic growth, land use, neighborhoods and more. Read an overview of the series and more articles.
Since 2009 the Midtown area of Detroit has seen a 45 percent reduction in crime with an innovative collaboration by residents, law enforcement agencies and volunteers. Now there's an effort to transform the city one neighborhood at a time.
The AmeriCorps Urban Safety Program, based at the Wayne State University Center for Urban Studies, takes a two-pronged approach to increasing public safety and reducing crime:
AmeriCorps volunteers hit the streets in targeted neighborhoods to build trust and open communication with residents. The volunteers help residents build block clubs, start neighborhood and bike watches, create safe routes to schools, board up vacant buildings, conduct cleanup events and secure homes, cars and businesses by providing supplies, safety tips and services such as VIN etching.
Law enforcement agencies – including the Detroit Police Department, Wayne State University Police Department and Michigan State Police – share real-time crime data with AmeriCorps volunteers and institutional partners such as hospitals, universities and museums. The nationally recognized CompStat system identifies crime hot spots and frequent offenders. That allows volunteers to conduct targeted interventions, such as distributing steering-wheel locks and fliers with car-theft prevention tips, in areas where recent vehicle break-ins have occurred. AmeriCorps volunteers also communicate what they hear from neighbors about crime and quality-of-life issues, creating a bridge connecting residents and police.
Lyke Thompson, director of the Wayne State University Center for Urban Studies, says the collaboration helps to create a greater sense of safety in neighborhoods and allows police to focus their limited resources.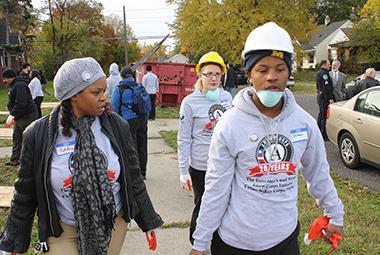 Photos courtesy Zach Fairchild/AmeriCorps Urban Safety Program
"We have people show up at board-ups who are residents on the same block who don't even know each other. You're overcoming the barriers of fear and building trust in each other," Thompson says. "Police come to board-ups to clear houses and stick around to introduce themselves and give out their cellphone numbers, and residents will offer tips. That sort of basic communication needs to happen all over the city so people feel connected to the people who are trying to protect them."
In November Michigan Gov. Rick Snyder and then-Detroit Mayor Dave Bing announced a three-year, $1.6 million expansion of the AmeriCorps Urban Safety Program, funded in part by The Kresge Foundation. The program will grow from Midtown and areas along East Jefferson Avenue into five more Detroit neighborhoods: Morningside and East English Village, Southwest, Osborn, Cody and the University District.
Kresge's Wendy L. Jackson points out that progress in a number of areas, such as health, education and public safety, depends to large degree on improving civic engagement through strong residents, strong leaders and strong organizations.
"This program is enhancing the relationship between residents and law enforcement, which ultimately builds the capacity within the neighborhood to improve public safety," says Jackson, a senior program officer
And the problems of blight and vacancy are inextricably woven into the issue of public safety. As the Detroit Future City document puts it: "Vacant buildings contribute to crime, have an impact on public health, undermine neighbors' property values and above all foster a sense of decay and decline that in turn leads to loss of confidence among residents and businesses – in their neighborhoods and in the city as a whole."
Roberta Bivinns, president of the Phillips Block Club in the Jefferson-Chalmers neighborhood along East Jefferson Avenue, offers a case in point.
"My mom, who likes to go out in her yard and plant flowers and sit on the porch, was looking at these three lots behind our house and she said, 'Somebody should do something about this,'" she recalls.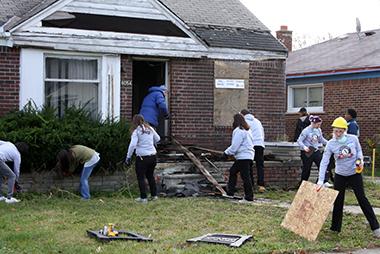 Photos courtesy AmeriCorps Urban Safety Program
Bivinns' mother, Mable Tanner, a retiree who has lived in the neighborhood for more than 30 years, recruited Bivinns and another daughter in 2008 to clean up one of the lots, mowing untended grass and hauling away illegally dumped tires and hunks of concrete. Their initial success inspired them to tackle more lots and eventually pool their resources and raise funds to purchase maintenance equipment.
"We always felt that one block doesn't make a community. If every block can do the same, it uplifts the whole community," Bivinns says.
Eventually, they reached out to the Jefferson East Inc. Business Association and were connected with the AmeriCorps Urban Safety Program.
Joshua Elling, executive director of the association, says in the past his organization has focused on supporting the commercial corridor along East Jefferson Avenue.
"AmeriCorps found people like Roberta and helped connect neighborhood groups and mobilize collective action," Elling says. "The communication barriers between the groups have broken down and people are talking with each other."
Since the partnership began in March, 300 vacant lots have been cleared and 37 structures boarded up in the Jefferson-Chalmers and West Village neighborhoods, Elling says.
Bivinns says the AmeriCorps program has contributed volunteers to help get more neighbors involved, obtain supplies to maintain lots and board up houses, and come up with grant ideas to fund maintenance and beautification projects. Police and AmeriCorps volunteers also have attended monthly Phillips Block Club meetings since getting involved, she says.
"Within this last year, I have seen an improvement. You started to see people would walk up the street just to see what's going on and comment on how nice it looks," Bivinns says. "It has really done something for the community's morale."
Wayne State Police Chief Anthony Holt, who has been involved with the AmeriCorps Urban Safety Program since its 2009 inception in Midtown, says he believes the model will continue to succeed as it expands.
AmeriCorps volunteers' enthusiasm and community organizing skills have created a connection between his department and residents, he says.
"Now, if we go into Woodbridge where AmeriCorps has been organizing and we see someone breaking into a car, the residents won't shut their doors. You'll get residents out on the porch saying, 'He went that way,'" Holt says.
Darwin Roche, the Detroit Police Department's captain of community outreach, agrees that there's been a sea change in attitudes.
Roche cites a well-publicized November raid on the Colony Arms Apartments along East Jefferson Avenue in which dozens of people were arrested on outstanding warrants. AmeriCorps volunteers met with tenants after the raid to learn about their quality-of-life concerns, such as a bedbug infestation in the building – something the Detroit Police Department did not have the resources or ability to do, he says.
That process, as Roche put it, gives a voice to people who didn't believe they had one when it came to policing.
Now they are being heard.
Read an overview of the Detroit Future City package and more articles.