Low-interest Kresge loan helps Colorado nonprofit expand health services
When the Colorado Coalition for the Homeless opens its new 54,000-square-foot health care facility in Denver this spring, the nonprofit will double the size of the community health center it is replacing and create 78 new supportive housing apartments on the building's upper level.
The $35 million construction project is funded with low-income tax credits from banks, grants from the City of Denver and state of Colorado, the federal New Markets Tax Credit Program and capital donated by local foundations, companies and individuals.
Additionally, a three-year, $3 million loan from The Kresge Foundation allows the Colorado Coalition for the Homeless to hire more staff — doctors, nurses and social workers— and upgrade infrastructure. The latter improvements include enhancing the clinic's electronic health record system to meet the needs of current and future patients, says John Parvensky, coalition president.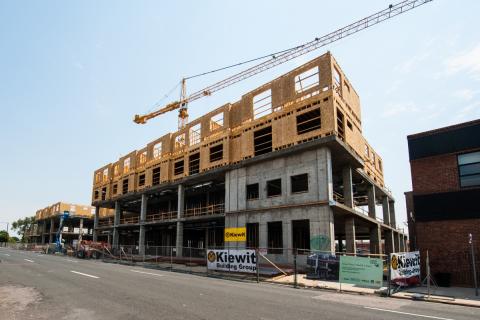 The loan will allow the organization to expand its clinical operations and document services for Medicaid reporting and reimbursement quickly and efficiently. "Without the loan we would have been caught in a difficult cash flow situation, and expansion would have taken much longer," Parvensky says.
Founded in 1984, the Colorado Coalition for the Homeless advocates for and provides a continuum of housing, health care and social support services to more than 15,000 individuals and families each year. Thecoalition's old Stout Street Clinic, which is being replaced, is functionally obsolete, Parvensky says. The clinic and two satellite health centers treated more than 13,000 patients in 2012.
"We expect the number of insured patients we serve will double the first year under the Affordable Care Act and increase another 50 percent the second year," Parvensky says.Historically only 15 percent of homeless patients have been insured, mostly through Medicaid, he notes.
Kresge's Human Services Program has made grants to the coalition in the past. The loan — called a "pay-for-performance" loan ­— represents one of the ways the foundation has expanded beyond grantmaking by providing access to capital. Kresge's Social Investment Practice provides capital via low-interest loans, loan guarantees and other tools.
In the coalition's case, the loan agreement rewards success in improving the lives of patients with a variable interest rate that can fall as low as 1 percent.  The percentage will be determined by the nonprofit's success in meeting 10 objectives, including enhancing health and residential stability for patients and reducing overall system costs. The top interest rate would be 4 percent.
The foundation's Social Investment Practice managed commitments representing about $52 million in program-related investments in 2012. All repaid dollars are used in future social investing.
"We know that lack of operating capital can prevent community health centers and other providers from engaging in activities that could help stabilize the lives of individuals and communities," says Kimberlee Cornett, director of Kresge's Social Investment Practice. "We view this new complex as a wonderful opportunity for the Colorado Coalition for the Homeless to improve health and housing stability outcomes for individuals and families in the Denver area."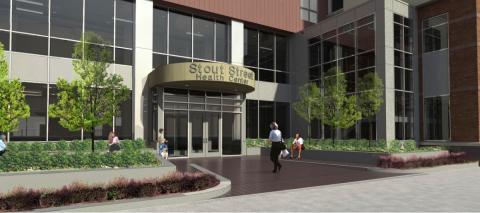 The coalition's integrated health intervention model, combining medical care with mental health, substance abuse treatment, dental and social services, is expected to save money by reducing the use of emergency rooms and shelters and hospitalization among clinic patients and supportive housing residents.
Kresge could forgive as much as $270,000 in accrued interest on the loan if all objectives are met. Success will be determined based on data collected to meet the requirements of the U.S. Department of Housing and Urban Development and Health Resources and Services Administration.
"The loan is interesting financially because of Colorado Coalition for the Homeless' pay-for-performance approach," says Fred Karnas, Kresge social investment officer for health and human services. "It's interesting programmatically because of the way it is integrating primary care, behavioral care and other services for homeless persons."
The new building's design supports the integrated approach in two ways, Karnas notes. There's integrated workspace for various teams. Additionally, combining the clinic and affordable housing in one facility significantly improves residents' access to needed services.
"As we work closely with the Colorado Coalition for the Homeless, we're learning what makes a difference and is important in the lives of people who have been chronically homeless," Karnas says. "Pay-for-performance approaches require new ways to track what works. This project will help us learn more about the metrics that reflect real changes in people's lives."
Residents will start moving into the new 63 one-bedroom and 15 two-bedroom independent supportive housing units, each with a kitchen and bath, in April. The housing component of the project is financed with income tax credits from U.S. Bank and support from Denver and Colorado housing programs.
The coalition's development subsidiary owns and operates 16 properties and 1,500 housing units that provide homes for nearly 2,100 individuals and families and a range of supportive services, including counseling, life skills training, employment counseling and jobs at a pizzeria it operates. The coalition also provides street outreach, rental assistance, help in acquiring benefits, and childcare.
"If we're able to keep people in supported housing for two years, the likelihood of them staying housed increases," says Parvensky. "It's rewarding to create a new facility that integrates health care and behavioral care and expands housing at the same time, and to contribute to new models and affect public policy."
Learn more about pay-for-performance models: Kresge Social Investment Practice director IDs steps needed to foster 'pay-for-performance' funding