Lincoln Park Coast Cultural District revitalizing New Jersey neighborhood
Kresge supports organization that's integrating arts and culture in Newark community revitalization.
A house of worship and then a soup kitchen, South Park Calvary United Presbyterian Church had been a focal point for the Lincoln Park neighborhood of Newark, N.J., for some 160 years. A fire in 1992 destroyed much of the building, leaving only the facade standing.
Today, the soon-to-be renovated facade is part of a community development effort led by the Lincoln Park Coast Cultural District. The organization's mission is to create a sustainable community known for rich cultural life, environmentally friendly housing, urban agriculture and training Newark residents for green jobs. It exemplifies Kresge's desire to support organizations that integrate arts and culture in community revitalization.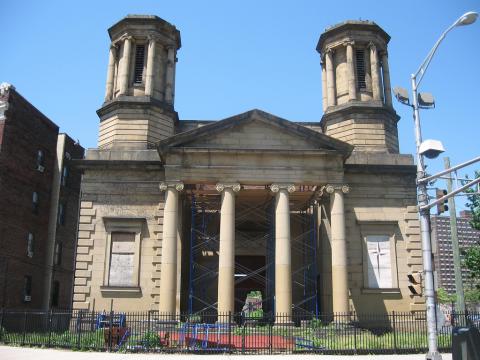 Photo: Lincoln Park Coast Cultural District
An 11-acre, four-block, low-income neighborhood, Lincoln Park is home to 2,500 people. Thanks to the nonprofit's efforts, a growing number of residents are emerging artists. The artists enliven the community, says Baye Adofo Wilson, executive director of the Lincoln Park Coast Cultural District.
The idea to transform Lincoln Park into a green arts and cultural district grew from meetings of local residents, civic and business leaders and city administrators in the late 1990s.The cultural district has been working to revitalize Lincoln Park since 2002.
Restoration of the church's eight-story Greek revival facade will be completed in 2014, Wilson says. The Lincoln Park Coast Cultural District purchased the property from the city of Newark for $100.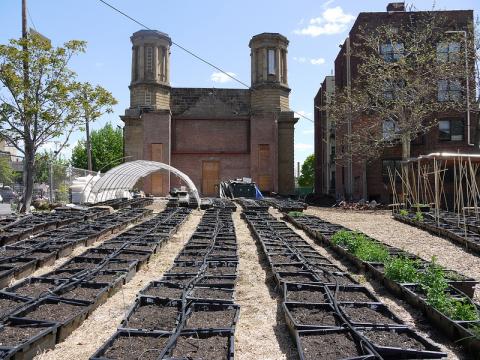 Photo: Lincoln Park Coast Cultural District
The group is building a 600-seat outdoor amphitheater behind the facade for community and cultural events, including the annual Lincoln Park Music Festival, launched in 2006. The weekend festival, which attracted 60,000 people in 2013, features jazz, hip-hop, gospel and house music.
The facade, which is listed on national and state registers of historic places, will be the center of a community built around performances and food, Wilson says. "Our goal is to celebrate the spirit of the community and strengthen the social fabric of the neighborhood."
Restoration of the facade is supported by a three-year, $712,500 grant from Kresge's Arts and Culture Program. Kresge works to expand opportunity for low-income people in America's cities. Its Art and Culture Program seeks to build strong, healthy cities by promoting the integration of arts and culture in community revitalization.The grant also supports general administration, programs and services.
Earlier this year, ArtPlace America announced it would contribute $240,000 to the project. The Lincoln Park Coast Cultural District is the first New Jersey organization to win an ArtPlace America grant for creative placemaking. Kresge is a founding funder of ArtPlace America, a collaboration working to accelerate creative placemaking across the United States.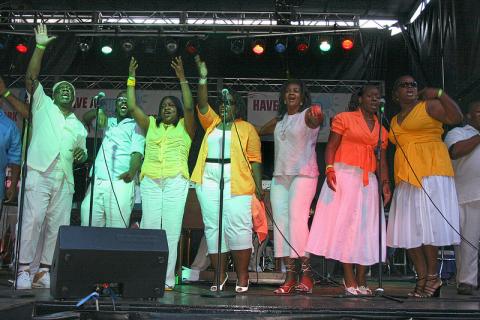 The cultural district's primary objective is to create a neighborhood that provides economic, cultural and human sustenance. To transform the neighborhood into a green, safe, musically rich place to live and work, it is:
remediating brownfields,
integrating agriculture and food production into the community,    
designing and building affordable, sustainable housing,
advancing energy conservation, and
training workers for green jobs.
The cultural district is working with Rutgers University to develop an urban farm on the former church property. It sells shares in a community garden, which provides residents access to fresh, locally grown produce. Eventually, Wilson says, produce from the community garden will be sold at concessions connected with the amphitheater.  
Photo: Lincoln Park Coast Cultural District
Lincoln Park Coast Cultural District also builds sustainable, mixed-use housing. It has built 84 apartments, most with two bedrooms, in 10 buildings on a former brownfield. Another four buildings, with 32 units, are planned.
Thirty percent of the units rent at market rates; rent for the rest is based on income. Musicians, writers, artists, filmmakers, set designers and actors make up 15 percent to 20 percent of the residents in the new units. The average annual income in the neighborhood has increased from $10,000-$12,000 in 1999 to $25,000-$30,000 in 2013, Wilson says.
All 10 buildings earned U.S. Green Building Council Leadership in Energy and Environmental Design, or LEED, certification. They feature recyclable materials, solar panels, energy-efficient appliances and windows and rooftops that reduce the need for air conditioning.
The cultural district recently won a contract to help retrofit 17 Newark municipal buildings to make them more energy efficient. The cultural district will train energy auditors and technicians and subcontractors working on the project, Wilson says. The initiative is part of the cultural district's green-job training program, called the Lincoln Park Fossil Free Learning Lab.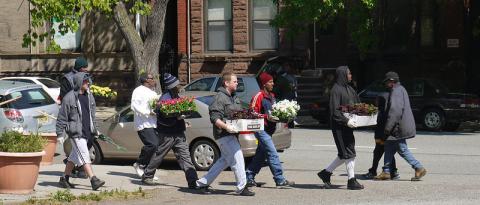 Photo: Lincoln Park Coast Cultural District
"The Lincoln Park Coast Cultural District is an important grantee in our portfolio," says Regina Smith, a senior program officer for Kresge's Arts and Culture Program. "As a hybrid organization, it thinks broadly to address affordable housing, arts and culture, restoration and historic preservation and urban agriculture. It clearly connects to a larger community improvement effort.
"Lincoln Park Coast Cultural District's commitment to improve the urban infrastructure is compelling and a good fit with Kresge's ambition to improve the fundamental conditions of America's cities," she says.
A lot of people are committed to the community, Wilson says. "They have moved in and claimed ownership."