'Leverage for Good' offers look at actors and tools shaking up American philanthropy
Kresge CEO shares thoughts in foreword to Oxford University Press book.
American philanthropy is undergoing a turbulent transformation, writes Kresge Foundation President Rip Rapson in the foreword to a new book "Leverage for Good, An Introduction to the New Frontiers of Philanthropy and Social Investment."
In "Leverage for Good," author Lester Salamon provides a comprehensive view of the actors and tools that are transforming philanthropy and social investment. A professor and director of the Johns Hopkins Center for Civil Society Studies, Salamon highlights how charitable, government and private investment resources are mobilizing to address pressing social, economic and environmental problems. The book was published by Oxford University Press.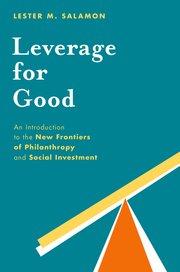 The 162-page "Leverage for Good" is a companion to the hardcover "New Frontiers of Philanthropy, A Guide to the New Tools and New Actors that Are Reshaping Global Philanthropy," edited by Salamon and also published by Oxford.
Previously founding director of the Johns Hopkins Institute for Policy Studies and deputy associate director of the United States Office of Management and Budget, Salamon is a pioneer in the empirical study of the nonprofit sector in the United States and internationally.
In contrast to the 20th century, when philanthropists focused primarily on grants and gifts, Salamon says the "new frontiers of philanthropy" include multiple tools to leverage private resources, including loans, loan guarantees, private equity, bartering, social stock exchanges, bonds, secondary markets and investment funds. 
"In the philanthropic context it means finding a way to go beyond the limited flow of charitable resources generated by the earnings on foundation assets or the annual contributions of individuals to catalyze for social and environmental purposes some portion of the far more enormous investment assets resident in banks, pension funds, insurance companies, mutual funds and the accounts of high net worth individuals," he writes.
As a result, Salamon explains, social investing today is:
More diverse, involving a wider variety of sources of support.
More entrepreneurial, blending economic and social returns.
More global, engaging problems on an international scale.
More collaborative, interacting with broader civil society, including financial institutions and government agencies.
In the foreword, Rapson writes about Kresge's decision to reorganize topically, focus on vulnerable residents in America's cities and engage in social investing. In addition to building program teams that invest in research, networks, advocacy and communications strategies, Kresge has stretched its capital support spectrum to include a number of philanthropic instruments.
"We've created a social investments practice that over the next five years will deploy $150 million in loans, guarantees, linked deposits and direct investments. And we've tested the edges of risk and the complexities of working across sectors," he writes.
Rapson describes "Leverage for Good" as "an invaluable overview of the enormous opportunities opening up to bring new resources and new talents to the solution of some of our most intractable problems." He predicts Salamon's project, supported by Kresge, "will help our partners, our peers and the sector as a whole make a more profound and lasting impact on the issues about which we are most passionate."