Lake Erie community's cultural assets and creative placemaking fueling rebirth
Cleveland's Collinwood neighborhood attracts artists and entrepreneurs with affordable homes and studio space.
Hard hit by the loss of manufacturing jobs and by property foreclosures that left many buildings vacant, the racially and ethnically diverse Collinwood neighborhood of Cleveland is rebuilding. "Folks are moving in. We're seeing a change of attitude, a new vitality," says Michael Polensek, a city councilman.
Polensek and Brian Friedman, executive director of Northeast Shores Development Corporation, cite reasons to be upbeat: rescued property back on the tax rolls, creative placemaking, an influx of artists and entrepreneurs, investment in infrastructure, job creation and assets like Lake Erie and the Beachland Ballroom and Tavern.
"It really hit home when actress Monica Potter called to say she was buying back her original family home near Lake Erie and redoing it," Polensek says. The house is close to Collinwood's Waterloo Arts and Entertainment District. She also is considering opening a business in Cleveland, he says. Potter, who lives in California, plays Kristina Braverman in television's "Parenthood" series.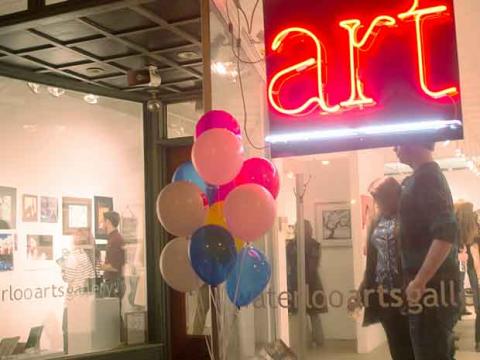 In 2013, Kresge awarded Northeast Shores an 18-month $1.08 million grant to support Collinwood's creative placemaking strategy, including public art and capital projects and programming to help stabilize the neighborhood and attract artists and entrepreneurs. Northeast Shores coordinates Collinwood Rising, a 10-year community-driven master plan created in 2010 to address vacant and underutilized spaces in the neighborhood.
Kresge works to expand opportunity for low-income people in America's cities. Its Arts and Culture Program seeks to build strong, healthy cities by promoting the integration of arts and culture in community revitalization.
"Northeast Shores understands the role that arts and culture can play in community development," says Kresge's Regina Smith, a senior program office in the foundation's Arts and Culture Program. "It has taken a collaborative, coordinated and deliberate approach toward addressing the challenges facing residents in Collinwood, and creating affordable solutions for individual artists and creative entrepreneurs by getting houses and commercial properties back on the tax rolls."
It's impossible to walk through the neighborhood and not see creative placemaking, says Friedman. He cites 30 murals on previously abandoned buildings, window displays, sculpture gardens, and paintings on mailboxes and rain barrels.
A $5 million streetscape project on Waterloo Road scheduled for completion in September provides a welcome backdrop. "We wanted to make sure the street would be so interesting during construction that you would deal with orange barrels to see it," Friedman says. Artists have collaborated with local businesses on vibrancy projects, including music performances and make-and-take sessions, to keep things lively.
"The vibrancy program's free public events allow low-income residents to enjoy high-quality arts programming in their own community," Friedman says. "The projects also decrease community blight and increase the perception that the neighborhood is improving. This change in perception improves property values, which assists low-income homeowners build equity in their largest asset—their homes."
In the past 10 years, businesses, developers, government and foundations have invested more than $42 million in the neighborhood, Friedman reports. Partners include ArtPlace, the City of Cleveland's Housing Trust Fund, Neighborhood Progress' Strategic Investment Initiative funded by the Cleveland Foundation and George Gund Foundation, and the U.S. Department of Housing and Urban Development's Neighborhood Stabilization Program.
The Community Partnership for Arts and Culture, another organization supported by Kresge, and Northeast Shores have contacted 12,000 artists nationwide, encouraging them to move to Cleveland. As a result, more than 360 artists have inquired about the program. A vacant mixed-use building is being converted into six apartments, each with dedicated art space for residents. The goal is to launch at least 14 new artist enterprises in rehabilitated properties.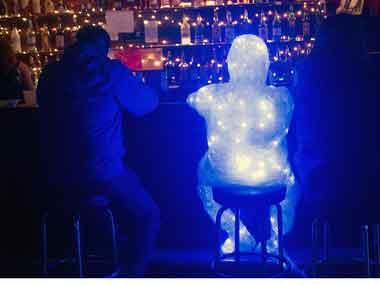 Northeast Shores offers a range of services to the low- to moderate-income artists, including fundraising assistance for community art projects, help with business development and buying and selling property, foreclosure intervention, employment and social service referrals, and subsidized short-term rental space for temporary stores and pop-up events. The development corporation also purchases graphic design, printing and food services, and hires artists for community projects, including some that protect Lake Erie from storm water runoff.
"A big white or blue rain barrel next to your house is not something you can get excited about," Friedman says. However, artist Linda Zolton Wood developed a plan to distribute decorated barrels. Artists paint the barrels, which are auctioned off to residents. More than 80 colorful rain barrels have been installed in Collinwood.
Photographer Omid Tavakoli is restoring the Waterloo Sculpture Garden, reclaiming itfrom weeds and installing solar-powered motion-sensitive lighting. He plans to add more sculptures and open the garden toyoga classes and other community events for residents.
Working with Noteworthy Federal Credit Union, Northeast Shores established a $150,000 low-interest loan pool for artists in residence. "Sometimes artists and musicians need to borrow to install a kiln, soundproof an attic or buy recording equipment," Friedman says. "Most banks look at them like they're crazy. Artists and musicians have assets that can be collateralized, and Noteworthy makes loans against those assets."
Collinwood's commercial vacancy rate has dropped from 40 percent a decade ago to 8 percent today and crime is at a 10-year low, says Friedman, who's encouraged by other signs of resurgence, including investment by potential employers. A few examples:
Cleveland restaurateur Alan Glazen is among a growing number of entrepreneurs opening new restaurants, coffee shops and pubs along Waterloo Road.
Valerie Grossman, a 2012 Cleveland Institute of Art graduate and ceramic artist, is working with Northeast Shores to renovate a storefront house and adjacent former horse-drawn carriage factory to house the BRICK Ceramic + Design Studio, scheduled to open this fall. A National Endowment for the Arts grant also is helping with construction costs. Grossman, who grew up in nearby Euclid, will offer inexpensive shared studio space, storage, a gallery, workshops and classes. Upstairs she plans to create a one-bedroom apartment to rent and a small efficiency for visiting artists.
Cleveland-based Zygote Press is gutting an abandoned house for a new satellite location, Ink House, which will provide contract print services. Zygote is turning a garage in back into a base for its mobile printmaking operation. The Print Garage will house five mobile printing units for use in schools, community centers and festivals, says Liz Maugans, Zygote co-founder and executive director. Zygote will use the first story of the house to work with artists on limited edition prints and plein air printing and turn the top part of the house into a collaborative space for working artists. "It's a way for us to connect to the artist community," Maugans adds.
Collinwood also is home to Waterloo Arts, a nonprofit that houses a gallery, studio space and café, and the annual Waterloo Arts Fest, which in June attracted more than 8,000 people to hear 45 bands perform on five stages. It builds on Collinwood's strong music tradition, which includes Beachland, a prominent indie music venue that has hosted more than 20,000 national and local musicians and bands since opening in 2000. Collinwood also is home to record stores, art galleries and a graphic design studio.
Each year Northeast Shores surveys residents and business owners in Collinwood's arts and commercial corridor to measure progress and determine what needs to be done next. Between 2011 and 2013, the number of respondents who said the neighborhood is changing for the better increased from 53 percent to 71 percent.
Collinwood's next challenge, Friedman says, is to make it a healthy place for children of longtime residents and newcomers. When asked if the neighborhood is a good place to raise children, 63 percent of respondents said "no" in 2013. "That's troubling. We can't improve the neighborhood if the majority thinks it's not a good place for families," he notes.
To that end Northeast Shores is working with Breakthrough Schools to open Lakeshore Intergenerational School in the former St. Casimir Parish School in August. Breakthrough Schools operates nine other charter schools. "The addition of the new school will assist in providing quality educational options for households with children," Friedman says.
"We appreciate that Kresge recognizes we're making a difference in the community," says Polensek, a founder of the Northeast Shores Development Corporation and a sponsor of the Waterloo Arts and Entertainment District streetscape project.  
Polensek remembers Collinwood when companies like Fisher Body, General Electric, National Acme and TRW employed thousands of residents. He watched Cleveland's population shrink from 914,000 in 1950 to 390,000 today. "Collinwood has gone through trials and tribulations as companies moved manufacturing offshore," he says. "However, Collinwood has weathered it and is poised for a comeback."