Kresge's health program expands with promotion of one fellow, addition of another
Katie Byerly has been promoted to program officer for the health program, from health philanthropy fellow.  
As a program officer, she will be focusing on grantmaking across the health team's strategy while supporting development and implementation of new initiatives that advance the equity-focused systems of health; including health and housing, the integration of health and human services and climate change and health. She will bring a strong focus on equity and justice to how the health team deploys its resources to support nonprofit partners. 
"We are thrilled to have Katie continue on our team in a new role to help us evolve our health strategies. As our inaugural health philanthropy fellow, she greatly contributed to our cross-team work, which advances our commitment to better serve the health of people with low incomes," said David Fukuzawa, managing director of Kresge's health and human services programs. "She remains a champion of our growing learning and evaluation practice."
Prior to her start at Kresge, Byerly served as managing director of CounterTobacco.org, developing tools and resources for federal, state and local public health practitioners working to counteract the impact of tobacco product sales and marketing. Read Katie's bio.
Health Program Philanthropy Fellow
In addition, Juwon Harris has joined the Health team as a Health Philanthropy Fellow. He most recently served as a program analyst at the National Association of County and City Health Officials in Washington, D.C.  Read Juwon's bio.
Environment Program welcomes Climate Change Fellow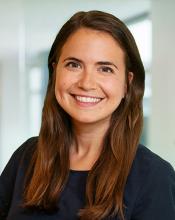 Also, Kresge's Environment Program has added Rebecca Guerriero to the team as a Climate Change Fellow. She comes to Kresge after recently serving as an Urban Resilience Advisor at Resurgence in London, England. Read Rebecca's bio.