Kresge supports new $2 million career center to bring job readiness and financial training services to Detroit's North End neighborhood
Goodwill Detroit programs will serve 700 Detroit-Wayne County residents a year in new space; JPMorgan Chase, Detroit LISC and Kresge partnering to support building renovation
Goodwill Detroit programs for job readiness and financial training will have an expanded permanent home under a $2 million project to complete renovation of a 10,000-square-foot building in the city's North End neighborhood. The renovation is made possible by an agreement announced by Goodwill Industries of Greater Detroit in partnership with JPMorgan Chase, The Kresge Foundation, Detroit LISC and Vanguard Community Development Corp., which owns the building.
Goodwill Detroit's Flip the Script is a self-empowerment program designed to break down employment barriers for Detroit/Wayne County at-risk men and women by teaching literacy, job skills and GED certification. Goodwill's Center for Working Families program – a partnership funded by Detroit LISC and United Way of Southeastern Michigan – provides services including financial coaching, financial planning/budgeting, income supports, workforce- and career-development opportunities.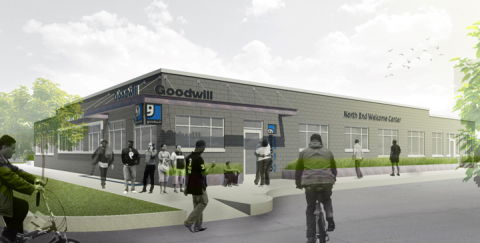 Both programs now operate at other Detroit locations and will be able to expand their operations and the number of clients served at the new location when renovation is completed in September. It is anticipated that the programs will be able to serve 700 individuals annually and place more than 300 in jobs through medical and hospital environmental training, basic skills and construction training, and welding certification.
Kresge, which has made a $750,000 grant to the building project, has been a supporter of Flip the Script since its inception in 2003.
"This is another beacon of hope for the North End community," says Wendy Lewis Jackson, deputy director of Kresge's Detroit Program. "In addition to the immediate impact that Flip the Script has for hundreds of graduates annually, Vanguard and Goodwill will soon have additional space for programming that benefits the community. This project furthers the Kresge Detroit Program's focus on supporting green, healthy, active neighborhoods across the city of Detroit."
"Vanguard is proud to be a partner in this transformative project," says Pamela Martin Turner, president and CEO of Vanguard. "We are committed to the equitable development of Detroit's North End and employment at a living wage is critical to that purpose."
"For 95 years, Goodwill Detroit has been serving the community by offering life-changing and holistic services, none of which would be possible without the funding and support of organizations with a vested interest in the success of the city," says Lorna Utley, president and CEO of Goodwill Detroit. "We can't wait to start seeing the results of this collaboration."
O'Brien Edwards Construction, minority-owned and located next door to the building on East Grand Boulevard, has been hired as the contractor in charge of renovating the new North End Workforce Readiness Center. The company is also providing transitional work experiences, offering Flip the Script students on-the-job training opportunities. 
Kresge's Detroit Program uses a comprehensive investment strategy in the foundation's hometown to advance opportunities for people to thrive. The Detroit Program works toward green, healthy active neighborhoods; a vibrant Woodward Corridor; 21st century regional transit; a high-quality early childhood system; a robust arts and culture ecosystem; and enhanced civic capacity.