Kresge-supported website helps colleges serve veterans
Enhancements bring expert bloggers and interactive discussions to American Council on Education project.
Since 2009, nearly 1 million veterans and their families have used the benefits of the Post-9/11 GI Bill. But ensuring that eligible veterans are college- and career-ready remains a challenge, and institutions face a new influx of students as more troops return from Iraq and Afghanistan.
The American Council on Education has enhanced its online site for higher education institutions working to meet the needs of those veterans.
The enhanced online Toolkit for Veteran Friendly Institutions features blogs and interactive discussion forums.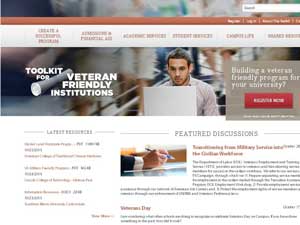 The toolkit is an interactive online resource to help colleges and universities build effective programs for student veterans, highlight services available on campus and share information with peer institutions.
The new features are supported by a $758,000 grant from Kresge's Education Program. These features will allow the American Council on Education – or ACE – to design tools to evaluate institutional awareness about the need to serve student veterans, as well as tools to examine programs and resources for these students.
"We know this toolkit helps veterans benefit fully from a college education and career preparation," says Kresge's Bill Moses, who directs the Education Program. "The toolkit also tries to help ensure that America's investment in veterans will have long-term benefits in creating a better-educated workforce," Moses says.
Kresge works to expand opportunity for low-income people in America's cities. Its Education Program promotes postsecondary access and success for low-income, first-generation and underrepresented students. The military disproportionately draws from first-generation students, and helping more veterans secure educational benefits is one way to increase the number of first-generation students who earn degrees.
ACE President Molly Corbett Broad says the toolkit already has spurred a collaborative learning environment for hundreds of institutions striving to ramp up their programs and services for student veterans.
Now the site will better enable colleges and universities to share diverse ideas for how to serve student veterans in ways best suited to each institution's mission, she says.
ACE, which represents more than 1,600 college and university presidents and more than 200 related associations, provides leadership on higher education issues and seeks to influence public policy through advocacy.
ACE's Toolkit for Veteran Friendly Institutions was launched last year with Kresge support. The site has more than 1,200 active users representing almost 700 institutions.