Kresge-supported report traces increased prevalence of pesticides, children's health problems
More than 1.1 billion pounds of pesticides are used annually in the United States, and they are endangering children and the nation's future, according to the report "A Generation in Jeopardy: How Pesticides Are Undermining Our Children's Health and Intelligence" by California-based Pesticide Action Network North America.
The 44-page report summarizes recent scientific studies and government data that document the negative, life-altering effects of pesticides on children's health, along with methods for protecting children by reducing exposure.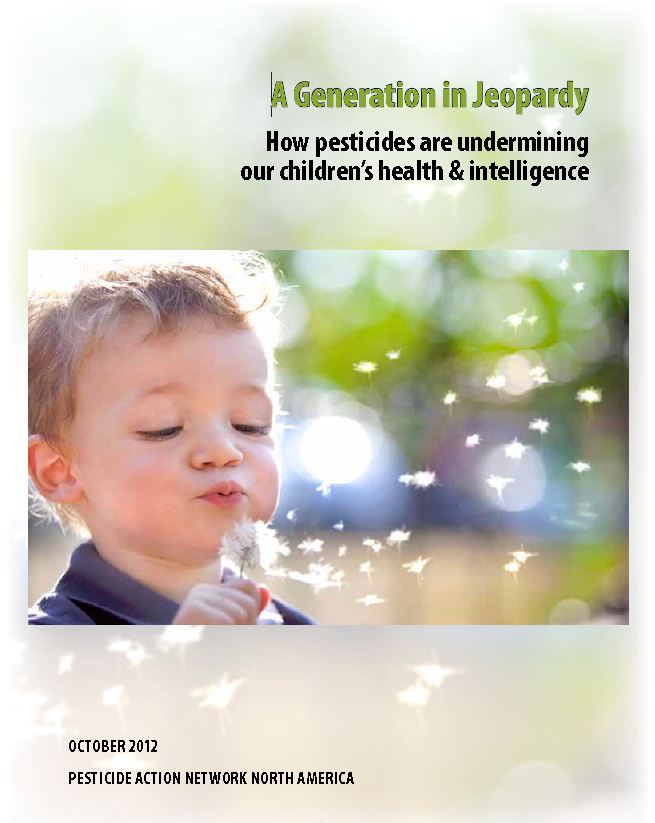 Pesticide use in the U.S. has increased five-fold since 1945. Today, chemicals are formulated into roughly 20,000 pesticide products, according to report authors Kristin Schafer and Emily Marquez.
The Environmental Protection Agency estimates 78 million homes, about 74 percent of all U.S. households, use pesticides, says Marquez, Pesticide Action Network staff scientist. That makes the possibility of harmful exposure widespread.
Among the report's findings:
Exposure of a developing fetus, infant or child to neurotoxic pesticides can lead to a greater risk of learning disabilities and diminished intelligence.
The number of children diagnosed with attention deficit hyperactivity disorder increased an average 3 percent each year from 1997 to 2006 and an average 5.5 percent each year from 2003 to 2007.
An estimated 400,000 to 600,000 of the 4 million children born in the United States each year are affected by neurodevelopment disorders.
The prevalence of autism among boys ages three to 17 years increased 261 percent and the prevalence among girls, while lower than boys, increased more than 385 percent between 1997 and 2008.
More than 10,000 children are diagnosed with cancer annually. The incidence of leukemia and childhood brain tumors, the two most common childhood cancers, has increased 40 and 50 percent respectively since 1975. U.S. children who live in agricultural areas from birth to age 15 are at greater risk of getting childhood cancers.
A study of more than 4,000 children from 12 California communities showed pesticide exposure in the first year of life significantly increased the risk of being diagnosed with asthma by age five. Asthma is the most common chronic childhood disease in the United States. The number of U.S. children with asthma increased from 2.1 million in 1980 to 7.1 million in 2009.
Obese children are more likely to have higher concentrations of 2,5-DCP in their urine, a metabolite of the pesticide found in mothballs (p-dichlorobenzene).
"We are not saying that pesticides are the only cause for these trends, but the science is so strong, pesticides clearly are a contributing factor," says Schafer, Pesticide Action Network's policy and communications director.
Studies published in Environmental Health Perspective, the Journal of the American Medical Association, the Journal of Toxicology and Environmental Health, Pediatrics, and the Proceedings of the National Academy of Sciences are among those that link pesticides with health problems, especially in the young.
The American Academy of Pediatrics released its own report about the harmful effects of pesticides in November, shortly after the Pesticide Action Network report was published, and arrived at similar conclusions. Kresge's Health Program was among the funders supporting Pesticide Action Network's effort.
The report concludes that the most effective way to protect children is to dramatically reduce the volume of pesticides used nationwide. It also recommends policy changes at the local, state and federal levels to limit children's exposure to pesticides that have been shown to be harmful.
The report includes a series of recommendation for policymakers and government leaders.
The Pesticide Action Network, based in Oakland, Calif., is a national network of consumer, labor, health, environment and agriculture groups, and one of five regional centers of Pesticide Action Network International.
Kresge's Health Program supports efforts to promote the health and well-being of low-income and vulnerable populations by improving the environmental and social conditions affecting their communities, as well as improving access to high-quality health care.
See the report: "A Generation in Jeopardy: How Pesticides Are Undermining Our Children's Health and Intelligence" (PDF)