Kresge-supported project provides easily accessible information about 'community benefit' requirement for nonprofit hospitals
Affordable Care Act expected to free up resources for hospitals to help communities prevent illness.
As more Americans qualify for Medicaid or other health insurance under the Patient Protection and Affordable Care Act, health policy analysts predict that demand for hospital-based charity care will shrink. The projected decrease in charity care would free resources at nonprofit hospitals to provide other community benefits – activities that improve the overall health of the population.
The 2010 Affordable Care Act clarified, expanded and introduced greater transparency into what are known as "community benefit" requirements for federally tax-exempt nonprofit hospitals. These hospitals now must:
Conduct a community health-needs assessment at least every three years and develop a strategy to meet those needs
Adopt and publicize a written financial assistance policy
Limit charges, billing and debt collection practices aimed at individuals who qualify for financial assistance
Nonprofit hospitals also must comply with the community benefit requirements of the states in which they operate. To help policymakers, public health departments, hospitals, community leaders, advocates and other stakeholders understand community benefit requirements, The Hilltop Institute at the University of Maryland, Baltimore County, has created an online resource called the Community Benefit State Law Profiles.
"Many states have had community benefit requirements for a long time," says Hilltop Senior Policy Analyst Martha Somerville. "However, we found tremendous variation among states. This tool can help policymakers assess where their states stand now and determine where they want to go. It also can be used by advocates and people in the community who want to know what the state requires hospitals in their area to do. That knowledge can be a lever to get hospitals involved in community-based health improvement efforts."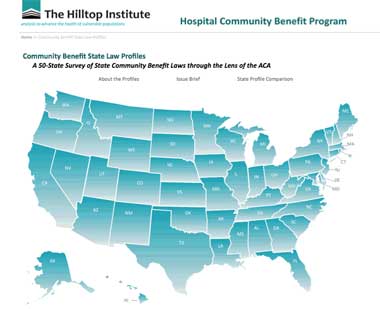 Created by Hilltop's Hospital Community Benefit Program the free tool spells out community benefit requirements state-by-state. Users can sort information by state or by a specific community benefit requirement such as those concerning financial-assistance policies, limits on hospital charges or debt-collection practices. Users also can compare community benefit requirements across multiple states and read the actual laws and policies.
Hilltop's Hospital Community Benefit Program is supported by grants from The Kresge Foundation's Health Program and the Robert Wood Johnson Foundation. The Kresge Foundation works to expand opportunity for low-income people in America's cities. Its Health Program seeks to reduce health disparities among children and adults by addressing conditions that lead to poor health outcomes.
Large hospital systems with facilities in multiple states will find the website of interest, predicts Julie Trocchio, senior director of community benefits and continuing care at the Catholic Health Association of the United States. "People who work in those systems will want to know what is required in various states as well as at the federal level."
Legislators and advocates who are concerned about community benefit requirements in their state and want to see what other states require also will find the website useful, says Trocchio, who describes Hilltop as a valuable "objective and nonpartisan resource."
The New England Journal of Medicine reported in April 2013 that tax-exempt hospitals devoted approximately 7.5 percent of their operating expenses to community benefits in fiscal year 2009. More than 85 percent of those expenditures went to charity care and patient care services, with only about 5 percent going to community health improvement programs.
Historically, the Internal Revenue Service has recognized nonprofit hospitals as charitable organizations exempt from taxes because they provided charity care to patients unable to pay. In 1969, the IRS expanded the kinds and scope of activities hospitals could report to support their federal tax-exempt status by establishing "community benefit" as the legal standard for hospital tax exemption.
"Tax exemption is a big issue for hospitals," Somerville says. "The estimated value of federal, state and local tax exemptions to the nation's approximately 2,900 nonprofit hospitals was $12.6 billion in 2002, and one would expect that number to be much higher now. Hospitals will want to comply with federal and state requirements to qualify for both federal and state tax exemptions."
Community benefits that qualify nonprofit hospitals for federal tax exemption include:
Free and discounted care to uninsured and low-income patients
Payment shortfalls for services provided to Medicaid patients
Activities to improve health in the community the hospital serves
Programs to increase access to care, such as subsidized health services
Medical research
Educating health professionals
The Catholic Health Association, Association of State and Territorial Health Officers, National Conference of State Legislatures, National Network of Public Health Law and other groups are helping Hilltop spread the word about the Hospital Community Benefit Program and state law profiles. Hilltop also has sent email bulletins to more than 6,000 individuals across the country, including members of Congress and state legislators who serve on health or finance committees.
"When the Affordable Care Act is fully implemented in 2014, there should be less demand by uninsured patients for free and discounted hospital care. Although there will still be a role for hospitals to provide charity care," Somerville says. "One hopes that some hospital resources previously devoted to charity care can be redirected to prevention initiatives that address the root causes of disease and disability -- the social, economic and environmental determinants of health."
Kresge's David Fukuzawa agrees."The Affordable Care Act presents a huge opportunity for hospitals to invest in efforts to help make the places where low-income families live, learn, work and play safe and healthy," says Fukuzawa, who directs Kresge's Health Program. "They have unique knowledge of the kinds of problems vulnerable people in their communities face and, with less demand from charity care, the resources to join with other community partners in improving health."
Somerville says she anticipates that requiring nonprofit hospitals to assess and address community health needs will foster new partnerships.
An asthma-mitigation program at Cincinnati Children's Hospital Medical Center is one example of how successful hospital-community partnerships can improve health, says Hilltop Policy Analyst Gayle Nelson. Working with nontraditional partners, the hospital identified asthma hot spots, neighborhoods where children were readmitted to the medical center for asthma treatment at higher-than-normal rates. The hospital and its community partners discovered that many of the children frequently readmitted with severe asthma lived in unhealthy substandard housing owned by the same landlord. The program partnered with the local Legal Aid Society, which helped tenants form an association to compel the property owner to make repairs.