Kresge reaches significant year-end milestone to invest $4.5 million to strengthen Detroit's early childhood systems in 2016
$1M will support improvements, grants for early care facilities
The Kresge Foundation announced today a total of $4.5 million in 2016 grantmaking as part of its Kresge Early Years for Success (KEYS): Detroit initiative, which launched earlier this year and aims to strengthen the city's early childhood education and development systems, to ensure all Detroit children grow up ready to learn in kindergarten and beyond.
Those commitments included $1 million to Midwest-based Community Development Finance Institution IFF for the expansion of a program called Learning Spaces. This grant program provides capacity building, technical assistance, and funding for facilities improvements to early childcare education providers in the city. In spring 2016, the foundation supported a pilot of the program to gauge demand for the funds and found a large demand to expand the program.

During the pilot, providers with a minimum score of three stars in Great Start to Quality, Michigan's child care rating system, could apply for grants of $5,000 to $15,000 to cover the cost of real estate consulting, minor repairs to their facility or other facility-related needs. Assistance ranged from fixing the lighting in a few classrooms to finding a permanent home after leasing for years.
In the expanded program, grants up to $20,000 will be offered to community-based providers, including homebased family providers, to purchase equipment, complete small-scale improvements and address emergency repairs. Larger centers will be able to access grants of up to $200,000 to complete larger scale renovation and/or construction work, such as moving from substandard facilities to quality childcare spaces that demonstrate best practices principles.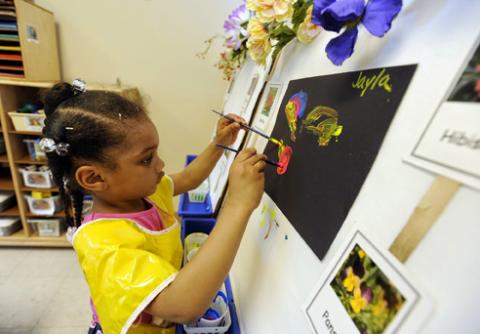 "The expanded Learning Spaces program is a pathway for Detroit providers of all sizes to make substantial facility and programmatic quality improvements," said Kirby Burkholder, vice president and executive director of IFF's Eastern Region, which includes Detroit. "In our pilot, we had an overwhelming amount of demand for this type of support and are thrilled to partner again with Kresge to get many more facilities the capital they need to serve more kids with better quality."
Applications for funding through Learning Spaces will open in January at iff.org/learningspaces.
Multiple grants this year also supported Hope Starts Here, a collaborative, citywide visioning and planning process for early childhood in Detroit co-founded with the W.K. Kellogg Foundation. Hope Starts Here launched on Nov. 10 at the Michigan Science Center with more than 150 community leaders.
"Much of our work this year centered on putting the infrastructure in place to have a meaningful, inclusive community process to amplify the voices of Detroit parents and caregivers," said Wendy Lewis Jackson, co-managing director of the Detroit Program. "Hope Starts Here is the vehicle for the community to come together and make their concerns and dreams for their children known, and we're proud to be working with Kellogg to make that possible."
Hope Starts Here-related grants included:
IFF Detroit -- $680,000 to support Hope Starts Here, a cross-sector stakeholder planning process that will create a citywide shared vision and collaborative action plan for a coordinated, well-resourced and high-functioning early childhood ecosystem in Detroit.
Data Driven Detroit -- $100,000 to support Data Driven Detroit (D3) in providing data related technical assistance for Hope Starts Here.
University of Detroit Mercy -- $230,000 in two grants to support the Detroit Collaborative Design Center (DCDC) to continue supporting multiple strategic elements of KEYS: Detroit and Hope Starts Here, including ecosystem mapping, civic engagement and early childhood center development.
Other 2016 grants included:
KEYS: Detroit is a $20-million, five-year initiative to promote the healthy development of Detroit children through investments in high-quality early childhood centers, neighborhood collaborations focused on early childhood development, early childhood workers and an infrastructure redesign that supports young children throughout the city.