Kresge invests $4.5M in effort to capture and share health innovations that shift focus upstream from care to health
The Kresge Foundation has awarded a pair of three-year, $2.25 million grants to Nemours and the UCLA Center for Healthier Children, Families & Communities to fund a national initiative to accelerate innovations that improve health at a community level.
Dubbed "Moving Health Care Upstream," the newmultipart initiative will:
identify leaders in fostering community health through efforts to address upstream determinants of health
develop a network for those innovators to share and prototype practices, lessons and outcomes
create a system to widely share that knowledge and promote effective practices in other communities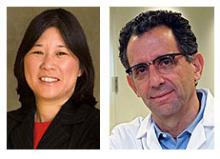 For Kresge and the two health organizations, the changes underway in the health field present an opportune moment to cultivate different approaches to improving community health, spotlight what works and why, and identify the roles various parties can or must play.
"There are numerous innovators in the healthcare system who are really focused on the social and environmental conditions that contribute to health," says David Fukuzawa, managing director of Kresge's Health Program. "Unfortunately, information about what they're doing and how it's improving health in the communities they serve isn't being captured in any systematic way or shared with others who might adopt or adapt such approaches."
By creating an analytical framework for a redesigned health system and tapping innovators from across the country, the Nemours-UCLA partners will be able to document measurable improvements in evidence-based care processes for patients.
In addition to extending coverage, improving quality and patient protections, the Affordable Care Act provides new incentives to improve wellness and prevent disease. As a result, health organizations are increasingly focusing on "upstream" conditions like access to healthy food and places to exercise; safe, affordable housing; and neighborhoods free of various types of pollution. They're also looking for new partnerships with human services agencies as health and other human services agencies join forces to address non-medical needs of community residents.
That shift in emphasis from providing "care" for sick patients to promoting "health" in communities creates new opportunities to reduce the health disparities that today find ZIP codes a more reliable indicator of wellness than access to medical care.
The "Moving Health Care Upstream" initiative is being led by Debbie Chang, vice president of policy and prevention at Nemours, and Dr. Neal Halfon, professor of pediatrics, public health and public policy and director of the Center for Healthier Children, Families and Communities.  
Nemours and UCLA have a decade-long partnership collaborating on work to improve health at a community level and already are working to identify organizations to become part of the Moving Health Care Upstream network.
"So much of what is happening in the field of health system reform is happening in pockets of isolation," says Chang. "This project will identify, harness and further develop these innovations to share with other health systems and communities for wider adoption. Nemours is proud to partner with Kresge and UCLA by leveraging our expertise as a children's health system to engage key stakeholders in our work to build and support long-term sustainability at the community level."
Halfon emphasizes the focus on wellness: "Moving Health Care Upstream will catalyze and extend the reach of innovations designed to transform our health system from one that primarily focuses on rescue care for those who are already sick, to one that can effectively optimize health by efficiently modifying the conditions that lead to illness."
A growing number of health systems, local governments and non-profit partners are turning their attention to improving 'population health,' says Chris Kabel, a senior program officer at Kresge. "What this term really means is that we're working to achieve broad gains in health across a community or geographic area, not just on a patient-by-patient basis. The Affordable Care Act creates opportunities to advance beyond a focus on individual patient care to care that has an impact at a community level."