Kresge investments help colleges ready students for sustainable energy jobs
Efforts reach institutions serving low-income, minority and first-generation students.
Kim Allen grew up in South Los Angeles, a community where almost a third of the population lives in poverty and 43 percent of adults haven't finished high school.
When Allen arrived at Los Angeles Trade-Technical College she had nowhere to go but up, and LA Trade Tech's electrical lineman program looked like the way to get there.
Even though classes had already started, she showed up every day until a space opened. She weathered frustration, exhaustion, even a knee injury, to earn her certification and her instructor's "most improved" award.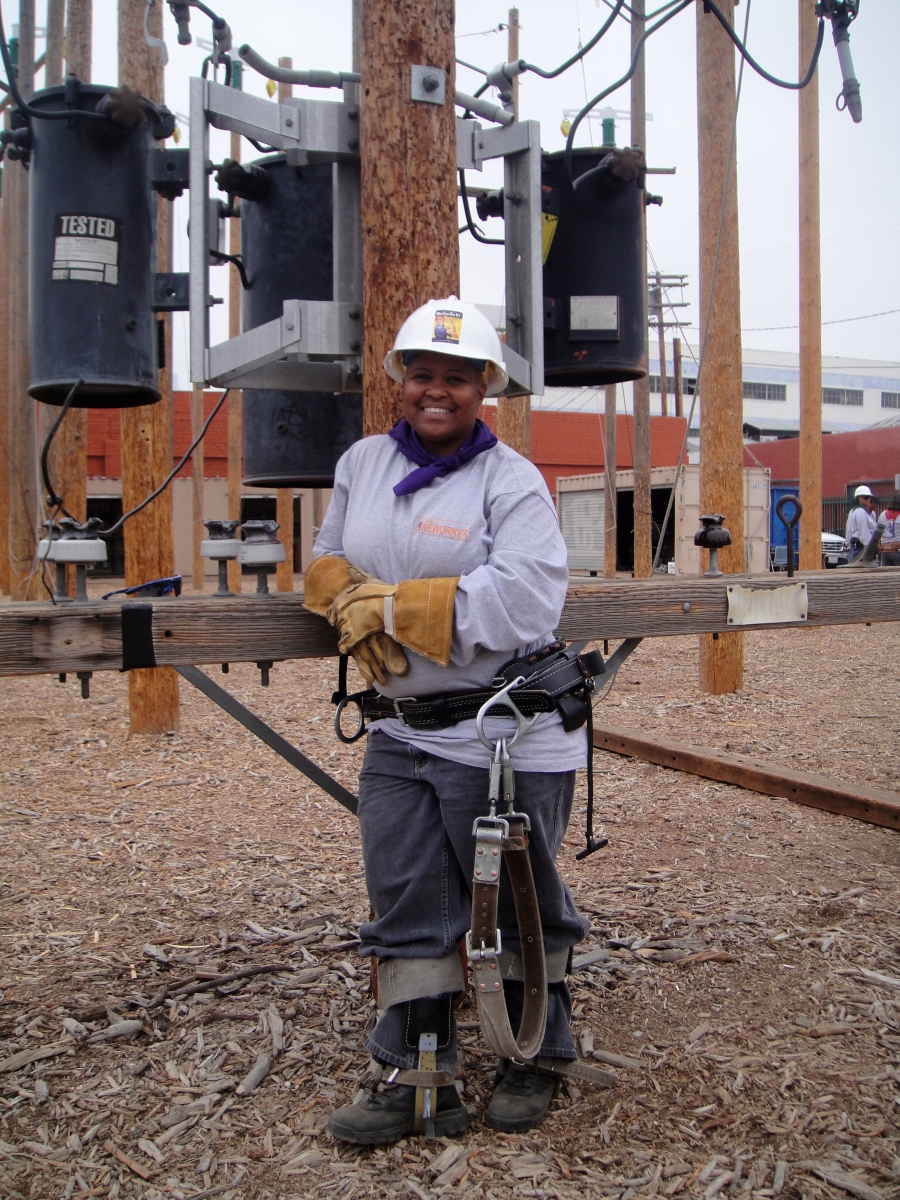 Homeless when she entered the program, Allen landed a union job with a local utility and now works 12-hour days, six days a week. She expects to earn more than $80,000 this year.
"It was really hard in the beginning of the class," Allen says. "The first three weeks I was so out of shape. I literally woke up crying, asking myself if this was really something I wanted to do. But I'm here. I made it. This was an opportunity for me to change my life, to get a good paying job, and to help others … because when the lights go out, people suffer."
The electrical lineman apprenticeship program is part of LA Trade Tech's Green College Initiative, which began in 2006 in response to the needs of local industry and the college's own internal commitment to sustainability.
The school has become a national leader in the movement toward sustainability in higher education, an effort that's changing higher ed on many fronts: training students for jobs in energy, improving campus facilities, saving schools money and building new partnerships.
The Kresge Foundation works to expand opportunity for low-income people in America's cities. Its Education Program supports projects that give low-income, minority and first-generation college students' access to education and a path to a good job, often by funding work that strengthens the schools that serve those students.
Since 2008, Kresge's Education Program has invested more than $8 million to support organizations and institutions like LA Trade Tech that, by focusing on sustainability and energy efficiency, create a cascade that improves lives through education.
"In many cases a college is one of the largest employers in a community or neighborhood," says Bill Moses, who directs the Education Program. "So not only do you have examples of sustainable technology, which shows others around the country what is possible, but they also often serve as leaders in the community on these issues."
Since the Green College Initiative began, LA Trade Tech has awarded 768 degrees and certificates in sustainability-related fields, ranging from architecture to chemical technology to weatherization. Residents of South L.A. now understand that new economy jobs can be good jobs, says the school's workforce development director, Marcy Drummond.
"What was also very encouraging to us is that typically underserved communities lag behind in a new economy," Drummond says. "This time they have the opportunity to be leaders."
Regional solutions
The Green College Initiative has also driven the school's leadership to forge community and industry partnerships that ultimately improve the way the college does business. And the initiative's success has made LA Trade Tech a national model for workforce development.
A Kresge grant is helping LA Trade Tech share its expertise with others in the form of curriculum materials, professional development programs and research on best practices. The most important lesson LA Trade Tech offers its peers is that there's no one-size-fits-all solution to training a new economy workforce. (See the report Defining Your College's Comeptitive Advantages in the Emerging Green Economy.)
"In Oklahoma and parts of Texas, wind is big and they can't find enough wind technicians, but that's not true in Florida and Georgia," says Todd Cohen, director of the American Association of Community Colleges' Sustainability Education and Economic Development center, which has used Trade Tech's model with some of its member colleges.
"In those areas it's solar," says Cohen. "Someplace else it might be biomass, or transportation. I think the smart colleges have recognized it's not just green in general. You've really got to pay attention. And you can look at all the labor market data you want, but if you don't bring industry to the table to figure out what the needs really are, it's all for naught."
Also supported by Kresge, Cohen's organization – widely known as SEED – has helped more community colleges find their niche and develop regionally appropriate training programs. Schools across the country continue to join the initiative – about 40 percent of the nation's 1,132 community colleges currently participate. Increasingly, they feed the pipeline of skilled workers each region's particular economy demands.
"The data shows that the fastest growing new economy sectors are going to be middle-skill jobs, so there's clearly a role for community colleges to play," Cohen says.