Kresge Health Program-sponsored miniseries inspires local events in 5 U.S. cities
The public television four-part miniseries "Designing Healthy Communities" is being rebroadcast this fall in five major cities across the United States.

In conjunction with the rebroadcasts, sponsoring Public Broadcasting Service stations will engage viewers, community residents and local leaders in events and programs focused on addressing the environmental factors that affect health.

First broadcast in 2012, "Designing Healthy Communities" highlights the ways the built environment – the spaces where we live, work and play – contributes to obesity, chronic illness, social isolation and other health problems.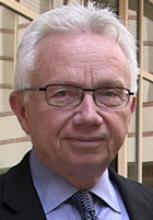 Communities need to be self-contained, self-supporting and organized to meet residents' intellectual, physical and cultural needs, says Jackson, a professor in the Department of Environmental Health Sciences in the Fielding School of Public Health at the University of California, Los Angeles.Kresge's Health Program provided funding for the series and, more recently, a grant to support community outreach activities around the rebroadcasts. Kresge works to expand opportunity for low-income people in America's cities. Its Health Program aims to reduce health disparities among children and adults by addressing conditions that lead to poor health outcomes. 

"A plan for a healthy community has to be organic, adapted to local conditions," says Dr. Richard Jackson, the miniseries host and co-author of the companion book "Designing Healthy Communities." Jackson is a pediatrician who for nine years was director of the Centers for Disease Control and Prevention's National Center for Environmental Health. "It's wonderful to see residents in these communities engage."

A grant to the National Educational Telecommunications Association supports outreach and engagement activities planned by:
Public Broadcasting Atlanta in Georgia
KLRU in Austin, Texas
Twin Cities Public Television in Minneapolis and St. Paul, Minn.
WYES in New Orleans
WCNY in Syracuse, N.Y.
"We're excited about the stations' efforts to engage their communities on a variety of issues raised in 'Designing Healthy Communities,' from food deserts and transportation to green spaces and reviving urban neighborhoods," says Kresge's David Fukuzawa, managing director of the Health Program.

What can citizens do to build healthier communities? "They can ask for more walkable and bikeable communities," Fukuzawa says. "They can ask for land use that reduces pollution, noise and traffic. Community leaders also need to look for ways to promote community design that encourages walking and social interaction."
 
"We've learned that the social is as important as the physical when it comes to designing healthy communities," says Fukuzawa. He cited Roseto, Pa., one of the communities featured in the series, where Italian immigrants have kept alive social traditions, including close family ties and frequent interactions with friends and neighbors – practices that have protected their health.
"One of the hallmarks of a vibrant, thriving city is people on the streets, walking and talking. Kresge is working with organizations throughout the United States to revive neighborhoods through economic development and creative placemaking," he says.

An encouraging development, Jackson says, is that "more homebuyers are looking for walkable neighborhoods." The National Association of Realtors 2013 Community Preference Survey found that 60 percent prefer a neighborhood with stores and services. Vibrant cities like Charleston, S.C., are national models of the kind of places where people want to live and visit, he adds.