Kresge-funded report underscores preventive health to improve lives and save billions of dollars
More than half of Americans living with serious chronic diseases, most of which are preventable
America has an opportunity to improve the health of millions of citizens, save billions of dollars and improve productivity. The status quo leaves millions to avoidable health problems and a generation of children to shorter, less healthy lives than their parents when obvious alternatives exist.
Those are stark choices in a report issued today by the Trust for America's Health. A Healthier America 2013: Strategies to Move from Sick Care to Health Care in Four Years makes far-reaching recommendations to prioritize and innovate on health care practices.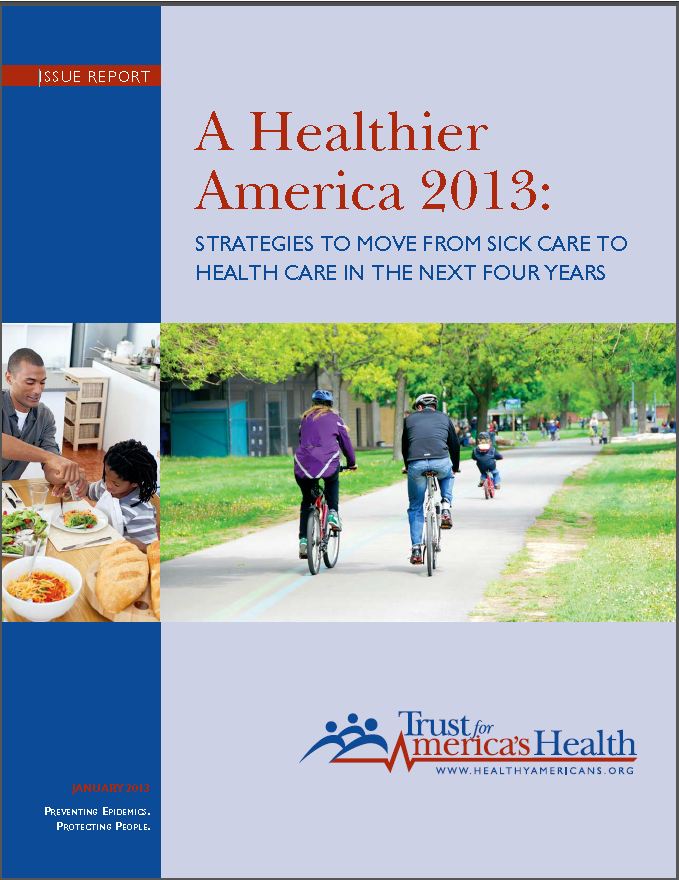 The Trust for America's Health report is a response to studies showing more than half of Americans are living with one or more serious, chronic disease ranging from cancer to Type 2 diabetes. A majority of those diseases are preventable. Studies place today's children on track to be the first generation in U.S. history to live shorter, less-healthy lives than their parents.
The report proposes reorienting the health care system to focus on keeping people well instead of treating sickness. It was funded by the W.K. Kellogg Foundation, Robert Wood Johnson Foundation and The Kresge Foundation.
Kresge's Health Program supports efforts to promote the health and well-being of low-income and vulnerable populations by improving the environmental and social conditions affecting their communities, as well as improving access to high-quality health care.
The new report provides an overview of the current problems and priorities to put prevention first. According to the report:
Chronic diseases, such as Type 2 diabetes and heart disease, are responsible for seven out of 10 deaths, 75 percent of the $2.5 trillion spent on U.S. medical care costs and billions of dollars in lost productivity each year.
Infectious diseases, from antibiotic-resistant superbugs to salmonella to the seasonal flu, disrupt lives and communities and result in more than $120 billion in direct costs and enormous indirect costs.
A Healthier America 2013 emphasizes approaches and partnerships within and reaching beyond the health care field. Among the recommendations:
Advance the nation's public health system by adopting "foundational capabilities," such as strengthening the role of health departments – at the national, state and local levels – as chief health strategists, and funding departments to support the necessary tools and skills.
Integrate community-based plans into new health care models, such as expanding Accountable Care Organizations into Accountable Care Communities.
Encourage all employers, including federal, state and local governments, to provide effective, evidence-based workplace wellness programs.
Work with nonprofit hospitals to identify the most effective ways to expand support for prevention through community benefit programs.
Ensure insurance providers reimburse for effective prevention approaches both inside and outside the doctor's office.
"Prevention delivers real value as a cost-effective way to keep Americans healthy and improve their quality of life," says Jeffrey Levi, executive director of the Trust. "Everyone wins when we prevent disease rather than treating people after they get sick. Health care costs go down, our local neighborhoods are healthier and provide more economic opportunity, and people live longer, healthier, happier lives."
See the full report in the kresge.org library, or read the executive summary.