Kresge-funded program helps low-income families to eat better, local farmers to earn more
Fresh fruits and vegetables are a vital component of neighborhood revitalization and better health
It's not hard to imagine abundant urban agriculture in Detroit, which has large swaths of under-utilized land and half a million people with limited access to fresh food. But it takes more than imagination to transform the food system.
To help connect the dots between producers and consumers, the Ann Arbor, Mich.-based Fair Food Network created Double Up Food Bucks, an incentive program that doubles the buying power of federal food assistance at participating farmers markets, putting fresh food on people's tables and more money in farmers' pockets.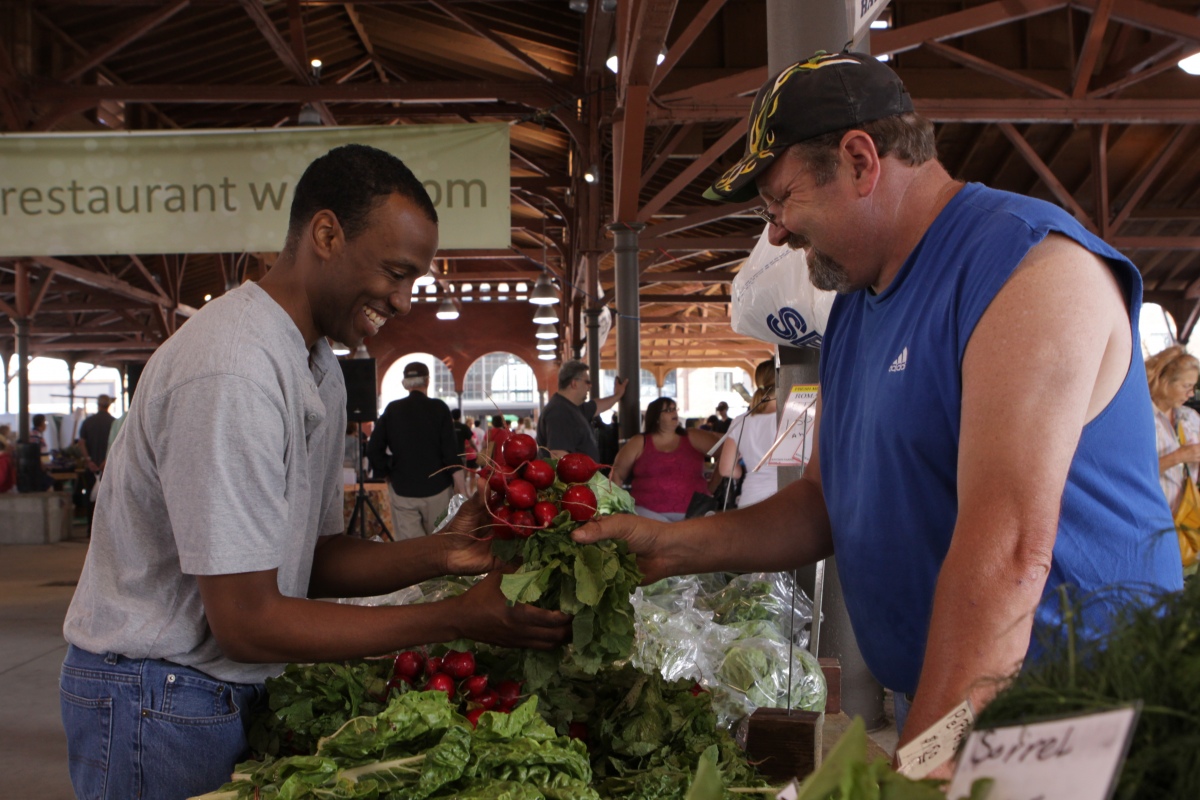 First-generation farmer Carolyn Leadley, who has an environmental science degree from the University of Michigan, has operated a small farm on three city lots – about a fifth of an acre – on Detroit's east side since 2007. An organic vegetable grower, she's adamant about the health benefits of organic food, but also knows what it's like to wring every last cent out of a buck.
"When we started the business we had a really limited income for the first few years," she says. SNAP, the U.S. Department of Agriculture's Supplemental Nutrition Assistance Program, made a difference. "It helped me, personally, to access healthy food in the city," says Leadley. "And (Double Up Food Bucks) also encourages folks to come to the market because their money is going farther."
Why it matters
Access
In Detroit, more than 500,000 residents live in areas with limited or no access to nutritious food options. Only 8 percent of the retailers that accept SNAP benefits offer a selection of fresh fruits or vegetables.
In the city of Detroit, there are 10 grocery stores for every 100,000 people. In Wayne County, which includes the city, there are 26 stores for every 100,000 people; in Chicago, there are 42 stores for every 100,000 people.
Health
Close to 75 percent of adults and more than 80 percent of young people do not eat adequate quantities of fruits and vegetables, according to U.S. Department of Agriculture dietary recommendations.
Almost 40 percent of Detroit's youth are overweight or obese.
Social and economic factors, such as access to healthy food, account for as much as 40 percent of the variance in health outcomes.*
The economy
Detroit residents are spending close to $200 million outside of their neighborhoods. The city could potentially support an additional 583,000 square feet of additional grocery retail space. That would mean jobs, increased economic activity and more desirable neighborhoods, as well as better food options for Detroiters.
Sources: Fair Food Network; McGinnis, Williams-Russo, Knickman 2002; University of Wisconsin County Health Rankings 2011*
The Kresge Foundation helped the Fair Food Network get off the ground and run a pilot incentive program with a $980,000 grant in 2009. An additional $300,000 grant in 2011 contributed to the Double Up Food Bucks fund that matches SNAP dollars – up to $20 per market day – when shoppers swipe SNAP debit cards at participating markets throughout Michigan.
Funded jointly by Kresge's Health and Detroit programs, Fair Food is also working with a network of other SNAP voucher programs nationally: Wholesome Wave and Market Umbrella, both supported by the Health Program, and Roots of Change. The Kresge Health Program is also supporting a national evaluation of the SNAP incentive programs, along with other related efforts.
Oran Hesterman, Fair Food Network's president and CEO, describes Double Up as using the system to change the system. The project reflects Kresge's commitments to creating a healthier food system and promoting long-term economic opportunity in Detroit.
"The work that the Fair Food Network is doing with Double Up Food Bucks fits very well into our strategy and our belief that access to fresh, healthy food is a vital component to neighborhood revitalization in Detroit and other communities in which the foundation works," says Kresge's Wendy Jackson.
"We invested in the program because of its sound strategy in increasing access to fresh food and its emphasis on building stable communities in order to do it," says Jackson, a senior program officer in Kresge's Detroit and Community Development programs.
Food security and food access are important to Leadley, and she initially worried that growing organic and high-end produce might exclude some low-income shoppers. But she's found with the Double Up program they're more likely to try different things, like the crunchy, nutritious sunflower shoots that have become her specialty. And because the money must be spent with Michigan farmers, SNAP customers seek them out and tend to come back.
"We've been really pleased." she says. "We see a really big variety of folks interested in purchasing from us, and the Double Up Food Bucks and (SNAP benefits) make it really easy for people to afford."
In its first year, the program pumped some $35,000 SNAP and Double Up dollars into Michigan's farm economy, During the second year that number rose to $203,000 as the program expanded beyond Detroit.
In 2011, 54 markets in 31 Michigan communities participated in the Double Up program. Growers at those markets took home $1.3 million through SNAP-Double Up transactions.
Monroe, Mich. farmer Bill Jentzen's family has been selling vegetables at Detroit's Eastern Market since 1935. Jentzen and says the Double Up program encourages many farmers to grow more, and to tweak the mix of crops they bring to market. SNAP benefits and the Double Up match accounted for about a quarter of Jentzen Farm's summer business in 2011. This year Jentzen and his family are adding some of the produce those customers asked for – peas, beans and melons – to the many vegetables and herbs they already grow.
Double Up Food Bucks is not only spurring commerce, Hesterman says. The program is bringing new shoppers to farmers markets. Of the roughly 40,000 people who used their food benefits at participating markets in 2011, about 11,000 were shopping at a farmers market for the first time, he says. The Double Up Food Bucks program will run through the 2013 growing season; Fair Food Network would like to see it become a model for a federal incentive program that, likewise, would promote healthy eating and a healthy local farm economy.
Similar programs have popped up in other states offering smaller incentives – 30 cents on the dollar here, $2 for every $5 spent there. But none offer the buying power of Double Up Food Bucks.
"I figured if we're going to do this experiment, let's do it right," Hesterman says. "I'm not a big believer in 'If you build it they will come.' You've got to build a really good program and let people know about it. And I don't care who you are, it's hard to resist two-for-one."
"The results we are seeing from the Double Up Food Bucks Program have confirmed our belief that SNAP incentives can both improve people's access to healthy, locally grown food and increase farm income," says David Fukuzawa, director of Kresge's Health Program. "This is why we have supported not only Fair Food Network, but other similar programs around the country. These groups and others are hoping to use the results of these programs to push for broader system and policy changes to build healthier, locally based food systems."