Kresge Foundation launches new funding opportunity to improve housing affordability, health outcomes in U.S. cities
To support innovative community-generated multi-sector solutions to improve health outcomes, housing affordability and quality, The Kresge Foundation's Health Program announced a new $2 million funding opportunity to advance health equity through housing.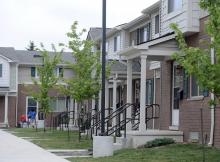 "Where we live plays an important role in our health. But decades of discriminatory housing, transportation, land-use policy and economic disinvestment have resulted in residential segregation by income, race, and ethnicity and created disparities that impact the health and well-being of people living in America's cities, Stacey Barbas, senior program officer with the Health Program, said. "To spur positive changes, we need solutions that are designed with significant and meaningful input from those who are most affected."
With this funding opportunity, the foundation seeks to identify and accelerate community-led policy and system changes that reduce displacement, segregation and gentrification; support innovative funding strategies that better connect housing and health sectors and recognize multi-sector partnerships that preserve and increase the supply of stable housing to improve health, well-being and health equity in low-income communities.
Applicants may apply for Project Support or General Operating Support. 
Project Support
Planning Grant (up to one year; $100,000)
Implementation Grant (up to two years, $200,000 per year)
General Operating Support:
Implementation Grant (up to two years, $200,000 per year)
Competitive proposals will:
Address social determinants of health
Have a strong community and equity focus
Include partners from the health and housing fields, and ideally partners from additional sectors  
Incorporate community-level engagement and decision-making at the policy and/or practice level focused on solutions to one or more health and housing issues
This is Kresge's second funding opportunity to support advancing health equity through housing. The foundation selected 13 grantees for its initial round of grant funding in December 2018.
Interested applicants must register in Kresge's online application system (Fluxx) by May 7, 2019.
Completed applications are due by 11:59 p.m. EST on May 10, 2019. Applications will only be accepted through the Fluxx portal.
For more information and to download the application, click here.