Kresge Foundation extends free fare to all QLINE riders through Labor Day
Operations and rider experience improvements are summer focus of M-1 RAIL team
The QLINE will extend free fares to all riders through Labor Day with a contribution from The Kresge Foundation. During the nine-week extended free-fare period, QLINE and its service provider, Transdev, will make specific operational and rider experience improvements to the new streetcar service, which opened to the public on May 12.
"We are thrilled by the enthusiastic reception the QLINE has received in Detroit and across the region," said M-1 RAIL CEO Matt Cullen. "We're building toward our ridership goals and appreciate the support of The Kresge Foundation to provide complimentary service for all riders while we make service improvements that will ensure we can sustain the early success of the QLINE."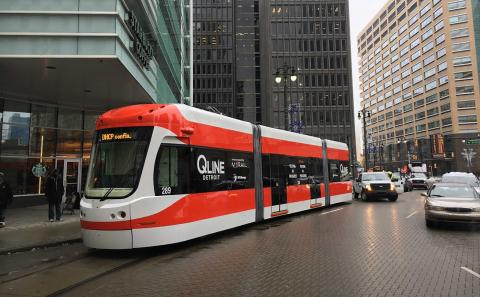 The QLINE served over 100,000 riders during its first month, with average vehicle wait times (also known as "headway times") of 20 minutes Monday-Saturday and 30 minutes on Sunday. Headway times improved 10 percent during the first month of service, however reducing vehicle wait times and improving consistency of service is a top priority for M-1 RAIL over the next two months.
"The QLINE holds much promise as an integral piece of a true regional transit system and we are invested in its long-term success" said Kresge President and CEO Rip Rapson. "With dozens of summer festivals and activities up and down the Woodward Corridor, our motivation to extend free fares is to expose every city and metro resident to the QLINE. Building a sustainable ridership will enable the streetcar to continue to serve as a positive demonstration project for regional transit."
In addition to its initial $50 million contribution to the M-1 RAIL streetcar project, Kresge has committed to cover expected ridership revenue from July 1 through September 4, 2017.
"M-1 RAIL will work with our operational partner Transdev North America to provide consistent service with streetcars arriving every 15 minutes on weekdays," said M-1 RAIL COO Paul Childs. "We've outlined a series of operational improvements that will be addressed by Labor Day."