The Kresge Foundation Expands Emerging Leaders in Public Health Initiative in Collaboration University of North Carolina's Gillings School of Global Public Health as National Program Office
Call for Applications for Public Health Leadership Program Opens January 4, 2017
The Kresge Foundation's Emerging Leaders in Public Health (ELPH) initiative will grow to support more public health leaders and deliver more robust leadership programming following the success of its first cohort of leaders. In order to administer the enhanced program, Kresge has selected The University of North Carolina Gillings School of Public Health (UNC) as the national program office for the initiative.
Kresge's Emerging Leaders in Public Health was built to help equip local public health leaders with knowledge and skills to transform the role of public health as part of the foundation's Health Program's strategy to accelerate community-centered approaches that promote health of communities. 
Emerging Leaders expands to train 20 public health leadership teams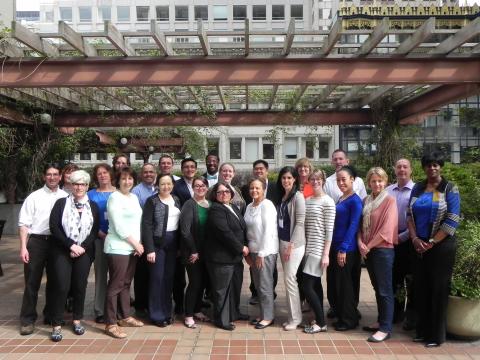 In 2015, Kresge selected 12 teams comprised of a senior public health official along with an individual identified as an emerging leader from the same department to participate in the 16-month program. As part of the first cohort of ELPH, the 24 participants worked on projects designed to enhance organizational and leadership competencies in business, planning and public health systems development.
This year, Emerging Leaders in Public Health will build on the success of this first cohort by selecting 20 leadership teams from local health departments to learn from leading experts and innovators in health, business, policy and finance The leaders will be able to apply these skills towards transforming the role and operations of public health.
Application period opens January 4
The application period for the second cohort of the Emerging Leaders in Public Health initiative application period opens on January 4 and closes on February 6, 2017.
In order to apply, senior public health officials and emerging leaders will need to complete a statement of interest form to receive their online application.
UNC's Gillings School brings unparalleled public health expertise to initiative
As a national program office, UNC's Gillings School will work in partnership with members of Kresge's Health Program to promote, recruit, provide technical assistance and support action-based resource grants for two 18-month cohorts of the initiative.
"The team at UNC was selected due to their capabilities and experiences in developing and providing training for public health leaders," said Dr. Phyllis Meadows, senior fellow with Kresge's Health Program. "With the support from the national program office, we look forward to bringing even more leaders to ELPH and providing the right tools and resources to help our leaders become pioneers that transform public health services in their community."
"We look forward to working with entrepreneurial leaders in public health and helping them transform," said Stephen N. Orton, PhD, senior investigator at the North Carolina Institute for Public Health, adjunct assistant professor, Department of Health Policy and Management, and co lead for the ELPH national program office. "We love the model that Kresge Foundation has developed, linking leaders with resources to move from concept to action." 
Dr. Orton co-leads the national program office for Kresge's ELPH initiative along with Anna Schenck, PhD, Professor of the Practice in public health leadership, director of the Public Health Leadership Program and the N.C. Institute for Public Health, and the School's associate dean for practice. Joining the design team is Gillings School faculty member Lori Carter-Edwards, PhD, research associate professor in the Public Health Leadership Program and Department of Health Behavior.
Joining UNC Gillings design team in supporting the initiative is the National Association of City and County Health Officials (NACCHO) and Burness Communications. The members of the design team will work together to develop and coordinate learning sessions for participants, support participants as they develop their transformative concepts, engage with the initiative's national advisory committee and work collaboratively to facilitate program level evaluation.