The Kresge Foundation awards $300,000 in fellowships to Detroit area visual artists
Twelve $25,000 prizes are awarded.
TROY, Mich. – The Kresge Foundation is pleased to award 12 2011 Kresge Artist Fellowships in the visual arts. Each fellowship includes an unrestricted prize of $25,000 and customized professional practice opportunities. The 2011 class of fellows consists of 11 individual artists and one artist collaborative.
The fellowships reward creative vision and a commitment to excellence, and represent the foundation's desire to advance the artistic careers of Detroit artists living and working in its hometown, as well as elevate the profile of the city's artistic community. Artists are selected from the Metropolitan Detroit tri-county area (Wayne, Oakland and Macomb). Detroit's College for Creative Studies administers the fellowships; ArtServe Michigan offers the professional practice opportunities.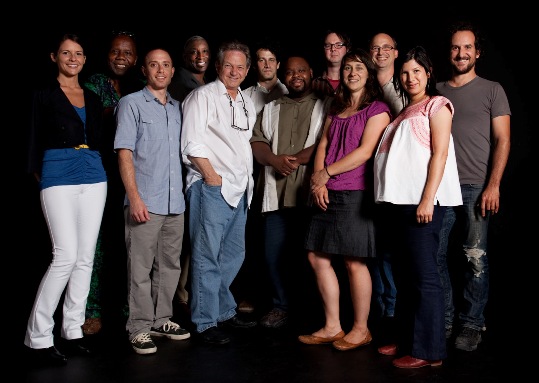 2011 Kresge Artist Fellows in the visual arts:
"We are delighted to name these extraordinary artists as our class of 2011 Kresge Fellows," says Rip Rapson, president of The Kresge Foundation. "Each of these visual artists embodies the spirit of creativity and commitment these awards seek to honor. And collectively, they convey the breadth of the visual arts field -- from ceramics to sculpture, from painting to photography, from fiber to video art and interdisciplinary media.
"It is our foundation's hope that the fellowship will both invigorate the work of these artists in new and unexpected ways and create a closer bond between their work and the broader community's efforts to energize and revitalize Detroit," he adds.
Nearly 450 applications for visual arts fellowships were reviewed through a competitive process by an independent panel of national and local artists and arts professionals. The panelists provided a balance of artistic perspectives and an understanding of the local artistic environment, as well as extensive knowledge of the art forms being reviewed.
2011 visual arts panelists:
Nick Cave, artist, faculty member and Chair of Fashion Design at the School of the Art Institute of Chicago
Mary Fortuna, artist and Exhibition Director at Paint Creek Center for the Arts
Mame Jackson, art historian and Professor Emerita at Wayne State University
Anne Pasternak, President and Creative Director of Creative Time, Inc.
Fred Wilson, artist and MacArthur Fellow
"Detroit artists are participatory citizens documenting with care and intelligence the histories of their communities as well as shaping their future. It's inspiring," says Anne Pasternak. "The Kresge Artist Fellowships will go far in helping artists take their visions to all new heights while continuing to promote Detroit as a creative force within the world."
The annual Kresge Artist Fellowships, Kresge Eminent Artist Award and multi-year operating support grants to arts and cultural organizations constitute Kresge Arts in Detroit, the foundation's effort to provide broad support to the regional arts community. Visual artists comprised the Fellows class of 2009. In 2010, literary and performing artists were named Fellows. In November 2011, literary and performing artists will be encouraged to apply for the 2012 Fellowships.
"It is extraordinary that Kresge Arts in Detroit continues to support individual artists. Detroit's creative community has been featured on the national stage more and more in the last year or so. We, at the College for Creative Studies, believe that is because of institutions like the Kresge Foundation that have had the foresight to offer tangible resources and artistic development to fellowship recipients," says Richard L. Rogers, president, College for Creative Studies.
Kresge Arts in Detroit is one facet of the foundation's Detroit Program, a comprehensive, nine-part framework that identifies key building blocks of the city's long-term health and aligns the public, private, and philanthropic sectors at the local, state and national levels to help rebuild the region for prosperity in the 21st century. Grantmaking and investing centers on strengthening the long-term economic, social and cultural fabric of the city and surrounding area by strengthening Detroit's neighborhoods and downtown, promoting arts and culture, advancing regional economic development and enhancing the natural environment.
College for Creative Studies: The Kresge Artist Fellowships and Kresge Eminent Artist Award are administered by the Kresge Arts in Detroit office at the College for Creative Studies. Located in midtown Detroit's Cultural Center, the College for Creative Studies is a world leader in art and design education and prepares students to enter the new, global economy where creativity shapes better communities and societies. A private, fully accredited college, CCS enrolls over 1,300 students pursuing Bachelor of Fine Arts degrees. The College also offers Master of Fine Arts degrees in Design and in Transportation Design. For further information, please visit www.collegeforcreativestudies.edu.
ArtServe Michigan: ArtServe Michigan is the leading statewide advocacy organization for arts and cultural communities and artists. By reinforcing the ability of artists and arts and cultural organizations to remain alive and well, ArtServe widens arts access, supports economic development and stimulates investments in the creative talent running through Michigan. Valuing the significant role of artists, and arts and cultural organizations, as essential to Michigan's economic recovery and future prosperity, ArtServe also provides a rich base of professional support and resources designed to strengthen the sector. For further information, please visit www.artservemichigan.org.
2011 Kresge Artist Fellows in the visual arts. (Front Row) Corrie Baldauf, Laith Karmo, Bruce Giffin, Richard Lewis, Gina Reichert (Design 99), Liz Cohen (Back Row) Olayami Dabls, Hubert Massey, Mitch Cope (Design 99), John Dunivant, Mark Newport, Scott Hocking (Fellow Not Pictured) Heather McGill