Kresge CEO talks about challenge and necessity of interdisciplinary approach to climate resilience
Understanding how communities can reposition themselves to become more resilient in the face of climate change requires an interdisciplinary approach, says Kresge's president and CEO.  Transit policy, health policy, community development policy, land-use policy are among the many considerations, Rip Rapson notes.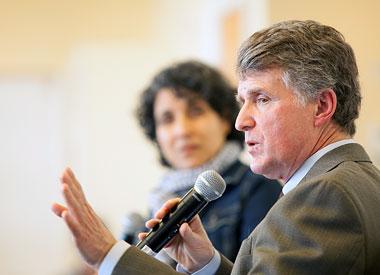 "These are very different systems, they're very different bodies of expertise, there are often very different political constituencies," he says. "So I think it is a huge challenge."
Speaking at a recent gathering of Kresge Environment Program partners, Rapson discussed climate resilience and the way the foundation integrates its climate efforts into its overarching goal of expanding opportunity for low-income communities in cities across the U.S.
Rapson also introduced participants in Kresge's Climate Resilience and Urban Opportunity Initiative to his view of the multiple roles of philanthropy.
"I've often thought of philanthropy not as part of the nonprofit sector per se, but almost its own sector … When it takes a long-term view, it's acting a little bit like the academic sector. When it's investing its capital, it's working a little bit like the private sector. When it's using all these tools, it's looking a little bit more like the public sector. And when it's focusing on low-income opportunity, it's behaving much the way the nonprofit sector does," he says in remarks captured in an audio slideshow. Used in combination, those qualities have the potential to help unlock problems and help people lead self-determined lives and join the economic mainstream.