Kresge-backed climate change work accelerating in U.S. communities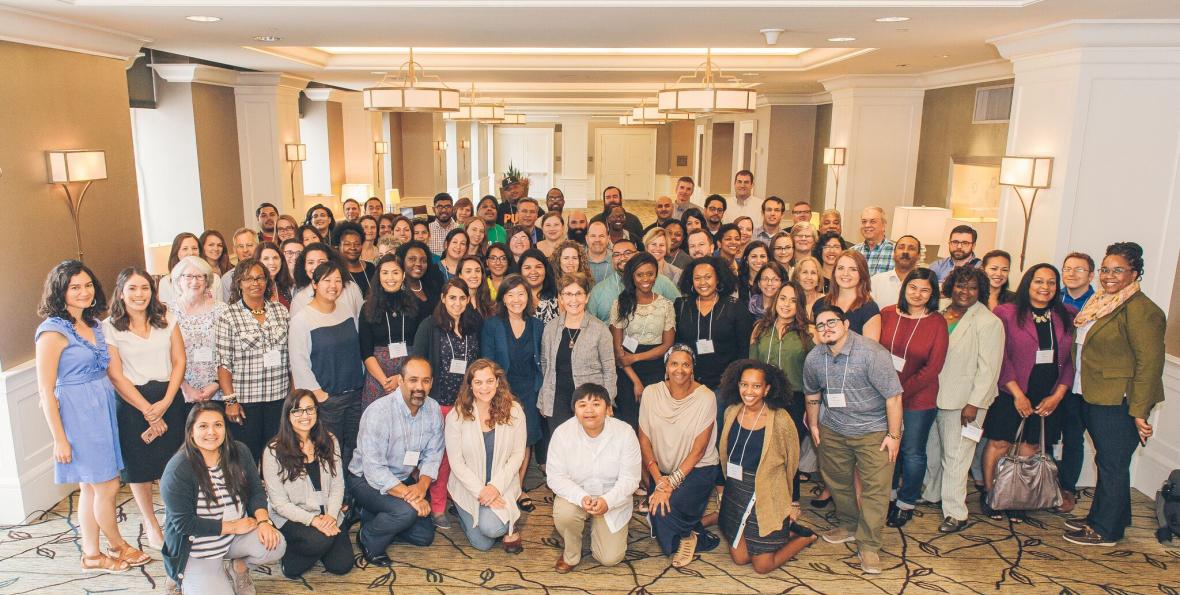 Community organizations across the nation are redoubling their efforts to address climate change in their cities and neighborhoods in response to the federal government's abdication of its role on the matter, said advocates at The Kresge Foundation's Climate Resilience and Urban Opportunity (CRUO) Initiative convening last week.
More than 100 persons – many of them representatives of the 15 nonprofit collaborations funded under the Kresge CRUO Initiative – shared experiences, lessons learned, and encouraging stories from their work in fostering climate-smart polices in their cities during the three-day meeting in Detroit.
Despite grave concern over the new presidential administration's hostility toward climate change research and solutions, many participants shared inspiring stories of increased organizing and mobilization efforts and opportunities to engage new allies and key decision makers for community-based climate-resilience work – precisely the sweet spot that Kresge's CRUO work is designed to fill.
"We've seen our base quadruple. We've seen our volunteers quadruple," said Elizabeth Yeampierre, executive director of UPROSE, a Kresge grantee from Brooklyn, New York that promotes community sustainability, resiliency, and leadership development.
Convening participants sharpened their skills using climate vulnerability assessments to hone their climate-resilience work; explored effective communications strategies for policy advocacy and building community power; and learned how to effectively build the economic case for climate-resilience investments. Attendees also participated in deep strategy discussions on bolstering local efforts to drive state-level progress, the critical role of equity and inclusion in accelerating the transition to carbon neutrality and climate-resilient water systems, and implementing frameworks for community transformation.
Now is the time for state- and local-level work on climate change to flourish, said Lois DeBacker, managing director of Kresge's Environment Program.
"We can take advantage of the opportunities and imperatives of the current political climate," DeBacker said. "Our CRUO grantees are already pursuing important local and regional opportunities to advance climate work."
Launched in 2014, the CRUO Initiative seeks to strengthen the leadership and capacity of equity-focused, community-based nonprofit organizations to influence local and regional climate-resilience planning, policy development, and implementation.
The Detroit convening was the third annual peer-learning event of the initiative, which brought together grantees funded through the initiative as well as grantees supported through other elements of Kresge's Environment Program, which is focused on helping cities implement climate-resilience approaches grounded in equity.
The political climate was much different for this convening.
"The Foundation and its grantees clearly recognize and understand the new challenges that face our work, particularly at the federal level," said Shamar Bibbins, program officer with Kresge's Environment Program and manager of the CRUO Initiative. "But this group is committed to advancing a clear vision of a better future for their cities and neighborhoods – communities that are safe, healthy, powerful, and resilient in the face of climate change. "
The three-day convening highlights also included
Field trips to sites of innovative community environmental work including projects supported through Kresge Innovative Projects Detroit (KIPD), the Detroit Black Community Food Security Network's D-Town Farm, and the Detroit Riverfront Conservancy's RiverWalk.
Dinner at the historic Gem Theater, featuring an address from Kresge CEO Rip Rapson.
A variety of stimulating breakout sessions and panel discussions on topics ranging from "Reimagining Key Systems: Energy & Water" to "Sharpening the Climate Focus: Adaptation Principles and Planning" and a workshop on strengthening social cohesion within communities.