Kresge Arts in Detroit: Foundation makes $8.8 million investment in local artists and arts-related organizations
The multi-faceted effort is designed to support the arts ecosystem in metropolitan Detroit.
TROY, Mich. – Surrounded by Mexican muralist Diego Rivera's larger-than-life frescos depicting Detroit's industrial might and serenaded by jazz music from the Harvey Reed Quartet,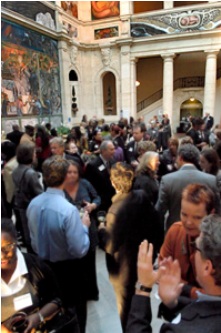 Rip Rapson, president of The Kresge Foundation, unveiled an $8.8 million investment in individual artists and arts and cultural organizations in Wayne, Macomb and Oakland counties.
Rapson spoke to a gathering of more than 150 – representatives from the arts, business and philanthropic communities – during an Oct. 16 press conference and reception at the Detroit Institute of Arts where he described the new Kresge Arts in Detroit initiative as "an exciting beginning" for collective recognition of the transformative power of the arts on the region.
"Detroit is a city that stands unique among American cities," Rapson said. "It's a city that has been defined and redefined in continuing cycles of aspiration and creativity. As we look to the future, those qualities can again find a trajectory of hope, promise and opportunity."
Read Rip Rapson's full remarks.
Two years ago, the foundation identified five ways to work for the long-term health and stability of Detroit, Rapson explained. Supporting a thriving arts and cultural community is a key part of the Detroit Program's overall community-development effort. "The arts, simply stated, matter to every dimension of community life," he said.
During his introductory remarks, Rapson outlined the vision and grantmaking approach set forth under Kresge Arts in Detroit: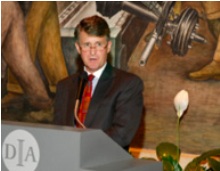 First, to advance the art forms and professional careers of artists from the visual, performing and literary arts, Kresge Artist Fellowships of $25,000 each will be given to individual artists living and working in the tri-county area. Eighteen fellowships will be awarded in 2009 and another 18 will be awarded in 2010.
Second, the annual Kresge Eminent Artist Award will recognize an exceptional artist for his/her professional achievement and contribution to the community's cultural life. Accompanied by a $50,000 prize, this award will honor an individual artist of the highest caliber and call attention to the role of cultural leadership in a particular discipline.
Third, Kresge Arts Support grants will provide unrestricted, multi-year operating funds to small, medium and large arts and cultural organizations in order to help them achieve long-term sustainability. "This is an investment without strings," Rapson said. "We are investing in their best judgment." In 2007, Kresge awarded Arts Support grants to 53 organizations, and a new cohort of recipients will be notified of their grants in coming weeks.
Also through Kresge Arts Support, the foundation will "search out ways to strengthen the infrastructure that serves the cultural community, such as the Cultural Alliance and ArtServe Michigan," he added.
Although Kresge's investments run through 2010, the foundation's commitment will not end there, Rapson assured his audience. "We need to tend to an arts ecosystem in metropolitan Detroit that while rich in diversity and assets is desperately underfunded and underappreciated," he said. "That act of tending is a long-term imperative, requiring an ever-expanding group of partners – public, private and philanthropic. We will be there for the long term.
"But we also hope that our actions tonight start in motion a process of building an ever-widening circle of understanding and support in this community – one that builds on the enormous support that has existed in the past but realizes that in times like these, we all need to step up and do our part with ever-greater vigilance," Rapson concluded.
Speaking afterward, Tania McGee, executive director of the Sphinx Organization, one of last year's 53 Arts Support award recipients, said, "In an era of economic hardship and challenge, the role of the arts in our society, especially among our children, is more critical than ever." In its 12-year history, the Detroit-based music-education and youth-development organization has reached more than 65,000 students in 175 schools nation-wide, and its nearly 200 music laureates have performed with symphony orchestras around the country.
A three-year, $150,000 Arts Support grant from Kresge will be used to expand two existing Sphinx music-education programs in Detroit – the Overture Program and the Sphinx Preparatory Music Institute at Wayne State University. "Aaron Dworkin, our founder and president, believes classical music has the power to ignite the potential of young lives," McGee said. "But students have to be exposed to classical music in order for this to happen. The Kresge Foundation, through this Arts Support grant, is enabling us at Sphinx to do more of what we do best."
In subsequent remarks, Rick Rogers, president of the College for Creative Studies – which will administer the Kresge Artist Fellowships and Kresge Eminent Artist Award – cited growing recognition of the importance of creativity in society and around the globe.
"Creativity drives the innovation that leads to economic competitiveness and growth," he said. "New industries have arisen that depend on artistic skills. Old industries have discovered that artistic input is essential to their future and can be the differentiating factor between success and failure." Rogers emphasized the importance of the traditional art forms, "which have always advanced culture, embodied our search for meaning, given us a sense of identity and enriched our lives" – and now make modern-day industrial and commercial artistic creation possible.
He also highlighted the role of the individual artist whose work engages his/her audience in dialogue, brings people together and builds communities. "It's wonderful that the Kresge Foundation, in a strategy to help achieve a better Detroit, sees the arts and art institutions as critical components," Rogers said. "It"s truly inspiring that the foundation sees the individual artist as a potent force in bringing about that change, and has decided to support the careers and ambitions of individual artists."
The National Endowment for the Arts reported that Michigan has the eighth highest number of artists among states, and Detroit has the ninth highest number of artists among metropolitan areas. "Our dynamic arts community is not as well-known as it should be, but Kresge Arts in Detroit will change that," Rogers said. "The College for Creative Studies is very proud to be part of this venture."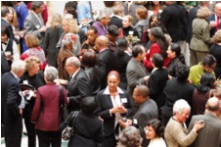 Concluding the program, Randy Paschke, the board chair of ArtServe Michigan, described how the statewide arts and cultural advocacy organization will support the Kresge Artist Fellowships recipients with individualized professional development opportunities and help to spread "the seeds of an arts movement" across Michigan.
"This crucial piece of the Kresge Arts in Detroit effort will help to ensure that the artist fellows are not only able to pursue their creative work for the duration of their one-year fellowship, but perhaps more important, that after the completion of that fellowship, they will be in a better position to develop their creative work and talent into creative industries and businesses throughout the state," he said.
Artists and arts-organization representatives attending the gala event greeted Kresge Arts in Detroit with open arms. "The arts are a highly competitive field, and monies for artists have been scarce through the years," said multimedia artist Vito Valdez. "Kresge's initiative is going to institute a lot of pride in the work we do and enable us to feel appreciated for what we've accomplished."
Downtown Detroit gallery owner Sherry Washington said Kresge Arts in Detroit is bolstering the entire arts scene, which will enable her to showcase more artists and familiarize the city and community with their artwork. "This effort will allow students to see the possibilities of great art and inspire them, especially in the current economic situation," she remarked.
Evelyn Orbach, artistic director of the Jewish Ensemble Theatre in West Bloomfield, applauded Kresge for understanding the need to provide operational funding to stabilize theater organizations such as hers. "We can't produce professional theater productions without money, but operational funding is the hardest thing to get," she said.
Detroit City Council Member Joann Watson, who chairs the arts and cultural task force, said Kresge Arts in Detroit will help Detroit further its cultural legacy. "Nothing is worth more to the growth and development of a vibrant community than its artistic resources," Watson insisted. "We need a substantive commitment of money to support artists and promote art."
Members of the Kresge family who attended the reception also expressed their delight in the foundation's innovative efforts to continue its long-standing commitment to the arts. "This is an excellent opportunity for Detroit," said Cynthia Kresge, a great-granddaughter of founder Sebastian Spering Kresge. "It's wonderful that the foundation is stepping outside the bounds of traditional grantmaking and exploring new frontiers."
Her sister Katherine Lutey, a foundation trustee, remarked, "It's very exciting to support artists at the individual level with money that can be tailored to help them in the best way possible."
Susan Drewes, a third sister and foundation board member, expressed hope that Kresge Arts in Detroit will serve as a catalyst for revitalizing the city and produce ripple effects beyond Detroit. "I believe the energy created through this project will be broadcast widely, and will draw support from other areas," she said.