Kresge Artist Fellowship applications open Nov. 30
Awards of $25,000 will be made to 18 metro Detroiters in literary and visual genres; $5,000 Gilda Awards to be named also
Metropolitan Detroit artists are invited to apply for a 2019 Kresge Artist Fellowship. Fellowships are funded by The Kresge Foundation and administered by Kresge Arts in Detroit at the College for Creative Studies.
These are the key dates:
Thursday, Nov. 1: Application guide available
Friday, Nov. 30: Online Application opens
Thursday, Jan. 17, 2019 by 11:59 p.m. EST: Applications close
Now in its 11th year, the program will award 18 fellowships – nine in literary arts and nine in visual arts – to artists living and working in metropolitan Detroit (Wayne, Oakland, and Macomb counties).
"For a decade now, Kresge Artist Fellowships have put a spotlight on artists who've received too little attention, accelerated the careers of artists gaining renown and further elevated some of the most widely recognized cultural producers in metropolitan Detroit," says Wendy Lewis Jackson, a managing director of Kresge's Detroit Program. "We look forward to a group of 2019 Fellows that once again makes clear the breadth and depth of our artists and their collective contributions to our community."
Artists working in the following disciplines are eligible to apply for a 2019 Kresge Artist Fellowship:
Literary arts: Arts criticism, creative nonfiction, fiction, graphic novels, playwrighting, poetry, spoken word, zines, interdisciplinary work
Visual arts: Book art, ceramics, collage, drawing, fiber, glass, installation, metalwork, new media, painting, photography, performance art, printmaking, sculpture, video art, interdisciplinary work
Kresge Artist Fellowships are no-strings-attached $25,000 awards. Fellowships also include a professional practice program, designed and delivered by Creative Many Michigan, which includes workshops, seminars and networking events. Artists at all career stages are invited to apply.
"It was so special to receive the fellowship," says Dunya Mikhail, 2013 Literary Arts Fellow. "It helped me pay a loan and that relieved me for a while and freed up time for me to focus more on my writing." She adds, "I didn't get it in the first time I tried. Never stop trying."
Like Mikhail, Sydney G. James, a 2017 Visual Arts Fellow, didn't receive the fellowship on her first attempt. "Not winning the fellowship the first time round was probably the best thing for me. It was one of many catalysts that forced me to push harder and strive to do and be greater."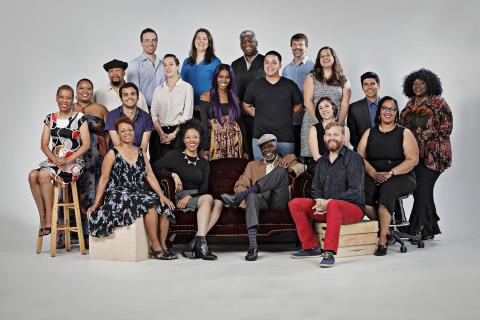 Fellowships are awarded on the basis of a demonstrated track record of artistic achievements and high-quality work, the potential to grow and advance careers during the fellowship period, and the potential to reflect, enhance or impact communities within metropolitan Detroit.
In addition, two Gilda Awards, $5,000 no-strings-attached prizes solely for emerging artists, will also be awarded – one in literary arts and one in visual arts.
Gilda Awards recognize artists who are early in their careers, are gaining momentum, and who demonstrate exceptional potential through creative risk-taking and pushing the boundaries of their chosen art form. The awards are named in honor of Gilda Snowden (1954–2014), one of the 18 inaugural artists to receive a Kresge Artist Fellowship in 2009. Snowden served as interim chair and professor of fine arts at the College for Creative Studies, where she taught painting for more than 30 years.
Gilda Awards are chosen from the pool of Kresge Artist Fellows applicants. There is no separate application for the Gilda Awards.
Artists are strongly encouraged to attend the applicant workshops, which are designed to help artists submit competitive applications to Kresge Arts in Detroit as well as other sources of support for their creative careers.
Work samples and application strategies: Thursday, Nov. 15, 6-8 p.m., Grace in Action, 1725 Lawndale Street, Detroit
Writing artist statements and résumés (presented with Creative Many): Tuesday, Dec. 4, 6-8 p.m., Arab American National Museum, 13624 Michigan Avenue, Dearborn
Application questions and answers: Saturday, Jan. 12, 2019, 11 a.m.-1 p.m., The Jam Handy, 2900 East Grand Boulevard, Detroit
Visit kresgeartsindetroit.org for full details and to RSVP.
Since 2008, Kresge Arts in Detroit has awarded 10 Kresge Eminent Artist Awards ($50,000 each), 180 Kresge Artist Fellowships ($25,000 each), and 10 Gilda Awards ($5,000 each) for a total of more than $5 million given directly to individual metro Detroit artists.
In both the literary and visual arts categories, fellows and Gilda Award recipients are selected by independent panels of distinguished local and national artists and arts professionals. New panels are convened each year, bringing fresh perspectives to the review process.
Fellowship applications are only available and can only be submitted online. The online application opens on Friday, Nov. 30, and must be submitted before 11:59 PM EST on Thursday, Jan. 17, 2019.
Guidelines and additional resources are available now at kresgeartsindetroit.org.
For further information, please contact Kresge Arts in Detroit Director Christina deRoos at 313-664-1151 or christina@kresgeartsindetroit.org.