Journalist with passion for social policy dives into strategic communications as graduate fellow
Olivia Lewis traded her press badge for the passwords to Kresge's social media accounts to gain experience in strategic communications this summer as a graduate fellow in the External Affairs & Communications Office at the foundation.
The former reporter is now a graduate student at the Gerald R. Ford School of Public Policy at the University of Michigan, Ann Arbor. Her studies are centered in social and economic policy, which led her to Kresge due to its commitment to help low-income communities.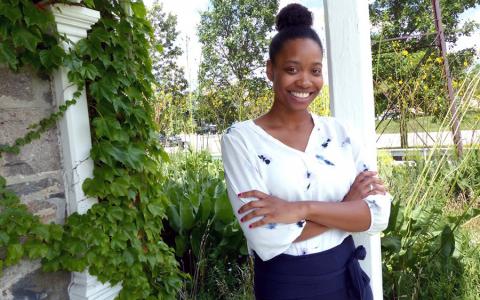 This summer Lewis' primary role has been conducting an audience engagement analysis. The goal of the project was to help better define Kresge's external audiences and identify opportunities for audience growth. She used qualitative and quantitative research methods, including diving deep into analytics from Kresge's more than a dozen social media accounts, to complete a report of her findings.
Additionally, Lewis contributed stories to Kresge's weekly email newsletter, wrote grant summaries, interacted with the media and started a database of Kresge subject experts.
Lewis received her bachelor's degree in broadcast journalism from Hampton University, a historically black college, in Hampton, Virginia. After finishing her undergraduate degree, she worked as a reporter for Gannett newspapers in Michigan (the Battle Creek Enquirer) and Indiana (the Indianapolis Star). For two years, she spent weekends helping to create a safe-space group called Bold and Daring for high school girls to build confidence and discuss issues relevant to their lives.
"We loved the fact that Olivia had professional experience as a journalist, especially because she'd covered some of the issues Kresge cares about such as philanthropy and racial justice," said communications officer Krista Jahnke. "She brings to our team strong writing skills, as well as a nimbleness to juggle multiple projects at once."
Much of Lewis' interest in social and economic policy spawned from her journalism work. After writing stories about local injustices, she wanted to learn more about how they came to be and to create more purposeful work that would be understood across cultures. 
"I care about people," Lewis says. "Providing information that is useful, educational and that can inspire change, I think, can make a positive difference in the quality of lives."