Health deputy director selected for Integrated Capital Fellowship program
RSF Social Finance has named Health Program Deputy Director Chris Kabel to the inaugural cohort of 24 financial professionals participating in its Integrated Capital Fellowship, an intensive program designed to provide the education and strategies practitioners need to help values-driven philanthropists and investors deploy capital for social and environmental benefit.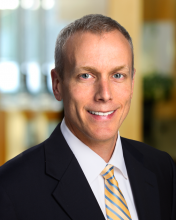 "We're very excited about our first cohort of fellows. It's an extraordinary group of financial activists," said Deb Nelson, RSF's vice president, client and community engagement. "RSF initially planned to accept only 15 fellows," she added, "but the number and quality of applications were so strong we stretched to accommodate more."
Fellows will learn to apply RSF's integrated capital approach: the coordinated use of diverse forms of capital (including loans, loan guarantees, investments and grants), network connections and advisory services to support enterprises that are solving complex social and environmental problems. They will also build a network of people who are fundamentally rethinking the purpose of wealth.
The program begins Oct. 1 with a three-day intensive session. More than two-thirds of the fellows are women and 42 percent are people of color. They're based in communities across the U.S., have expertise in a variety of financial sectors, and currently work at impact investment firms, foundations, and other organizations working at the intersection of finance and social change.