Health Department, area tenants take on healthy housing issue in Tacoma
Lack of affordable and safe homes a public health problem
Donna Seay stood outside her apartment in Tacoma, Washington staring at a piece of paper stuck to her door. Her apartment complex had new owners, and Donna, along with residents in the 58 other units, had only 20 days to vacate.
"I panicked," Seay said.
Confined to a wheelchair because of partial paralysis, Donna had moved to the Tiki Apartments because she needed an affordable apartment on the ground floor.
"I signed the lease so I could have a roof over my head," Seay said. "I had no clue about my rights."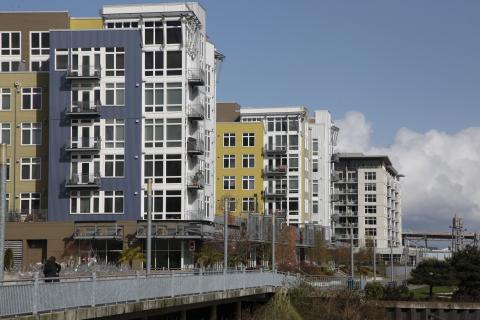 Donna was not alone. Not only was this happening at the Tiki Apartments, people with low incomes throughout Pierce County were also being evicted from their homes and apartments with little notice. They had no idea where they could move with such short notice in one of the hottest housing markets in the nation. 
Housing market forces in Seattle, one of the fastest-growing cities in the country, have pushed renters and buyers south into Tacoma and the rest of Pierce County.
A recent study found that the average home in the Tacoma area sells in eight days, and nearly half sold for over the asking price. Only 1 percent of rental units are vacant, the lowest rate in the country.
That shift has meant residents in low-income neighborhoods are experiencing unprecedented levels of displacement. For many residents, it's almost impossible to find affordable housing.
A Public Health Crisis
Tacoma-Pierce County Health Department identified this as a public health crisis. As one of 13 grantees advancing health equity through housing with funding from The Kresge Foundation, the Health Department has refined its affordable housing action strategy and developed a healthy housing code.
"Housing is a protective factor," Victor Rodriguez, health equity program manager at the Health Department said. "When whole entire communities are uprooted and displaced, you break connections between neighbors and families. It causes trauma not just individually, but at the community level, which has consequences for people's health," he said.
In tackling this problem, the Health Department went directly to members of the community and asked what they wanted, said Anthony L-T Chen, M.D., MPH, director of health at the Health Department.
"If we want to improve health, we must address the social, economic, and environmental conditions that produce health," Dr. Chen said. "If we help the community tackle what they are worried about—whether it is housing, crime, or jobs—we know their health will improve."
After an intensive four-month process that included listening sessions, focus groups and other methods to gather public feedback, the city of Tacoma and its community partners developed a new Affordable Housing Action Strategy, which includes four approaches:
Create new housing.
Keep existing housing affordable and in good repair.
Help community members stay in their current housing.
Reduce barriers to access or stay in housing.
"We put the voices of people experiencing inequity at the center and created space for them to identify their own solutions," Rodriguez said.
When it comes to housing, just having a roof over your head is not enough. Where you live affects your health. In many properties, mold is a big issue, and so are pests, both of which contribute to conditions like asthma.
But in such a tight housing market, tenants are wary of reporting these problems, and landlords lack any real urgency to fix them. So, the Health Department devoted considerable resources to creating a Healthy Housing Code, working with landlords to help them get caught up on maintenance rather than abandon their properties.
Tenants Take Action
But what could Donna and the residents of the Tiki Apartments do in their situation? They could organize. After local media attention spurred community protests, residents connected with one another and created the Tacoma Tenants Organizing Committee.
The committee, led by displaced Tiki Apartment residents and tenants' rights advocate Molly Nichols, raised their collective voice and fought for a range of tenant protections.
"We talked with anyone who would listen," Nichols said.
As a result of their efforts, the Tacoma City Council unanimously passed a rental housing code in November 2018, which includes protections such as:
120-day notice to vacate requirement when buildings are sold, renovated or demolished; 60-day notice to vacate for no-cause termination of tenancy.
Relocation assistance funds for low-income tenants facing displacement due to demolition, rehabilitation or change of use. The landlord would also make available and pay for relocation assistance if a building is considered "unfit" or "derelict."
Notice of enforcement activity against landlords.
60-day notice requirement for rent increases.
Landlords are required to give tenants information about their rights and responsibilities.
Prohibiting retaliation by landlords against tenants exercising their rights.
Permitting installment payments for upfront move-in costs.
For the residents of the Tiki Apartments, while these protections couldn't help them, they were able to reach an agreement that gave them additional time to move out and provided funds for case management.
The new owners of the complex eventually partnered with the Tacoma Housing Authority to transform the renovated building, now called the Highland Flats, into affordable housing for homeless Tacoma Community College students, with seven vacancies reserved for former residents of the Tiki Apartments.
Everyone benefits from affordable housing, and Tacoma-Pierce Health Department will continue to work with the city and community partners to support sustainable and inclusive decision making around housing and health in Pierce County.
"Our economic system treats housing as a commodity. Housing is a human right," Nichols said.