Graduate fellow brings passion from working in neighborhoods to American Cities Practice
Gabrielle Horton believes that the ability to listen, learn and take action is a powerful weapon against divestment and displacement in any city. For Horton, a graduate fellow in The Kresge Foundation's American Cities Practice this summer, these skills have been resources to engage with the most resilient people of the hardest-hit communities.
Horton has a passion for economic and community development, which she is coupling with her studies in public policy at the Gerald R. Ford School of Public Policy at the University of Michigan, Ann Arbor. The Los Angeles native has the summer helping the American Cities practice with its work in Memphis.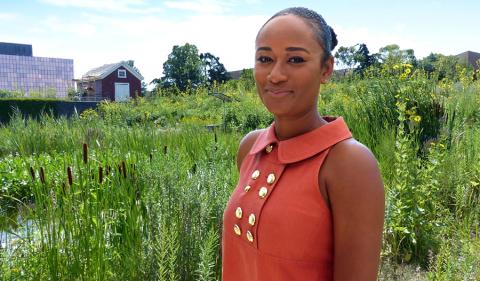 Though much of her job responsibilities focused on the grantmaking process for partners, Horton is completing a data-management project to understand the foundation's historical financial footprint in Memphis. Her work over 10 weeks will end with a three-day trip to the Tennessee city to engage with partners face-to-face.
To prepare for the visit and realizing the power the foundation has to change the landscape of a community, Horton said she felt it was her duty to learn more about the area. 
Horton previously worked on the campaign trails of President Barack Obama, U.S. Rep. John Lewis, D-Ga., and Sen. Corey Booker, D-N.J. as a field organizer and a field deputy during Los Angeles' Mayor Eric Garcetti's administration.
Chantel Rush, program officer with the American Cities Practice, said Horton was a good fit for the position due to her neighborhoods work in Durham, North Carolina, Camden, New Jersey and Los Angeles, California.
"Gabrielle quickly leveraged her experience from field organizing to determine how Kresge's grantmaking might more directly benefit Memphis and New Orleans," Rush said. "Her passion and energy for this work is unparalleled, and the community development field is sure to benefit from her insight and expertise going forward."
Horton says she's experienced the greatest sense of community working in predominantly African-American and Latino neighborhoods.
"I've been in some of the toughest neighborhoods and I still feel like there's this sense of community in these hardest-hit areas which keeps pulling me back to them," Horton says.