Goodwill Industries of Greater Detroit Helps Young Men Transform their Lives
Kresge grant enables Flip the Script program to relocate and expand its highly successful empowerment program.
TROY, MICHIGAN – Phillip Prescott, a 23-year-old unemployed Detroiter, was living with his mother in Highland Park and "just trying to survive" before he enrolled in Flip the Script last fall.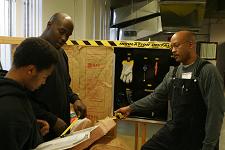 The multidimensional 16-week program operated by Goodwill Industries of Greater Detroit seeks to empower young minority men, ages 16 to 30, to become successful, contributing members of society.
Students, who frequently come from backgrounds rooted in poverty, crime, underachievement and unemployment, receive motivational and academic coaching in math, reading, social and life skills along with intensive career training in 15 different construction and skilled trades.
For Prescott, the first nine weeks of class at Flip the Script's new facility have been nothing short of transformational. "They have opened my eyes to the many resources and opportunities available to me, and have helped me set realistic goals that I can achieve," he says.
"I've gained a willingness to get up every morning and do something to advance myself. I've also improved my math skills and learned social behaviors and workplace ethics that have prepared me to be in the business world."
Prescott hopes to enter an apprenticeship leading to a career as an electrician or operations engineer once he completes Flip the Script. Other graduates of the program have gone on to college, entered the workforce or established their own businesses.
With the help of a three-year, $995,000 Kresge Foundation grant, Goodwill Industries of Greater Detroit recently relocated Flip the Script from its headquarters to the fifth floor of a professional office building on Second Avenue in the city's Northend neighborhood, adjacent to the New Center area.
The 9,000 square feet of space was reconfigured, upgraded and furnished with new equipment, enabling the program to expand its enrollment by 30% to 150 students.
Kresge funding will accelerate ongoing efforts to broaden the economic and social opportunities for low-income and disadvantaged individuals while providing a safer living environment for Detroit residents. These goals align closely with Kresge's strategic initiative to revitalize metropolitan Detroit and its neighborhoods.
"This is a chance to change the course of the lives of many young men, especially African Americans, despite some of the insurmountable barriers they are facing," says Andrew Gatewood, program officer for Kresge's Detroit Program. "We are working closely with other funding organizations to maximize our investment and resources in the Northend and other targeted neighborhoods."
Keith Bennett, the program director of Flip the Script, reports he has seen a positive impact on student morale and motivation since the grand opening of the new facility on Nov. 12.
"This is the first time many students have attended classes in a modern, collegiate learning environment," Bennett explains. "Our services take a holistic approach, and we screen people in, not out. Our goal is to teach individuals to use their brains, hands and hearts to become better men. Good work and success have made our program a household name."
The challenges facing Flip the Script are formidable, however. Forty percent of enrollees are ex-offenders, and many have languished as a result of poor education, unemployment and substance abuse. Yet, since the program started in 2003, the vast majority of participants have improved their math and reading skills, completed their 16 weeks of classroom studies, found jobs in construction or other industries and stayed out of trouble with the law.
"It took a foundation with a vision, such as Kresge, to make a significant financial investment in improving the quality of life for people in this neighborhood," Bennett concludes.
By Claudia Capos