Fourth generation of windmill mechanics keeps Kresge's vintage blades spinning
Both of The Kresge Foundation's iconic windmills are spinning in the breeze again, after tender loving care from a family of Amish windmill mechanics.
The Troyer family from Sugarcreek, Ohio, makes periodic treks north to maintain Aermotor mills throughout Michigan, including the twin structures that tower above Kresge's three-acre Troy campus.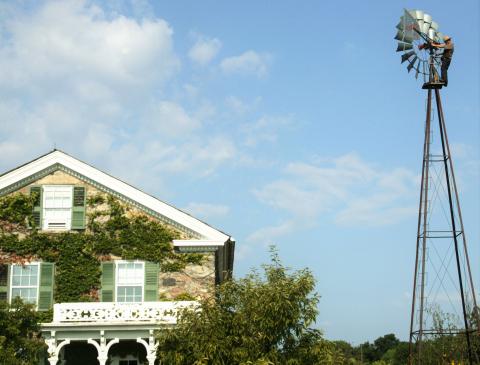 The windmills no longer pump water, but are a the most recognizable features of the Kresge campus – a tiny oasis of greenery and history tucked amid steel and concrete office buildings along the Big Beaver Road commercial corridor.
On July 19, Melvin Troyer scaled the 40- and 60-foot towers to lubricate gears and replace a key spring that had kept the taller tower's blades idle for months. His father, David Troyer, shouted instructions and advice from below, while son Tobias watched, fetched supplies and absorbed the lessons imparted from his father and grandfather.
"My dad put these up in the 1920s," said David Troyer. "Then I did, then my son, and now my grandson is learning." The family runs Troyer Windmill Co. in Sugarcreek ("one mile east of Charm,"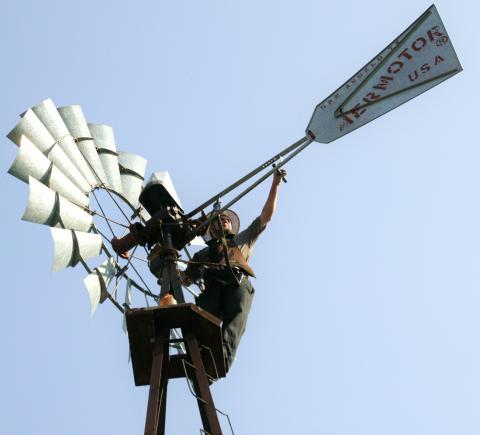 according to the company brochure).
The windmills are part of the former dairy farm that Kresge purchased in 1982 and converted into its headquarters campus. They are vintage models manufactured by the Aermotor Windmill Co. beginning in 1888 and ubiquitous on farms throughout the nation even today. The Kresge mills are Aermotor Model 702, largely unchanged since that version was introduced in 1933.
Originally, the Kresge windmills pumped water for the 300-acre Brooks Dairy Farm. The farm was sold off in pieces to developers over the course of decades. The remaining three-acre remnant was purchased by the foundation, which restored original prairie landscape and a wetland pond, preserved the original 1852 farmhouse and moved a vintage barn to the site.