Fostering Success Michigan breaks down hurdles to postsecondary education
Kresge-backed initiative promotes supports for students who've been in foster care.
Brittany Bartkowiak endured three lonely years in college before she finally felt she belonged.
During her first year at Eastern Michigan University, in Ypsilanti, she never met another student who had experienced foster care, who could imagine what it was like to spend their teen years in five different homes and facilities.
During her second year, mounting expenses led her to add a full-time job to the demands of her full course load. She made $10 an hour at a retirement home, devoted weekends to schoolwork and missed the football games and parties many classmates enjoyed.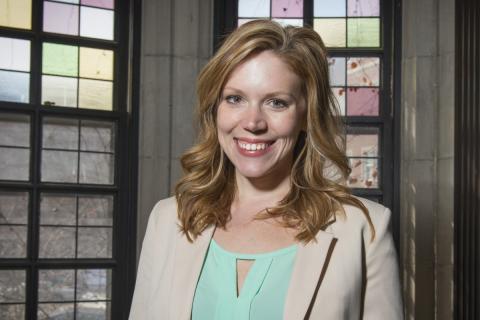 "I came from a completely different background than all of my peers," she says. "It was hard for me to see their parents coming to visit them in the dorm, sending them packages."
Then she attended a statewide summit organized by Fostering Success Michigan, an effort aimed at increasing college participation and graduation rates among the state's foster youth population.  That's when she had a realization: "I wasn't alone."
The Kresge-backed initiative is based at Western Michigan University in Kalamazoo. 
Kresge, WMU and other funders backed the launch of Fostering Success Michigan in 2012 to address emotional, logistical and financial obstacles that stand between students from foster care and college degrees or career success. 
Kresge works to expand opportunity in America's cities. Its Education Program seeks to promote postsecondary access and success for low-income, first-generation and underrepresented students.
Roughly half of students in the foster care system don't graduate from high school.
Only 20 percent enroll in postsecondary education.
Just 2 percent to 9 percent earn a bachelor's degree.
Source: California College Pathways
"At any given time, there are close to a half-million children living in foster care nationwide," says Kresge's Caroline Altman Smith, a senior program officer. "When they leave the foster care system, their college success rates are unfortunately abysmal – except at schools like Western Michigan, which shows that intensive support can achieve impressive results. Western Michigan's commitment to students who are alumni of foster care is quite extraordinary, and we hope more schools will be inspired by its example." 
'It knocks down a lot of barriers'
Fostering Success Michigan began when officials at WMU started looking for a way to extend an on-campus support program to other Michigan colleges and to youth still living in foster care and in middle or high school. Since its inception, Fostering Success Michigan has helped to increase the number of campus-based support programs serving students from foster care from five programs in 2012 to 14 programs in 2015.
"Fostering Success Michigan is working to make this a state where young people from foster care are supported to reach beyond the statistics and succeed in college and life," says Maddy Day, director of outreach and training.
Fostering Success Michigan operates a website that serves as a one-stop-shop for students ages 12-25 who have experienced foster care. It offers information on scholarships, housing and campus support programs, as well as tips on such hurdles as managing conflict or buying a used car.
The Fostering Success Michigan initiative connects and educates caseworkers to better guide youth in foster care through the college application process. It helps middle- and high school counselors as well as campus advisers understand the services students from foster care may need. It links people statewide who work with students from foster care in high school, on campus and through social service or government organizations.
"It knocks down a lot of barriers," says Nichole Martin, of the Michigan Youth Opportunities Initiative, which supports youth who experienced foster care.
Before Fostering Success Michigan, caseworkers, counselors, teachers and foster parents were on their own, Martin says. Now they have a network to turn to.
Fostering Success Michigan also brings students and supporters together by sponsoring and coordinating a yearly summit.
Bartkowiak attended the 2013 summit at the University of Michigan in Ann Arbor: "I remember sitting in this huge ballroom and I looked up and remember feeling like the sun was shining through the window and I was … exactly where I belonged for the first time in my entire college career."
"There was an instant level of respect because we knew what it had taken for each other to get where we were," she adds.  
After that, she got involved with Fostering Success Michigan and became its student ambassador. Now 24, she's earning a master's degree in social work and hopes to help others with backgrounds like hers.
Campus network grows
Like Bartkowiak, Justin McElwee, a 20-year-old Michigan State University junior, says having a network like Fostering Success Michigan would have made his path to college easier.
Between ages 14 and 18, he lived in homes in six different cities and attended "seven or eight" high schools. Applying to college meant following up with each to make sure credits transferred from school to school; he clashed with the staff at a group home over computer time to write admission essays.
Fostering Success Michigan and on-campus support programs have given him the confidence to apply to law school to pursue a career advocating for kids in foster care.
Fostering Success Michigan is one of 10 such statewide organizations. It helps administrators gather data on and learn to better assist students with backgrounds in the foster system. It boasts nearly 65,000 visits to its website since May 2013. Its last annual summit drew 200 people, including more than 40 students from foster care.
People who work with foster youth say Fostering Success Michigan is having an impact.
Brenda Pickett, a local college-access network coordinator with the Learning Network of Kalamazoo, is one of them.
"A lot of teachers, a lot of counselors, a lot of principals didn't know how to help foster youth, so … they just didn't do anything," Pickett says. "Now they have somebody's business card, somebody they can contact and ask questions. ... That awareness is huge."
Fostering Success Michigan will hold its fourth annual statewide summit May 22 at the James B. Henry Center, Michigan State University, East Lansing.