Faced with threats from climate change, four Florida counties work together to reduce risks
Kresge Environment Program supports effort to make communities more resilient.
For years flat, groomed beaches were the ideal on Florida's southeast coast. But with a growing appreciation for the risks posed by rising sea levels and increasingly intense weather events, dunes are making a comeback and residents along the coast are warming to stretches of mangroves and other natural protection.
"Before, the people didn't want sand dunes there because they blocked the views," says Susanne Torriente, Fort Lauderdale's assistant city manager. "Now they're realizing their value."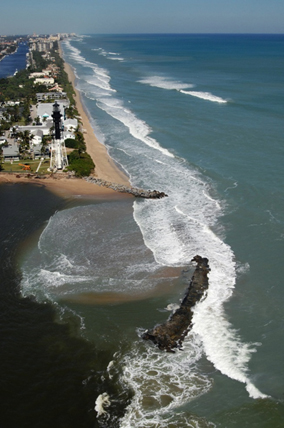 Community leaders in southeast Florida are also recognizing the importance of working together. Officials in the four southeastern counties – Palm Beach, Broward, Miami-Dade and Monroe – created the Southeast Florida Regional Climate Change Compact to work out strategies and actions to reduce the impact of a changing climate.
The effort has required that county officials overcome political, cultural and economic differences. The divides can be as wide as the gulf between the upscale neighborhoods of Palm Beach and the low-income communities of Belle Glade and Pahokee where per capita income in 2011 was near $14,300.
But the four counties are home to 5.5 million people and a $202 billion share of the state's economy. The threats to transportation networks, utilities, drinking water, businesses and homes and the shoreline require coordinated responses.
"We can't sit back and wait," says Jennifer Jurado, Broward County's director of Natural Resources Planning and Management.
A nonprofit called the Institute for Sustainable Communities is helping put the plans into action.
The institute helped the local governments set a common agenda for climate change actions and coordinate with state and federal agencies.
As the work continues, the institute's staff will help the four counties assess which efforts have worked and which have fallen short. That assessment will include implications of new science as well as the impact of changes to state and federal policies.
A three-year, $975,000 grant from The Kresge Foundation's Environment Program supports that work. An earlier grant helped the counties undertake the planning that set the stage for the compact's work.
Kresge works to expand opportunities in America's cities through grantmaking and investing in arts and culture, education, work in the environment, health, human services and community development efforts in Detroit. Its Environment Program advances efforts to reduce greenhouse-gas emissions and develop new knowledge and practices for adapting to climate change.
"Nature doesn't care where a county line is. From a climate standpoint, it doesn't make sense to focus on just one county or town," says Kresge's John Nordgren.
There is a real interdependence through the region, says Nordgren, a senior program officer. Decisions about issues such as water resources and transportation networks have to take the broader context into consideration.
Cooperation
The four-county region is among the areas in the U.S. most vulnerable to the effects of climate change brought on by greenhouse gas emissions. The bipartisan cross-jurisdictional Florida compact is among the first of its kind in the U.S. – and a model for other regions.
Why it matters
The four-county area is particularly vulnerable. For example:
Key West has a projected sea level rise of 9-to-24 inches by 2060.
Throughout Monroe County – primarily a chain of low islands – 75 percent of hospitals, 65 percent of schools and 71 percent of emergency shelters sit below the 12-inch mark.
Power plants and transmission facilities in Miami-Dade and Broward counties are vulnerable to a 12-inch rise in sea level.
Over the entire region, about $4 billion in taxable property is at risk with 12 inches of sea level rise.
The Institute for Sustainable Communities' Steve Adams says the compact helps coordinate projects into coherent and complementary plans. Members avoid patchwork localized projects that step on a neighbor's toes.
There are lots of neighbors to consider: 109 communities, 48 different water management groups and 28 transportation bodies.
"By working regionally, we are moving forward," Broward County's Jurado says.
Fort Lauderdale's Torriente agrees: "With the compact you can align actions with the plans without giving up local authority or creating another layer of government."
The compact reaches across jurisdictions and silos. There are more than 20 mayors on board so far, pledging to align their planning. Torriente says flooding from storms and inundation is at the forefront for coordination.
Already the compact has been the vehicle to get consistent methods for mapping sea level rise and assessing the impacts. Work under way includes planning protective measures for power plants and stations, and identifying natural solutions such as restoring dunes and other protective features.
For example, the city of Fort Lauderdale is purchasing the site of a subdivisionthat failed during the Great Recession. The city plans to transform the site into a park incorporating storm water into a system of ponds and other recreational amenities.
Next steps
The compact's to-do list includes collaboration on transportation planning.
"At the staff level it gives us more experience, more resources and more expertise," Torriente says. "From a political level, there's strength in numbers. When we talk to the state and federal government, we're an area with 5.5 million people."
The compact's broad targets include:
Protecting and managing the water supply threatened by saltwater intrusion as well as the infrastructure that deals with storm draining.
Protecting natural systems and agriculture.
Reducing greenhouse gas emissions.
Reducing risk with approaches that include new building codes that take into account floods, high winds and rising sea level.
The plans focus on protecting vital assets to keep the lights on, traffic moving and the water properly flowing while reducing the environmental impact.
The compact has more than 100 recommendations including designated growth outside flooding zones, use of new materials and designs for roads and bridges to withstand storms and better deal with runoff and new commuter and transit options to reduce greenhouse gas emissions.
Hurricane Sandy hammered home the need to take action. When the storm swirled around the Bahamas, Florida felt it, says Fort Lauderdale's Torriente.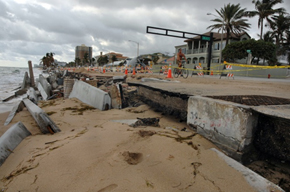 Hurricane-driven waves and surges raced over the artificially level beaches taking out part of the famed A1A coast highway.
Adams says the progress is remarkable, especially in an era of fiscal constraint and polarized politics: "It's bipartisan in South Florida. People see the impact of inundation."
Earlier this year, representatives of the compact traveled to New York for a conference with officials from other coastal states such as New Jersey and North Carolina.
"I think we're kind of a trendsetter," says Torriente, adding that there is interest from communities on the California and Oregon coasts.
Kresge's Environment Program is supporting similar cooperative action in the San Francisco Bay area, the state of Hawaii, San Diego, New Jersey and Montana.