Energy publication names Environment team's Jessica Boehland among sector's emerging leaders
Jessica E. Boehland, senior program officer with Kresge's Environment Program, was named this week to Midwest Energy News' 40 Under 40 awards program. The honor highlights emerging leaders throughout the region and their work in America's transition to a clean energy economy.  They include young leaders working on energy policy in sectors including government, industry, academia, business, philanthropy and advocacy.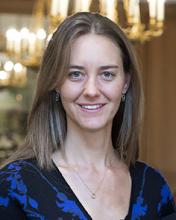 Boehland has worked at Kresge since 2008. Her work supports policies and programs to reduce energy usage in the built environment. Jessica's portfolio includes grants to nonprofit organizations working to reduce energy use by improving building energy codes and appliance standards; strengthening utility energy efficiency programs; and encouraging the environmentally responsible design, construction, and operation of buildings.
Previously, Boehland worked as a writer and editor for BuildingGreen, an independent publishing company in Vermont, from 2001 to 2008.
A LEED-accredited professional, Jessica holds a bachelor's degree from Oberlin College and a master's degree from Yale University's School of Forestry and Environmental Studies. Her writing has appeared in various publications, including Environmental Building News, GreenSource, Landscape Architecture, Journal of Industrial Ecology, and Race, Poverty, and the Environment.