Eatery gets boost from TechTown Detroit and boosts vision of Detroit Future City
The Gathering in Indian Village is another step toward neighborhood revival
This article is part of a package marking work of The Kresge Foundation's Detroit Program in alignment with the Detroit Future City framework, which was announced a year ago. The Detroit Program seeks to promote long-term economic opportunity and re-establish the city as the center of a vibrant region. Detroit Future City is 10-, 20- and 50-year development framework for those ends, including strategies economic growth, land use, neighborhoods and more. Read an overview of the series and more articles.
Step inside a luxurious, century-old Tudor on Jefferson Avenue in Detroit's Indian Village and the aromas of applewood bacon, Belgian waffles and omelets will tempt you to stay. That's the intention of restaurateurs Herman Jenkins and Clinton M. Moore, owners of The Gathering.
Beyond the house specialty – grilled cheese and bacon on potato bread – and other delectables, diners are treated to an exhibit of sculpture, prints and paintings that changes monthly. On Friday evenings Chef Moore lays out a buffet and Jenkins books local musicians such as Duane Parham and Sax Appeal for a $10 cover.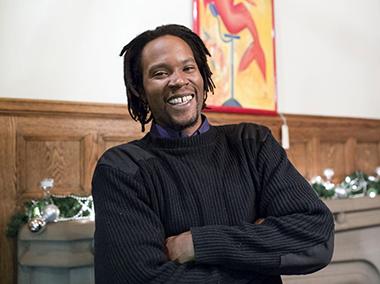 "We wanted to create a welcoming place," Jenkins says. He paired up with his lifelong friend Moore, at first planning on an indie cooking show to be called the Ghetto Gourmet. In early 2012 they decided instead to rent space in a 1903 Tudor mansion being repurposed as the Collective. It had foot traffic from boutiques in the building and an ideal room for 15 tables. Moreover, Indian Village and the neighboring West Village and Berry Subdivision are home to more than 20,000 residents with an average annual income of $50,000.
Jenkins, 39, realized by the end of their first year in business that they needed help. He reached out to Ritchie Harrison, business development director at the Jefferson East Inc. Business Association, which helps revitalize stores along the Jefferson Corridor.
The timing was perfect. Jefferson East had begun partnering with TechTown Detroit, which was taking lessons learned in downtown and Midtown to help incubate and boost businesses in neighborhoods including Jefferson Avenue on the east side and Grandmont-Rosedale on the west. Jefferson East and TechTown have been Kresge Foundation grantees whose work aligns with the Detroit Future City and a Kresge vision of a Detroit with a dynamic, thriving Woodward Corridor and green, healthy, active neighborhoods.
"This project advances our efforts to realize the vision set forth by Detroit Future City," says Benjamin Kennedy, a senior program officer for the foundation's Detroit Program. "Lively mixed-use neighborhoods with strong retail services led by passionate local entrepreneurs are an essential part of Detroit's economic future. The partnership between JEBA and TechTown exemplifies the culture of collaboration and innovation animating our collective revitalization efforts."
A lifelong Detroiter, Jenkins had proved his business acumen as a diversity supplier for the Detroit Tigers and as manager for an online sports and entertainment company. He was bright, eager for coaching and "passionate about combining art and food into his business, but he hadn't tackled the financial statements," says Derrin Leppek, TechTown's managing director of place-space.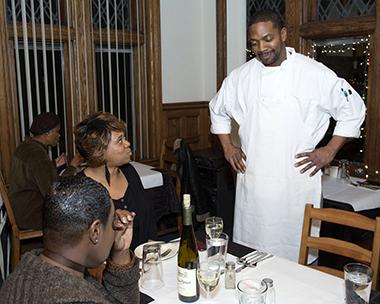 Leppek's team analyzed the business's strengths, weaknesses, opportunities and threats – hence the name SWOT City for the program. The conclusion: The Gathering had great food and a pleasing atmosphere, but it needed to turn over the tables twice a day – a major increase in business.
TechTown used its $1,000-per-client budget to buy three patio tables and matching chairs, which helped sustain business. Leppek's team also purchased steel racks to help move food faster from stove to diners, and they're looking for grants to help with air conditioning repairs after thieves pillaged the old unit for the copper tubing. They're also exploring ideas from catering and expanded hours to social media to make the numbers work for The Gathering.
Helping a restaurant like Jenkins' thrive on the Jefferson Avenue corridor is integral to the resurgence of Detroit, says Leslie Lynn Smith, president and chief executive officer of Tech Town. "This is a core commercial district that needs stabilization of existing businesses and the attraction of some new businesses to fill gaps in commercial offerings," she says. "We bring the kind of expertise that can help."
Today several new shops are gaining ground alongside The Gathering, including Detroit Vegan Soul, Tarot and Tea, and Craftwork, an eatery that opened in January; Red Hook Café is to follow. The website for the Villages Communities, as Indian Village and four neighboring riverfront communities brand themselves, suggests the neighborhood could accommodate $3.5 million in restaurant business and another $76.1 million in retail.
"Herman's strategy around The Gathering is really about addressing the core assets of the city – music – and bringing people together to gather and appreciate the sound," says TechTown's Smith. "Within its name is a suggestion that we need to come together and heal as a city … because that will encourage a connectedness among neighbors and a higher rate of residential density."
Jenkins has even bigger plans for his restaurant, his building (he has become a co-owner) and the neighborhood. With the help of friends, tenants and family, he is helping restore Owen Park, a pocket park across Jefferson Avenue with access to the Detroit River. He envisions kayak rentals, catered picnics – and a weekly cooking show about his restaurant and the city at large.
Read an overview of the Detroit Future City package and more articles.