Detroit Revitalization Fellowship Program puts top-flight talent to work in organizations rebuilding the city
29 Fellows will spend two years working in areas including health care, neighborhood redevelopment, land use, entrepreneurship, and education.
The city of Detroit has challenges in its struggle to return to prosperity, but a lack of ideas isn't one of them.
Make a place for technology companies. Revitalize the arts and cultural environment. Make low-income homes more energy efficient. Provide fresh food in the city.
But turning ideas into action takes time, energy and know-how – the stuff organizations call capacity. And in a city with so much on its plate, there's still more work to do than there are hands to do it.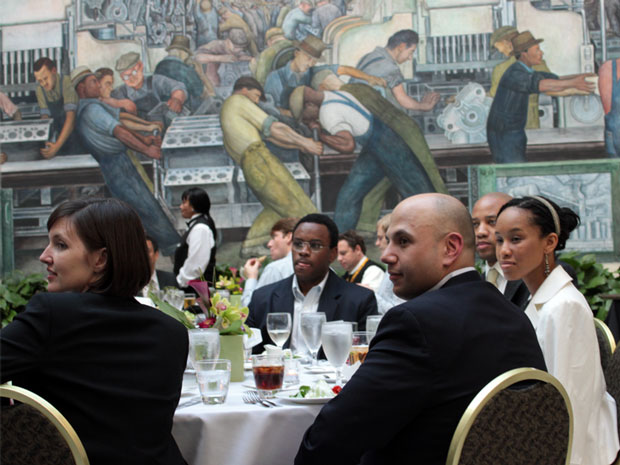 Wayne State University's Detroit Revitalization Fellowship Program has matched 29 Fellows – mid-career professionals in fields like business, law, architecture and urban planning – with public and non-profit organizations already working hard to redevelop Detroit and spur economic growth.
Intended to bolster public and nonprofit capacity, the fellowship program is a partnership between Wayne State and several Detroit-based philanthropies: Hudson Webber Foundation, The Skillman Foundation and The Kresge Foundation. Kresge's support is part of the foundation's Detroit Program initiative.
"I think generally speaking you're talking about high-energy people looking to make an impact, looking to roll up their sleeves and immerse themselves in the wicked problems of our day," says Kresge Program Officer Benjamin Kennedy. "Their backgrounds vary; their years of experience vary; but fundamentally you're talking about people who are willing and able to make a huge difference in a community."
Each Fellow has a full-time, salaried position – subsidized by the foundations – with a partner organization. They're working on projects suited to their particular experience and expertise, and studying in a unique executive leadership program developed at Wayne State as part of the fellowship program.
More than 640 professionals from 40-plus states applied for fellowships. Some applicants had Detroit roots; others were already living and working in the region. Some had no connection to the city, but recognized a unique opportunity.
That so many people with such strong credentials wanted to be part of Detroit's revitalization speaks volumes for the project and the city, says Ahmad Ezzeddine, associate vice president for educational outreach at Wayne State. Ezzeddine leads the Detroit Revitalization Fellows Program.
Not only were almost all the candidates highly qualified; some left good jobs or passed up other offers to be part of something bigger in Detroit.
"I think it's because of what Detroit is and was," says Ezzeddine. "I think people want be part of the transformation of a major American city. That was a major driver for a lot of people. Detroit is important to the country, and to be part of its transformation and revitalization is exciting to people."
The selection process began in May and was completed in July. The Fellows began their new duties this month, working in areas as diverse ashealth care, neighborhood redevelopment, land use, entrepreneurship, and education.More than 20 host organizations are participating.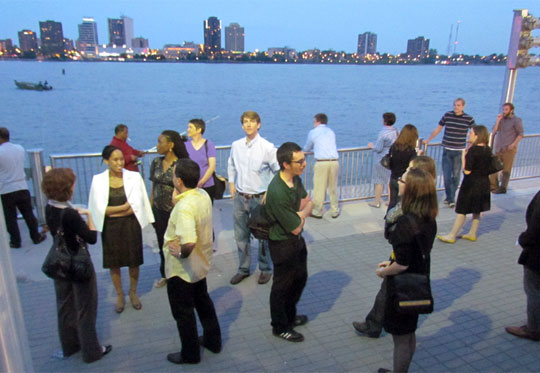 The program was adapted from the CUREx Fellows Program which was established at the University of Pennsylvania and used successfully in post-Katrina New Orleans.
Some of the benefits are obvious – a great experience and training for the Fellows, an infusion of talent and energy that helps the participating agencies do what they do more effectively.
At Next Energy, a Fellow is tackling sustainability issues within city buildings and/or solid-waste services. The fellowship program gives Next Energy the rare chance to recruit top talent without the constraint of short-term funding running dry, says Jean Redfield, vice president of public policy programs.
"I think what the Fellow allows us to do is accelerate our efforts and bring in a very high-quality person on a two-year basis," Redfield says. "This gives us a way to recruit top talent in a way we couldn't before. That's been a long-term issue for organizations like us."
The unexpected benefit in New Orleans, Kennedy says, was that Fellows also became their own network, sometimes bridging organizations that had never worked together before. Rather than just strengthening a set of distinct agencies, the program actually strengthened the fabric of the community. In New Orleans, 23 of the 25 Fellows in the program's first cohort stayed in the city after their fellowship ended. Detroit hopes for the similar carryover.
"We hope that we can keep them within the organizations and, if not within the organizations, at least within the city," Ezzeddine says. "We're not just adding capacity for two years. We want it to be sustainable for the long term."