Detroit M-1 RAIL street car makes inaugural test trip
Kresge-backed project expected to begin carrying regular passengers in spring.
To the sound of a horn blast that will become familiar to Detroiters in a few months, a fresh-from-the-factory M-1 RAIL streetcar made a historic first run on Dec. 12 along the 3.3 mile route through the city's Woodward Corridor.
For the inaugural run, the streetcar motored out of the Penske Tech Center, the M-1 maintenance and operations hub, under its own power and then was towed by truck the rest of the way down Woodward Avenue to the line's southernmost station at Congress Street. M-1 RAIL CEO Matt Cullen said this was the first of a thousand test runs in preparation for the beginning of passenger service in 2017.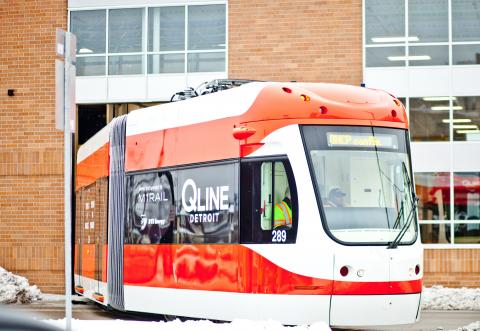 The event marked another recent milestone for the streetcar project which began construction in July 2014:  the first cars arrived in September, track installation and road construction was completed in November, designs for the system's 20 stations were released in early December. The streetcar system – running along what is designated as the New Center-to-downtown QLINE – is to carry its first regular service riders this spring. 
The Kresge Foundation has been the lead contributor, committing $50 million to the $142 million transit project, the first in the nation led by a philanthropic-private partnership working in conjunction with local, state and federal governments.
The project is intended as a new engine for economic development and opportunity in Detroit's Woodward Corridor and a statement about the benefits that come with improved transportation in the region. "The QLine transit system gives the city of Detroit added value and will bring the city together," Mayor Mike Duggan said. "It looks really good, and I can't wait to get on it."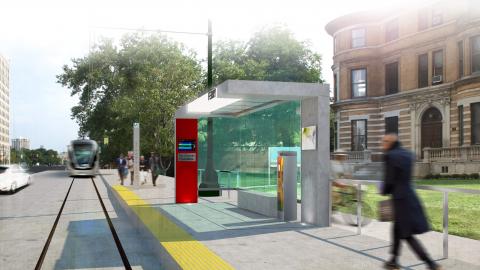 "A project that many said would never happen is now a reality," Wendy Lewis Jackson, co-managing director of The Kresge Foundation Detroit Program, told the crowd who gathered to see the streetcar take its inaugural run. 
She said Detroiters can see M-1 as an example of how to get tough things done.  
"This is how we have approached the biggest, most daunting challenges in our city and our region. We'll conquer our challenges by acting creatively, by acting cooperatively, and by acting boldly," said Jackson.