A Detroit high school builds city's revival into its lesson plans
Detroit Future City framework becomes a guide for reading, writing and boarding up vacant buildings.
Detroit's east side can be a rough place. Teenagers pass empty houses and see signs of illicit activity on their way to school.
But one Edwin Denby High School teacher wouldn't let the neighborhood's problems rob the 200-member senior class of its hopes for a better future. Jonathan Hui, a recent University of Michigan graduate, believed something could be done.  
In fact Hui, the school's community liaison, believed a lot of things could be done to improve the neighborhood based on the Detroit Future City strategic framework. That's a 10-, 20- and 50-year development framework for the city, informed by a multiyear research and community engagement effort. The framework was developed with support from The Kresge Foundation.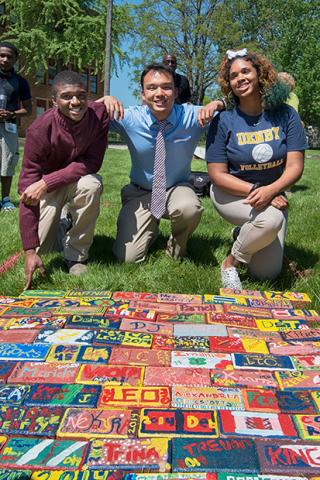 Guided by the framework, students took up the fight against blight, pushing for the demolition of a vacant apartment building across from their school. They convinced authorities to raze the building and then organized a cleanup of 16 blocks around the school. They boarded up 11 vacant homes and revived a playfield, Skinner Playfield,adjacent to the school.
The students recruited community members as eyes and ears to help enhance safety as they walked to and from school. Students also took the lead in the creation of an urban garden, which will give the community access to the fresh food while teaching the students entrepreneurial skills.
Hui calls the endeavor, "pathway to transformation."
Meanwhile, the lessons of the Detroit Future City strategic framework were incorporated into several core classes. That included a seminar in which students prepared a thesis reflecting on what they learned in the classroom and in the community. Each student defended his or her work before a panel of judges like Ph.D. candidates.
The project has been so successful that this coming school year the framework will be incorporated into classes across the curriculum for all four grades.
The Detroit Future City strategic framework was released in early 2013 after a process that involved thousands of residents. The 347-page framework speaks to strategies for improving economic growth, land use, city services, neighborhoods and other physical assets, as well as ways to engage citizens to realize those strategies. An implementation office opened earlier this year to lead in bringing the plan to fruition.
Kresge is aligning all its grantmaking and investments in Detroit with the strategic framework. 
Kresge works to expand opportunity for low-income people in America's cities. Its Detroit Program seeks to promote long-term economic opportunity and re-establish the city as the center of a vibrant region
"Denby isn't the first school to conduct a Detroit Future City project, but it is the first school to engage the faculty, principal and students in a rigorous curriculum based on Detroit's Future City book, and have the courage to put its ideals into action," says Heidi Alcock, director of operations for the implementation office.
"The kids of Denby realize they could choose how they fit into their city," says Alcock.  "They could see it as a hopeless endeavor, or they could put plans into action that demonstrate what they do matters. They got it.  We heard them."
One key to the Denby success has been Sandra Turner-Handy. A neighborhood resident and the community outreach leader for the Michigan Environmental Council, she also works with Detroit Future City. Turner-Handy helped brainstorm with Hui and 20 teachers and administrators on ways to engage with the Detroit Future City framework and apply it to their community.
She notes that research wasn't just an academic exercise for the Denby students.
"These students face real adult problems," she says. "The kids are stepping forward to raise the quality of life, the feeling of hope in their community. They are holding workshops for the community on self-policing, violence preservation and family development."
Remaking the Denby community is a challenge.
"Students have been waiting on adults to do something for years," says Hui. "Now they're leading the effort."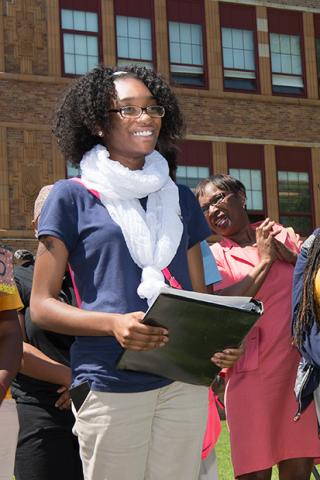 But how does that community engagement connect to academics?
Hui offers examples: Students learn science lessons in planning for urban gardens. In government, they learn how to tap resources throughout the city, and how to survey neighbors to assess what they need to improve their lives.
"The seniors learned 21st century skills in the classroom this year," said Kaija Sherrell, 17. "The juniors are set to follow our lead. Detroit understands who we are and how we need a change in our city. Each of us understands if it is to be, it is up to me."
Her work as senior class historian and her comprehensive thesis helped her earn a college scholarship. This summer, she was one of 40 seniors paid to continue improving a playfield near the high school, and continuing to develop the urban garden begun in the spring.
The summer months also included anti-litter campaigns, other work with block clubs and a community-wide picnic.
Future plans include a new playscape, volleyball and basketball courts, an arts and culture stage and a barbecue pit.  
"No matter what obstacles these students endure, they come back stronger," Hui says, noting a number of students who otherwise might not have applied for college admission and financial aid did so after becoming so deeply engaged with the academic and community goals of their senior year. "We're living proof that the city can endure," he says.