Connecting past, present and future
Here's how the Charles H. Wright Museum is planning for long-term success.
This article is part of a package marking work of The Kresge Foundation's Detroit Program in alignment with the Detroit Future City framework, which was announced a year ago. The Detroit Program seeks to promote long-term economic opportunity and re-establish the city as the center of a vibrant region. Detroit Future City is 10-, 20- and 50-year development framework for those ends, including strategies economic growth, land use, neighborhoods and more. Read an overview of the series and more articles.
When Detroit playwright and poet Bill Harris unleashed his word-barrage of down-home storytelling along with bluesman Rev. Robert Jones at the Art X Detroit extravaganza last spring, it was enough to make the audience shout "have mercy." Indeed, the program – choreographed by Aku Kadogo (a member of the acclaimed original cast of "For Colored Girls Who Have Considered Suicide When the Rainbow Was Enuf)" – was titled "Have Mercy." Reaching deeply into traditional African American themes and style, "Have Mercy" connected with the audience the way a Sunday-morning preacher grabs a congregation.
That's the kind of programming that makes a place like the Charles H. Wright Museum of African American History so crucial to Detroit's present and its future. It's a place where artists of today can connect with a tangible past that audiences still need to know about, understand and celebrate.
The museum fosters those connections throughout the year. The Harris-Kadogo-Jones presentation was one of many such 2013 performances, including those that took place as part of the museum-sponsored African World Festival, the Concert of Colors series and Noel Night programming. Following the death of Nelson Mandela, the Wright Museum was the logical place for Detroiters to gather and honor his legacy with music, dance and tributes from community leaders.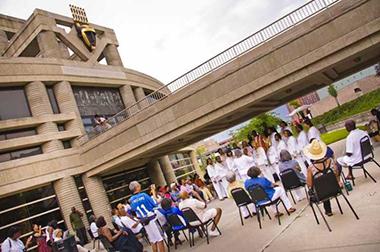 Photos courtesy Charles H. Wright Museum of African American History
Beyond performances, there are lectures, films and meetings by groups such as the Association for the Study of African American Life and History, as well as standing and rotating exhibits in the museum halls and online. One of them, Underground Railroad: The Struggle Against Slavery, is the result of a three-year collaboration with Michigan scholars and Eastern Michigan University's School of Education, with backing from the U.S. Department of Education.
These programs don't just happen. They are the result of long hours of strategizing in an institution that is connected to and supported by people in greater Detroit. Without an energized base there would be no Wright Museum, no planning and no programs. That's the reason The Kresge Foundation, in conjunction with the Ford Foundation, is helping the nation's largest African American history museum – 125,000 square feet and seven exhibition areas – with a grant to help build its organizational capacity and development and marketing functions, thus strengthening this regional cultural asset.
"It is really helping us look at sustainability," says Juanita Moore, president and chief executive officer of the museum. "It will allow our board to develop a sustainability plan, upgrade some technology so we can streamline some things, help us expand our marketing and build attendance and earned income." That is happening through the museum's participation in a program of the DeVos Institute of Arts and Management at Kennedy Center, a capacity-building program jointly funded by the Kresge, Ford and Knight foundations.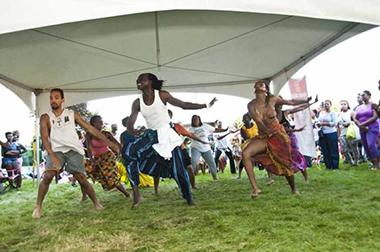 George Jacobsen, a program officer with Kresge's Detroit Program, explains that the Wright has developed organizational goals for the Ford and Kresge foundations that the DeVos Institute will help the museum act on "effectively and efficiently."
"The museum is a key cultural anchor in this community and its ability to deliver innovative programs to a growing constituency not only supports human development, it will also serve to increase activity in Midtown and the Woodward Corridor," Jacobsen adds.
So far the grant has enabled the museum to hire a development staff person, who has already had discussions with DeVos Institute consultants. After losing $1.5 million a year of funding from the city of Detroit the past three years, the museum must to replace those funds with more visitors, individual giving and earned income – or develop different ways to serve the community.
It's attractive programming that builds support. Current exhibits at the museum include "Inspiring Minds: African Americans in Science and Technology," a permanent, interactive installation. "Bandits and Heroes, Poets and Saints" spotlights the popular art of northeast Brazil. And the upcoming "Point of View" show will feature art of African American masters from the private collection of former National Basketball Association star Elliot Perry and his wife, Kimberly.
Says Moore: "It is a long road."
The Wright Museum's cultural treasures offer inspiration for the journey.
Read an overview of the Detroit Future City package and more articles.