Community development project comes full-circle for Detroit fellow and previous Denby High teacher
Jonathan Hui brings experience in education, community development to Kresge summer fellowship
In 2013, Jonathan Hui was at the table as Deny High School students prepared to proposal to improve their playfield. He was coordinating community partnerships with the school in hopes of a redesign.
Four years later, the students' playfield has become a reality, through a series of grants from local stakeholders and a KIP-D grant from Kresge. But Hui's role in community partnerships has changed. Now a graduate fellow for the foundation's Detroit Team, Hui has spent the summer working on community development support grants—including site visits to Kresge grantees like Denby High School.
Hui left Detroit to complete his master's degree in public policy from Harvard University's John F. Kennedy School of Government. While pursuing his degree, he kept up with his former co-workers and students who wrote thesis papers and grant proposals for the project. He said watching the process of community engaged development from its inception, gave him a more strategic and equitable outlook on impactful capacity building within neighborhoods.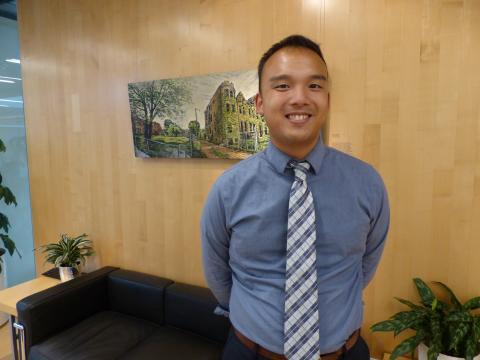 He finds it to be inspiring.
"Educators talk about youth engagement a lot, by saying we want to hear from the kids, and they have  great ideas," he said. "Kresge's grant showed that the foundation also values their input and for the kids, its a daily reminder that their voice matters."
This summer, Hui's work is focused on helping organizations in Detroit cover the cost operations through support grants. He said that kind of financial help was a need identified by grantees who were trying to achieve sustainable operations. 
Neesha Modi, program officer of the Detroit Team, said Hui's background brough a new perspective to the team.
"Jonathan brings a wealth of experience that enabled him to dive right into our work and bring value to the team immediately," said Modi. "He has deep project management skills, an authentic understanding of the Detroit nonprofit landscape, and a genuine thirst for learning – he fit right into the Detroit team."
Hui joined Denby High School in 2011 through Teach For America after graduating from the University of Michigan with a bachelor's degree in political science and psychology. He taught civics at Denby before transitioning to community partnerships and ultimately leaving for Harvard.
Hui said through his fellowship he's learned more about how Kresge's efforts are intertwined with Detroit's neighborhoods to assist in creating more equitable partnerships for economic development.
"I think everyone's mindset at the foundation is about we can engage and learn from communities and stakeholders to inform how we think long-term," Hui said.