Center for Public Integrity wins Pulitzer for uncovering coal miners' lack of access to health benefits
Kresge grantee's work leads to calls for reform, more investigation.
A series of reports detailing how coal miners suffering black lung disease were denied benefits because lawyers withheld evidence and doctors ignored signs of the disease has been awarded the 2014 Pulitzer Prize for investigative reporting for Chris Hamby of The Center for Public Integrity.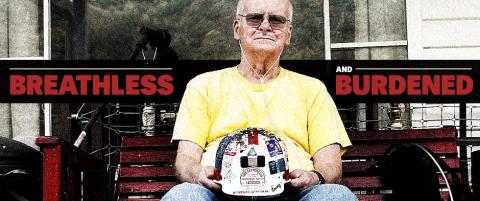 The series, "Breathless and Burdened," was the result of a yearlong investigation by Hamby, who had previously reported on a resurgence of black lung disease among Appalachian miners. The investigation found that coal-industry law firm Jackson Kelly PLLC regularly  withheld evidence from administrative law judges hearing miners' benefits claims, and that a unit of radiologists at Johns Hopkins University routinely reported no trace of black lung disease in miners' chest X-rays, even though other medical experts said the X-rays clearly showed signs of the disease.
The Kresge Foundation's Health Program awarded the center a two-year grant in 2012 to support its reporting on important health and environmental-justice issues. The Health Program works to reduce health disparities by promoting conditions and environments that lead to positive health outcomes for all Americans.
"This story demonstrates the tremendous impact good investigative reporting can have on public awareness of the impacts of environment on health," says Kresge's David Fukuzawa, who directs the foundation's Health Program. "We are very pleased the Center for Public Integrity has been recognized by the Pulitzer Prize committee for its important work on behalf of coal miners suffering from black lung disease."
The reports, which were published in October and November 2013, prompted Johns Hopkins to suspend and review its black lung radiology program and officials in West Virginia to launch an investigation of three Jackson Kelly attorneys, according to the center.
In addition, U.S. senators reportedly have been crafting legislation to reform the black lung benefits program, and congressmen have called on the U.S. Department of Labor to investigate thousands of cases in which benefits were denied based on the work of the law firm and the radiology unit. The center says attorneys working on behalf of miners with black lung disease have sought to use Hamby's findings in ongoing cases or to seek reopening of previously denied claims.
On April 23, the federal Mine Safety and Health Administration announced new regulations reducing the amount of coal dust allowed in mines and requiring mines to install technology to continuously monitor levels of the disease-causing dust. The new rules, published on the agency's website, take effect Aug. 1.
The center shared much of its reporting with ABC News' investigative unit, whose broadcasts, including a 10-minute "Nightline" segment, brought the story to a wide audience.