Caregivers, parents share ideas during Detroit Day of the Young Child
More than 600 Detroiters take part in conversations on early childhood
On April 27, as part of the first annual Detroit Day of the Young Child, more than a dozen early childcare providers joined a conversation at The Kresge Foundation's Midtown office to talk about how they view efforts to improve outcomes for young children in the city.
The hour-long conversation included center directors and teachers from members of the Woodward Corridor Early Childhood Care Consortium, a grant partner of the foundation's Kresge Early Years for Success: Detroit initiative.
See Detroit Day of the Young Child Photo Gallery
"Detroit's children cannot and should not be left out of the city's turnaround," Kresge Detroit Program Co-Managing Director Wendy Lewis Jackson told the participants to open the conversation. "We know you work hard every day to ensure children in this city receive the care they need to grow up healthy and ready to learn, and we want to hear from you what we can do to make sure every child experiences that healthy start."
The discussions in living rooms, coffee shops, businesses and neighborhood organizations across the city centered on two questions: What can we build together to help Detroit's children grow up healthy and happy if we had unlimited resources? What can we build if we had $100 and one week?
Participants broke into groups to brainstorm their answers. On the unlimited resources side, themes emerged around building better facilities, offering comprehensive programming that includes health services, arts-infused curriculums and parenting supports or classes, increasing access to care by improving regional transportation systems, and increasing pay for teachers.
"When our teachers are making the same as our parents, they have the same struggles as our parents," said Adam White, director of the YMCA early childhood center.
The same question framed in a scarcity of resources led participants to imagine low-cost ways to engage families and to use the resources already available. To explore parks, libraries and museums. To host a job fair. To improve communication systems between centers, family services and families themselves. To get outside more.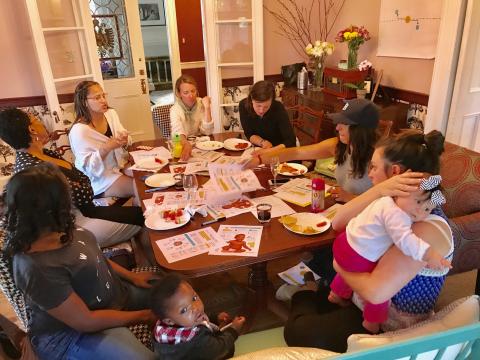 "Our parents are afraid of letting their kids even play outside at all right now," said Nancy Garvin from Detroit Edison Public School Academy, who cited loose dogs and violence as the two key things keeping children indoors.
Across the city, more than 600 parents, caregivers and other stakeholders took part in conversations hosted at approximately five dozen locations. Many more engaged online, where the hashtag #HopeBuilds helped those who couldn't attend a session in person get connected.
The responses and ideas generated from the listening sessions are being compiled and analyzed and will be used as one piece of the community voice input for the Hope Starts Here plan.
Hope Starts Here: Detroit's Early Childhood Partnership is a community engagement and strategic planning process supported by Kresge and the W. K. Kellogg Foundation designed to create a vision and action plan to make Detroit an equitable, world-class city for our youngest residents and their families.
The toolkit for hosting a listening session is available and anyone interested in hosting one is still welcome to do so, said Camarrah Morgan, community engagement director with EarlyWorks.
"We want to make sure every Detroiter who is interested finds a venue to have their voice heard in the Hope Starts Here process," Morgan said. "While the Day of the Young Child is over, the work of empowering Detroiters to find solutions together to support young children goes on."