Book focuses on better using data to support efforts to improve health, education, economic stability, communities
Chapter on housing coauthored by Kresge staff member and partner at Stewards of Affordable Housing for the Future
A new book from the Federal Reserve Bank of San Francisco and the Urban Institute outlines opportunities and challenges for using data to reduce poverty, improve health, expand access to quality education and build stronger communities. 
Titled "What Counts: Harnessing Data for America's Communities," the book is a response to increasing interest in using data to guide community initiatives, investment strategies, and policy choices, as well as the vexing questions that accompany data-driven approaches.
It brings together authors from community development, public health, education, finance and law to offer ideas for using data more meaningfully and effectively across sectors and institutions. 
Fred Karnas, a senior fellow at Kresge, coauthored a chapter with Bill Kelly, co-founder and past president of Stewards of Affordable Housing for the Future, a Kresge partner. That chapter, "Affordable housing as a platform for resident success: building the evidence base," examines the state of data collection on the impact of supportive services in housing. It also details work to create a level of consistency that would make data collected by different organizations uniform enough to be useful.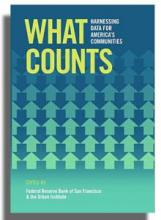 "What Counts" is not focused on finding one right answer, the publishers note. Instead, it is meant to serve as the basis for smarter conversations about data going forward.
The book builds on themes of a 2012 book – "Investing in What Works for America's Communities" -- that was published by the Federal Reserve Bank of San Francisco and the Low Income Investment Fund. 
"What Works" calls on leaders from the public, private, and nonprofit sectors to recognize that they can achieve more by working together and by using data to gauge the context and reach of their efforts. The Federal Reserve Bank of San Francisco and the Urban Institute partnered to publish "What Counts" to address questions raised by "What Works" readers about how to best gather, analyze, and use data to understand what actually works for communities.
The book is available to download as a PDF. Print copies may also be ordered.