Arts & Scraps Feeds the Imagination of Detroit-area Youngsters while Advancing Environmental Stewardship
Each year 275,000 children create works of art from scraps – 28 tons of recycled material – donated by local businesses.
TROY, MICHIGAN – Just before Valentine's Day, a Boy Scout troop was busy making three-dimensional pop-up cards from scratch inside the Arts & Scraps Resource Center on Harper Avenue in Detroit.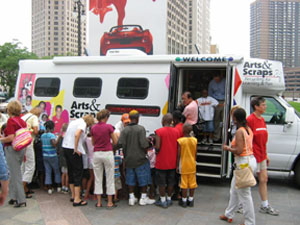 But instead of using construction paper, crayons and other traditional materials, the scouts were die-cutting heart shapes from recycled sticky foam, adorning them with scraps of yarn, rubber and used tickets, and affixing these creative compilations to the inside of donated red business folders for a pop-out effect.
Small strips of accordion-fold window blinds serve as animated arms and legs, and spiral book bindings make "deely-bobs" that spring off a headband embellished with colored scraps and fringes of movie film.
Since 1989 when director Peg Upmeyer and two partners opened the first Arts & Scraps Resource Center in a church basement, the nonprofit organization has endeavored to provide youngsters with creative learning experiences using recycled commercial scraps. In the process, they have given new meaning to the concept of turning trash into treasure, and have helped to advance environmental stewardship.
"Children need to conceptualize, to invent and to realize their unique ideas are valued," says Upmeyer, a former high-school speech and English teacher. "They also need to do creative problem-solving in a space where there is no right or wrong answer." Creative venues not only challenge youngsters to think outside the box but also encourage them to develop cognitive capabilities essential for competing in a knowledge-driven economy, she adds.
Arts & Scraps fosters imagination and innovation among 275,000 children annually through field-trip visits by school and scout groups, off-site projects conducted at schools, and weekend excursions to events by the 26-foot, custom-designed ScrapMobile. Scholarship funds and laddered fees assure children from underserved communities and less well-endowed schools are able to participate. Training sessions educate parents, teachers and group leaders on ways to integrate the creative process into school curriculums.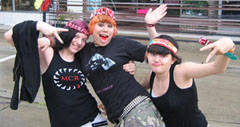 Every year, staff and volunteers pick up 28 tons of cast-offs from 100 Detroit-area businesses and cart them to a large warehouse where 200 special-needs vocational students help to sort, bag and assemble kits for sale to schools, churches and corporations. The shelves at Arts & Scraps, located nearby in a former furniture store, are regularly restocked with discarded items that provide enrichment and creative challenges for young minds rather than trash for garbage dumps and landfills.
In recent years, however, the expansion of facilities and program offerings has stretched the slim resources of the organization and taxed its staff and volunteers. Recognizing these challenges, The Kresge Foundation has extended a helping hand by awarding the organization a $60,000 grant over three years. "These are dedicated individuals who are helping our youth and strengthening the creative fabric of Detroit and Southeast Michigan," says Alice L. Carle, senior program officer.
"This is an important step in our strategic growth," Upmeyer explains. "The grant money will enable us to build organizational capacity by creating the position of operations manager, giving our staff much-deserved pay raises and setting up a 403 (B) retirement program with a 3% salary match. It also will allow me to devote my energy to marketing and development and key administrative areas."