The arts as a neighborhood draw
Sidewalk Festival of Performing Arts charges up Brightmoor.
This article is part of a package marking work of The Kresge Foundation's Detroit Program in alignment with the Detroit Future City framework, which was announced a year ago. The Detroit Program seeks to promote long-term economic opportunity and re-establish the city as the center of a vibrant region. Detroit Future City is 10-, 20- and 50-year development framework for those ends, including strategies economic growth, land use, neighborhoods and more. Read an overview of the series and more articles.
Amid a whirl of color, song, dance, poetry and theater, the inaugural Sidewalk Festival of Performing Arts burst into life in August in northwest Detroit – one small part of Neighborhoods Day activities across the city.
The festival, which was funded in part by The Kresge Foundation, attracted more than 800 visitors and dozens of artists and performers from the Detroit area and beyond to the Old Redford district of the Brightmoor neighborhood, according to lead organizer Ryan Myers-Johnson.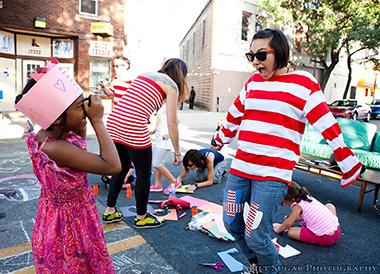 Photos courtesy Cheryl Willard
The festival "was a lot of different things for different people. It was good for a lot of the underground, independent artists to get exposure. For community members, it was a way to walk safely down their street and enjoy and celebrate the place where they live," Myers-Johnson says. "It's also something to draw attention to the businesses that already are established in the area and have a following." Sweet Potato Sensations, Motor City Java House and the Old Redford Theater are all examples.
More than 200 events – cleanups, health fairs, school supply giveaways and more – highlighted positive change in Detroit during the seventh annual Neighborhoods Day on Aug. 3, 2013, organized by ARISE Detroit.
"It was just stunning," says Neighborhoods Day founder and ARISE Detroit Executive Director Luther Keith of the Brightmoor event. "You had people playing chess, you had performance artists on the street. You had the coffee shop. You had the clothing shop [Ray-Ann's Wardrobe]."
"All of it helped build a sense of community among people from diverse backgrounds," he says. "That's what we want for the whole city."
Myers-Johnson – who worked with ARISE Detroit, Detroit Creative Corridor Center, Artist Village Detroit, the Brightmoor Alliance, City Councilman James Tate and many of others to bring the festival to fruition – echoes Keith's sentiments.
"I wanted to create an event that was walkable, culturally diverse and not in Midtown. Midtown is great, but it has a lot of resources and a strong identity as an artistic hub," Myers-Johnson says. "There are a lot of places that are on the outside that don't have a positive brand; people don't know what they have to offer. How can we call attention to things that are great there?"
Ken Cockrel Jr., executive director of Detroit Future City, pointed out that regenerating neighborhoods through the fusion of art and industry is a key implementation strategy in the DFC strategic framework.
"Bringing together art, retail, health and safety to activate a key district in the city was a remarkable step on the road to reviving this area," Cockrel says.
Leveraging existing assets
The heart of the festival was held along Old Redford's main commercial strip, near the intersection of Lasher Road and Grand River Avenue, where seeds of change have been taking root for the past decade.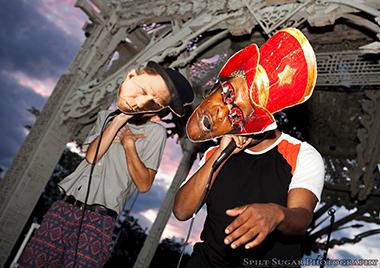 In 2003 three visionaries – Motor City Blight Busters founder John George; his wife, Alicia Marion; and Public Art Workz founder Charles" Chazz" Miller began transforming partially abandoned property along Lasher Road into a creative hub and community gathering place known as Artist Village Detroit. It now includes Motor City Java House, courtyards and community garden plots; it hosts art education programs and summer camps.
"This was a team, a community effort," Marion says. "We wanted to teach people that art is everything and everything is art – that is something Chazz taught us. We wanted the community to know art can be a career."
"When you have murals and statues and butterflies, it humanizes the spirit," she says of the artwork that now decorates the neighborhood. "When children see a mural on their way to school, that says somebody is paying attention to their spirit – not just to the surface, not just the blight."
That humanizing message also was communicated to visitors who attended the Sidewalk Festival of Performing Arts. A portion of Lasher Road was closed to traffic for the event, which spilled onto sidewalks, an alleyway, the nearby Temple of the American Dream community art and peace park and in the courtyards at Artist Village Detroit. From Detroit-based poet Jessica Care Moore and the MC duo Passalacqua to the Detroit Theater Company and out-of-towners like the experimental-music ensemble thingNY, artists commanded the space.
"I talked to some of the businesses on Lasher and they said for weeks afterward people were asking if the festival was going to become a weekly thing, if it was going to return, how they could participate," Marion reports. "From what they said, it was a really great day for business for them."
She says that the festival was profitable for Motor City Java House and resulted in studio bookings at Artists Village Detroit but, just as important, it raised awareness about Old Redford as an arts hub.
The festival brought in "people who didn't know about us, people who had heard about us but didn't know where we were," Marion says.
Stefanie Cohen, half of the performance art duo Upended Teacups, says participating in the festival opened her eyes to the energy of the art and urban farming scene in Old Redford district and the Brightmoor neighborhood. The area is now one of the places she and her performance partner, Corey Gearhart, are considering for their planned relocation to Detroit.
From shopkeepers to children, residents also benefited from the Sidewalk Festival of Performing Arts, community leaders say.
"Artist Village and the sidewalk festival gives kids in the neighborhood access to the arts," Marion says. "They can just walk two or three blocks from their home and be part of the art world."
Kirk Mayes, executive director of the Brightmoor Alliance – which provided logistical assistance and volunteers for the festival – agrees.
While it may be tiny compared to the Ann Arbor Art Fair or Grand Rapids' Art Prize, Mayes says it matters to the community much the same way. "People want something they can be proud of, that they can go to in their community that's signature to their community," he says. "This was very important to Brightmoor and Old Redford because, looking forward, people are excited. We have something great that has potential for growing over the years."
The second annual Sidewalk Festival of Performing Arts will be Aug. 2 – on Neighborhoods Day, always the first Saturday in August.
Read an overview of the Detroit Future City package and more articles.