Artists for Humanity turns young people's creative impulses into gainful work
Kresge-supported nonprofit guides Boston teens from art studios to deals with some big-name buyers.
In one room, young photographers learn from pros about telling compelling stories with pictures. Down the hall whip-smart ideas become hip T-shirt designs in the silk screen studio. A bit farther along, in the 3-D workroom, scraps and detritus are being recycled. The items are as small as jewelry beads and as large as a sculpture installation – a curved aluminum-sheet section of the latter is being festooned with recycled soda bottle caps – for Logan Airport. On the next floor, there's a forest of easels, more than 80 of them, with painters creating self-portraits, streetscapes, landscapes, abstracts at each station.
Most important, these workrooms and others at the Artists for Humanity EpiCenter in Boston's Fort Point neighborhood crackle with creative energy barely contained.
"All they need is opportunity and challenge," says Susan Rodgerson, the executive/artistic director, sharing one of her aphorisms.
Artists for Humanities began 20 years ago as a one-off mural project in a troubled Boston middle school. That initial notion was simple enough: work with young people on commissioned art and see that they get paid. It's morphed into roughly more than a hundred teens filling a 23,500-square-foot facility. Each year, 300 or more public high school students work in areas from Web design to murals, motion graphics to painting.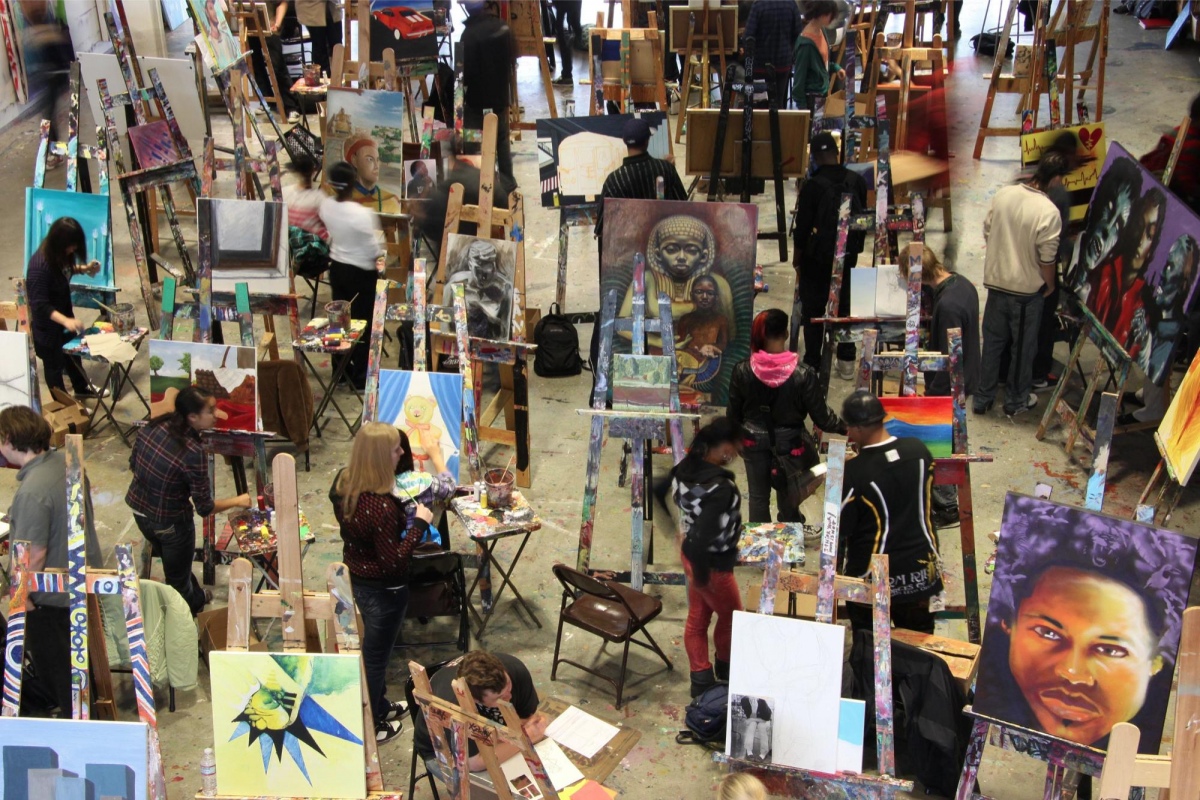 Formally stated, Artists for Humanity's mission is to provide underserved youth with keys to self-sufficiency through paid employment in the arts.
It embraces the notions that exposure to art is a force for social change, that creative entrepreneurship offers important opportunities – and that the business community needs an introduction to young people's creativity.
Thus such representatives from clients such as the Federal Reserve, the Massachusetts Bay Transportation Authority and Neiman Marcus find themselves at the table, negotiating commissions with teens, more than three-quarters of whom come from low- and very-low income families.
"There are a lot of dangers out there when you have nothing to do, and no money in your pocket and you're looking for respect. That's a recipe for disaster. We give them all those things," says Rodgerson.
Artists for Humanity – or AFH – receives operating support from The Kresge Foundation's Arts and Culture Program. The Arts and Culture Program works to build strong, healthy cities by promoting the integration of arts and culture in community revitalization.
"I remember feeling like I could create anything while I was there," says AFH alumna Amity Paye, now an assistant to the editor of the Amsterdam News in New York City. Although she changed her career goals from fashion to journalism while at Syracuse University, AFH was her introduction to the world of work – as well as a nurturer of her creativity. For many of her contemporaries in the program, though, "Art really did become their life."
That could prove the case for Alyson Sila. Interrupting her jewelry-making to chat, Silas says that AFH has done more for her education than high school, broadening her ideas for her life ahead. Before AFH, she says, "I never thought I could consider myself as an artist." Now art – or maybe entrepreneurship – are the careers she sees in her future. Before AFH, she had never had an art class in her public school education. That's not at all unusual for the young people at AFH.
Some 95 percent of AFH students go on to post-secondary education, in a city where the public high school graduation rate is 66 percent.
Jason Talbot, now AFH studio director/video mentor, was one of the original students who worked with Rodgerson in 1991at Martin Luther King Jr. Junior High.
It was a school where doors were barred with two-by-fours, in a neighborhood where gangs were "all over the place," Talbot recalls. Rodgerson's mural project came about just as he and his friends were hitting gang recruitment age.
When the first mural – a four-foot by 12-foot piece on the subject of education – was finished, Talbot and the others asked Rodgerson what they could do next.
"It was miraculous, serendipitous," says Rodgerson. "I thought, I can't not see these kids again."
Soon they were working on new projects in her studio.
Later, they moved to a 10,000-square-foot space – rented at a nominal fee by a sympathetic landlord – and in their sixth year they had 100 students involved. Ten years ago, AFH moved into a Platinum LEED building in the Fort Point neighborhood among empty warehouses.
Although it was a "ghost town" at night, the site was convenient to a subway stop and the turf of no one in particular, thus neutral territory.
Fort Point is a ghost town no longer, in fact it's now trendy and booming, a magnet for artists, artisans, start-ups, retail shops and major businesses like State Street Corp. "One of the hottest areas in the city for redevelopment," wrote The Boston Globe. Talbot and Rodgerson note with pride that AFH was among the pioneers here and contribute to the growing vibrancy.
Construction is under way to turn the space now considered "behind" the AFH Epicenter into the 1.7-acre Channel Center Park. AFH foresees a major expansion, reconfiguring what is now the back of the building as a gateway to the park and burgeoning development around it. With a new community taking shape, Rodgerson sees an expanded AFH building with more room for the teens as well cafe and retail space. Ideas on the drawing board even include studio space for the public – with AFH teens in the role of trainers.
As Rodgerson sees it, what's happening around AFH presents new opportunities for a "special culture of bringing people together."